Dyeable beds is an upcoming feature for version 1.1 for Minecraft PE. This add-on replaces the shulker with a bed which you can dye. All of this is just visual as you can't actually sleep on the "shulker bed". It's a really cool idea though which is awesome to see becoming an official feature pretty soon!
Creator: StarkTMA, Twitter Account
How does it work?
Normal beds can't be dyed. But you can spawn a shulker which will now look like a bed and then use any of the dyes in your inventory (e.g. cactus green or dandelion yellow) to dye it.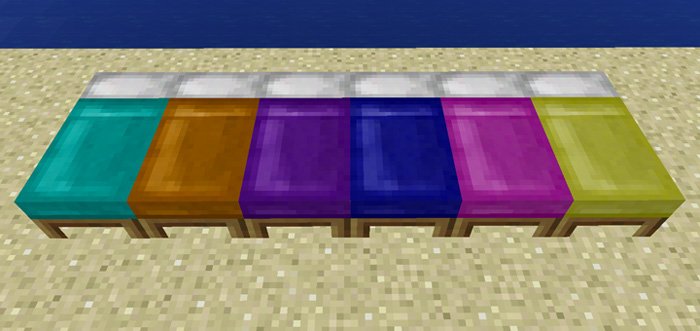 Keep in mind that none of the "shulker beds" are functional. Meaning, you can't sleep on them. This is purely just a concept!
Trailer
https://www.youtube.com/watch?v=izQsoSBFflo
Installation
This should work fine on Android and iOS. I had some problems on Windows 10, but it might work for you!
Activate the packs for a world in-game