Pick the colors of your leather tunic and put scary mob masks on your face to frighten your enemies. The main concept of this mod is to add the possibility to customize your character. If you already enjoy the new skins option in Minecraft PE then you'll probably enjoy this mod too.
Creator: rainbowyoshismbx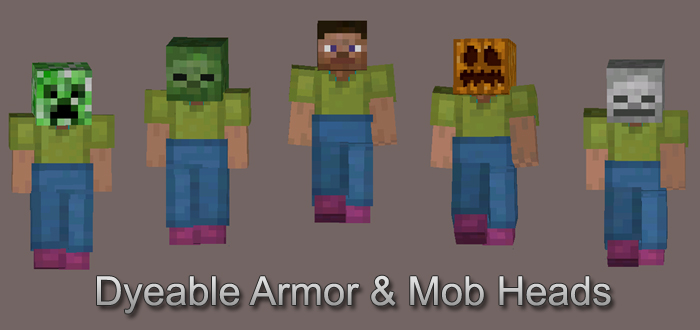 How to dye the leather armor?
First off you will need to get your hands on some dyes. Pick the dyes depending on which colors you want your leather tunic to be in. You can choose different color for each armor, e.g. blue leggings and a green shirt.
Craft the entire set of leather armor and then you will be able to see a whole new range of crafting recipes available in the crafting table. Pick the one based on what color you want your leather tunic in.
How to get the mob heads?
The heads are only obtainable by using the Too Many Items mod. To replace your own head with a mob head simply tap on it in the gear options as if you were to put on a helmet.
Zombie Head (408)
Skeleton Head (409)
Creeper Head (410)
Pumpkin (385)