Presenting, the
DYED SHEEP SKIN PACK.
This pack is the only reason you will be using shears from now on.
I bet you have been wondering, "Man, I could really go for some wheat right about now." No? Well I made this skin pack just for you anyway. 
Let us get into the Description.
This pack combines the best mob in the game, (fact) and some beautiful colors from a custom made color palette. Every color is from the base game except for magenta. We have…
Red Sheep
Orange Sheep
Yellow Sheep
Lime Sheep
Green Sheep
Light Blue Sheep
Blue Sheep
Purple Sheep
Pink Sheep
White Sheep
Light Gray Sheep
Gray Sheep
Black Sheep
Brown Sheep
and White Fade
If anyone knows how to get rid of the skinpack.Baa and skin.Baa. please tell me. I think it might be a Lang file but i'm not sure.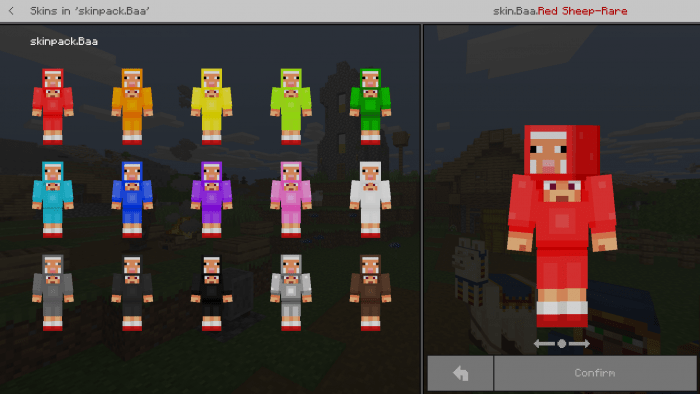 Created the pack
Changed the title
Updated introduction, description, and installation description.
Changed old featured image to a cute, rendered feature image.
Installation
Windows10: Click on the download button and once it's done open it.
PE: Click on the download button for IOS and Android. It will bring you to a page that has the file and then click Open in "Minecraft". If it's not there then click "More" and then click "Copy to Minecraft"
Downloads
Supported Minecraft versions
1.11
1.12
1.13 (beta)