You play in creative mode? Confused with spawn eggs? Don't worry, I've made a resource pack for that! With this pack you can easily find specific spawn egg in creative inventory.
Pack Details
Name: EasyEggs
Creator: Rahee07
Version: 1.0.1 
Size: 2.75 Megabytes (I have included thumbnail in the archive)
Resolution: 32x
Type: Vanilla enhancement [Resource pack]
Supported game version: 1.16.x+ [RECOMMENDED]
Supported platforms: Should work fine on popular bedrock platforms. Such as Android, iOS, Windows 10…
Affects in-world achievements?: No.
Note: This pack won't work properly on future game versions, if Mojang uses texture_index 60-65 for upcoming mob spawn eggs. I'll update the pack as soon as possible after game update.
SPECIAL THANKS TO


WinEpicFin
for helping me to fix subpack mechanism. Check out his/her pack
Rainbow XP
to support him/her!




Screenshots




Videos (Promoted)
Thanks to Fool Ice for making a video for this pack!
If you're a YouTuber, then you can make a short review or trailer for this pack with #MadeForRahee07 tag. So I can find your video easily and include it here. It's free of course.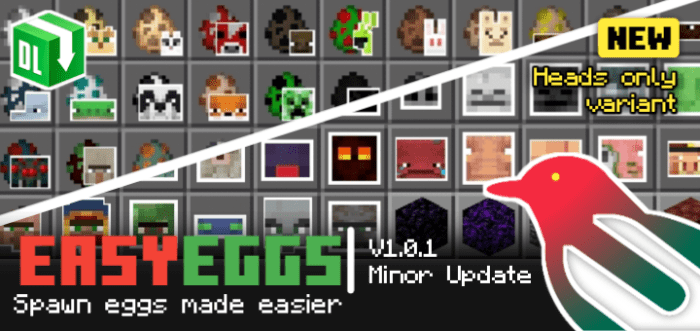 You may need this image if you review this pack. (Included in ZIP too)
Why I didn't included my own video for this pack?
I was a YouTuber. It became boring because of my potato smart phone. I left YouTube and decided to let people make videos for me. So I can promote them for free. 😀
Please don't make misleading videos of this pack. I'll only promote good videos. 😉
How to change variant (in-game)








Notes
Do not

redistribute this pack any where. (Not even on MCPE DL)

Do not

claim this pack as yours.

Do not

provide direct download link to others.
You can make YouTube videos for this pack. (Provide credit in description)
You can modify this pack for personal use ONLY.
You can send suggestions/reports to me. (Check

Contact Details

)
Contact info
Send emails to [email protected]
Follow me on Facebook Rahee07
Send DMs on Discord Rahee#6789
Follow me on Twitter @Rahee07_
Send messages on Telegram @Rahee07 (https://t.me/Rahee07)
Subscribe here and stay updated about my upcoming packs.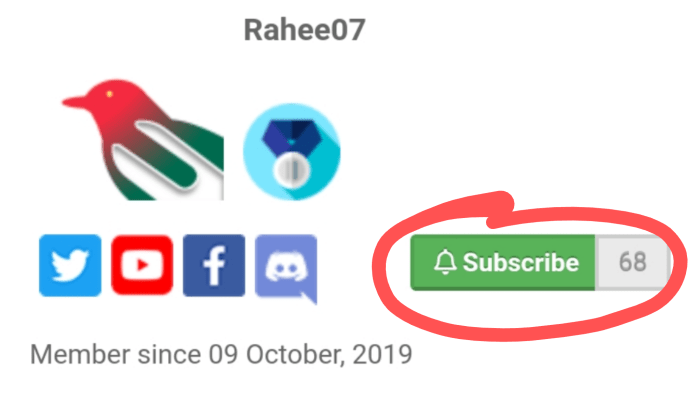 Check out all my other packs here
Previously on MCPE DL
@JaxOrSomething on EasyEggs


@Commander0977 on EasyEggs




Reply: I'm not an Indian. But thanks for your valuable support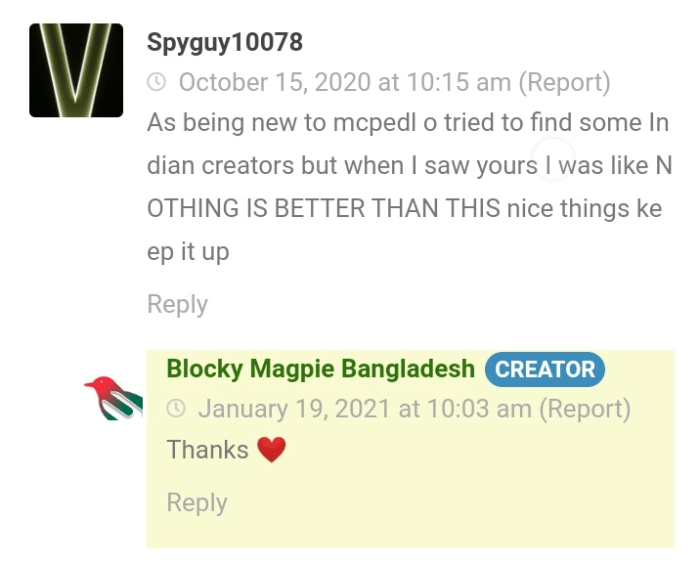 Reply: Dark variant coming soon. 😉

Reply: Ok, I'll try…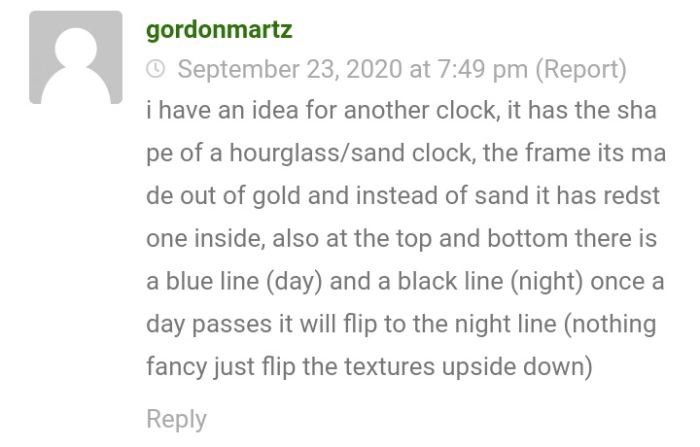 I used the following applications to make this pack
Pixly (https://play.google.com/store/apps/details?id=com.meltinglogic.pixly) to edit textures.
Acode (https://acode.foxdebug.com/) to do code stuff.
MiXplorer (https://forum.xda-developers.com/t/app-2-0-mixplorer-v6-x-released-fully-featured-file-manager.1523691/) to manage files.
PixelLab (https://play.google.com/store/apps/details?id=com.imaginstudio.imagetools.pixellab) to make thumbnail.
PaintDotNet (http://getpaint.net) to edit textures.
About me (who cares?)
Hey there, my name is Rahee. Also known as Rahee07. I'm 15 y/o and from Bangladesh. 🇧🇩 I am playing Minecraft since 2018. I love to experiment with advanced stuffs like Minecraft resource packs, add-ons, code etc.
I don't speak English. So please ignore my grammatical and spelling mistakes. :3
What I did with 300$ that I got from MCPE DL competition 2020?
I bought a cheap Mini PC (Asus PN40) for $236. (almost) and donated the rest ($64) to the poor. I could buy a better desktop. But I prefer portability.
I use it for online classes and Minecraft related stuff and so on.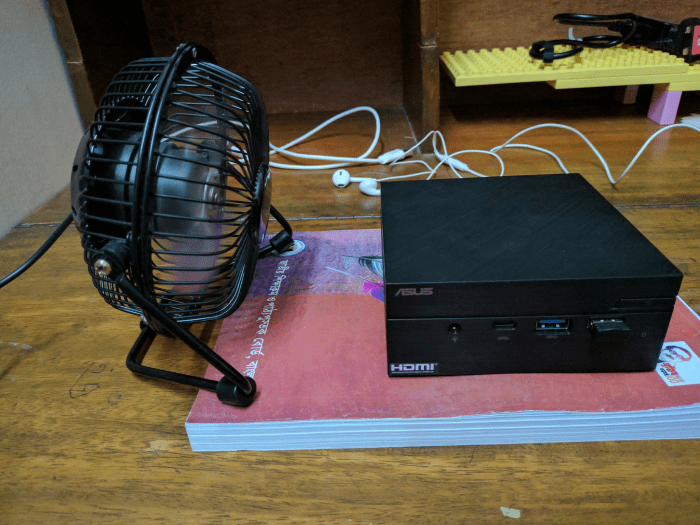 Intel Celeron J4005 @2 Ghz | 4 GB DDR4 RAM | 120 GB M.2 SSD (it's enough for my daily tasks)
My dream is complete 😀
I always wanted to buy a cheap computer from my savings. I'm still saving money so I can donate money to the poor.
THANK YOU SO MUCH MCPE DL for hosting such a nice competition
Thanks for visiting! Have a nice day. 😀
Updated article
Updated links
Updated social links
Removed poll (MCPE DL don't allow bitly links... Please suggest any other direct short link.)
Date: 3, Mar, 2021 | V1.0.1
Added heads only variant. (default) You can still switch to mini icon variant using the gear icon.

Added thumbnails in ZIP.
Tweaked texture.
Removed egg_npc.png (it's useless)
Updated notes.
Updated article.
Downloads
Supported Minecraft versions
1.16
1.16.100
1.16.101
1.16.200
1.16.201
1.16.210 (beta)
Resolution
32x