Fend off the dangerous mobs of the night! Seek shelter that provides protection, and find resources as you replenish your hunger. Engage to the Java-exclusive yet Hardcore Mode– all in this add-on!
created by: r4isen1920
pack version: v4.1
Hardcore Gamemode
Hard difficulty only


More aggressive hostile mobs
Ranged hostile mobs has higher accuracy
Iron Golems deal massive damage to players
You easily get hunger, more food is needed
etc.
Spectator Mode



Hardcore mode is dependent to the world's host; while connected players have their own independent life.
You only have one life, and you'll respawn only as a spectator.
If you want to be able to fly in Spectator Mode, you can optionally enable Education Edition:

Enabling the Add-On
To enable and experience Hardcore mode, do the following steps: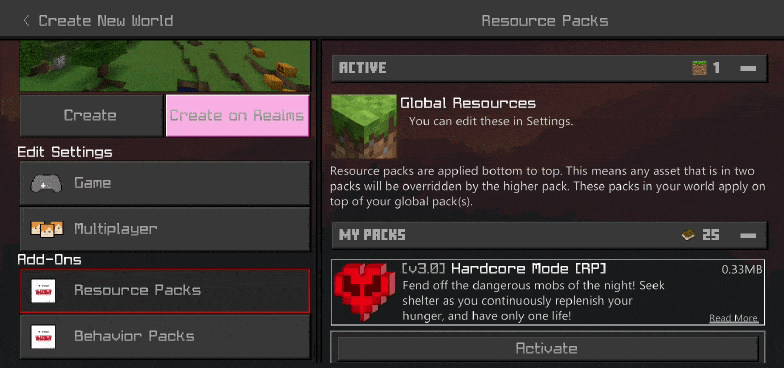 Download the Add-on from the link below
Enable Education Edition (optional)
Apply both Resource Pack & Behavior Pack in a new or existing world
Open or Create the world. It should automatically be active.
Realms Compatibility Information
The following are my requirements for this add-on to work on Realms:
Version Required: 1.16 atleast. This version also fixes the bugs regarding running commands using animation controllers on Realms.
Experimental Gameplay: Not needed. So it works on Realms.
Education Edition: You may not be able to enable this feature. Features such as being able to fly in Spectator Mode will not be possible on Realms.
Updated download links. (A A A A A A A A)
(As usual, please hide this from homepage. Thank you!)
(Note: Don't notify this update to everyone)
Resource pack should now use new horse textures.
Tweaks for in-game texts.
Updated death screen. 
Removed ghost player.
Updated download link. 
(y)
Changes for Spectator Mode

New: a pale, floating head and a cape will now show instead of an invisible body.
You can no longer interact on other mobs in Spectator Mode; this includes riding Horse or Minecarts, or even shearing Sheep.
Mobs should no longer look nor attack you in Spectator Mode.
Other Changes
Removed mode changing. See description above for detailed information.
Fixed a bug where on certain cases you will change into Spectator Mode when received a certain damage.
Rewritten behavior code. For a much stable experience, I have rewritten the behavior code so that you should experience less lag and further improve the add-on's stabilization in-game.
Added custom UI title. See the pause screen/menu! 
Behavior Changes
Implemented forced gamerules. 
Inventory management improved. You should no longer obtain unwanted items even by using /give command on certain items!
Tweaked the usage of mob potions to improve the game's FPS somehow.
You should no longer take damage even when you are in Spectator mode, when near a melee hostile mob.
Moved the two options by using a function command instead.
Used the player's behavior instead of relying too much on commands.
Revoked the needs of Experimental Gameplay just to run the add-on.
Enhanced Flying. You can now optionally fly like the same as if you're in the Creative mode! Requires Education Edition to be enabled in your World Settings.
Optimized texts. Removed the 'actionbar' text, added different languages for the term "Spectate World" via the infamous Google Translate. Translations are not 100% accurate. You can contribute and help for this simple translation by contacting me on Twitter.
Performance Optimizations. Frame rate drop is now reduced when the whole function is triggered.
Enhanced Spectator. To fly, just jump, then you'll glide slowly back to the ground! This is the only option for now, but I will update it as much as possible! Also, you can no longer hurt mobs or players once you die.
Added 'Options'. See description for more info.
Others. Tweaked some texts to make it noticeable.
Installation
Make sure to delete the old version first, before installing or importing the pack!
Recommended 1+ GB of free memory (RAM).
Downloads
Supported Minecraft versions
1.16