Try Minecraft Java's original Hardcore mode in Bedrock Edition! Locked at the hardest difficulty: fend off much stronger and dangerous mobs, find food as you can starve continously; and, the hardest part about it is: have only one life!
created by: r4isen1920
pack version: v2.0
Applying Add-On
Simply import and then apply it to an existing or new world! No setup needed! For the best results in Multiplayer mode, apply the resource pack as a host – and make sure to tick the checkbox to apply for all players who joins in as well!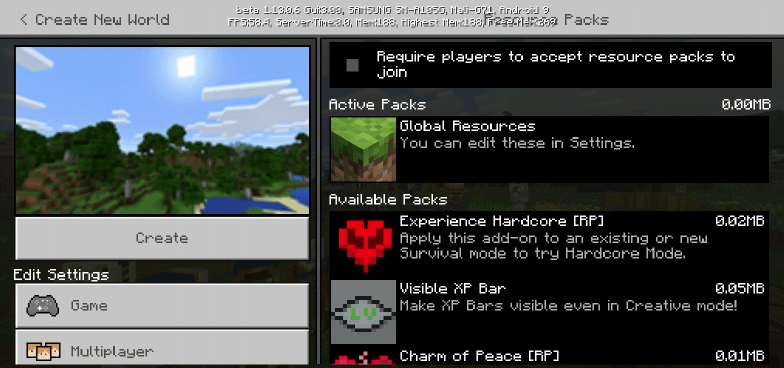 Applying latest version: To apply the latest version of the add-on, first, delete the current add-on that is imported in your Minecraft, and then import the upated one from the download links provided below.
Hardcore Mode Features
Hardcore mode in Minecraft features as follows:
Hardest difficulty only. You cannot switch to the Easy diffuculty, specially the Peaceful one! All mobs deal more damage – such as Skeletons have greater accuracy of shooting you & Zombies tend to spawn more often in the dark – and you won't easily replenish your Heart if you do not eat as you can get starved much more than any other difficulties.
Only one life & Spectator Mode. Once you die, its game over! Spectate the world to see what progress you've done – as you can no longer modify the world in spectator mode.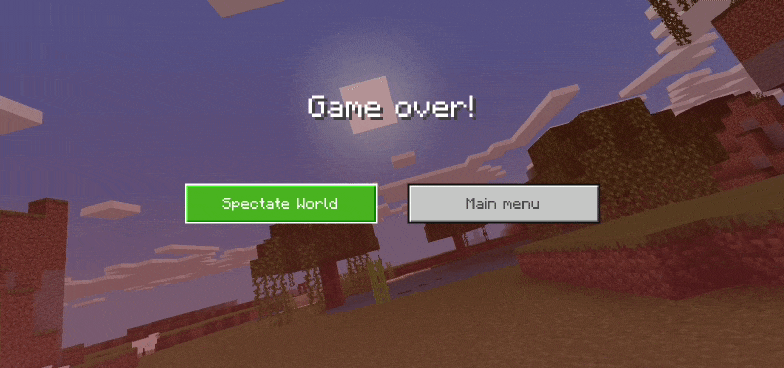 Spectator Mode: You cannot hurt mobs/players nor destroy blocks once you die. If you want to fly, you can enable the Education Edition from your World Settings:

Adjusting Options
In multiplayer, if a player dies, its game over for the rest too; or, make each player have their individual one life. This can be adjusted by simply typing /function hc/mode_0 or /function hc/mode_1 to toggle between the two mode options!

Options Description
Mode_1: This option features only one life shared by players in a world. If someone dies in this world, the rest of the players – and anyone who joins can no longer continue.
Mode_0: This option features individual lives for each player(s) in a world. If someone dies, the rest of the player can continue playing – but still only have one life.

Video Demonstration
For more detailed explanation, here's a video below for demonstration.
The video below is outdated for the current version. A latest video will be uploaded in the next patch.
Rewritten behavior code. For a much stable experience, I have rewritten the behavior code so that you should experience less lag and further improve the add-on's stabilization in-game.
Added custom UI title. See the pause screen/menu! 
Behavior Changes
Implemented forced gamerules. 
Inventory management improved. You should no longer obtain unwanted items even by using /give command on certain items!
Tweaked the usage of mob potions to improve the game's FPS somehow.
You should no longer take damage even when you are in Spectator mode, when near a melee hostile mob.
Moved the two options by using a function command instead.
Used the player's behavior instead of relying too much on commands.
Revoked the needs of Experimental Gameplay just to run the add-on.
Enhanced Flying. You can now optionally fly like the same as if you're in the Creative mode! Requires Education Edition to be enabled in your World Settings.
Optimized texts. Removed the 'actionbar' text, added different languages for the term "Spectate World" via the infamous Google Translate. Translations are not 100% accurate. You can contribute and help for this simple translation by contacting me on Twitter.
Performance Optimizations. Frame rate drop is now reduced when the whole function is triggered.
Enhanced Spectator. To fly, just jump, then you'll glide slowly back to the ground! This is the only option for now, but I will update it as much as possible! Also, you can no longer hurt mobs or players once you die.
Added 'Options'. See description for more info.
Others. Tweaked some texts to make it noticeable.
Installation
Note: Apply the add-on's Behavior Pack on top, specially if you are using multiple addons. If you experience lag, make sure to reduce the amount of addon(s) currently imported into your world!
If the add-on didn't work somehow, make sure that you have checked if the Behavior Pack is doing fine.
Downloads
Supported Minecraft versions
1.11
1.12
1.13
1.14