This addon is created by Gameplays TV, Arcanus, Azazel_13, ALex
If you are going to review it, please give the respective credits.
Explore Craft, is an adventure add-on, where there will be monsters, bosses, wild and peaceful animals, new ores, weapons and much more. Embark on this adventure in the first beta of the Addon
This first beta and update is Nevada, so the enemies and animals have to do with something there. This first Beta brings the following:
Ores:
Ruby: This ore can be found, from layer 30 down, and with a probability of a maximum of 3 ore
Sapphire: This fabulous and difficult ore, is generated in those ice biomes from layer 30 down, therefore it will be difficult to get, but it will have a maximum of 3 ores, for which it rewards you a lot.
Amethyst: It is generated all over the world, from layer 10 to the bottom, that is, it is very difficult to find, but it will reward you with a maximum of 5 ores, perfect to make 2 swords of it.
Jasper: This precious ore is even more difficult, since it appears from layer 7 to the bottom, but the search will be worth it, since you can appear a maximum of 4 ores.
Blue Obsidian: It is generated by the world, from layer 10 down, its hardness is the same as that of obsidian or perhaps more or less, and you may appear a maximum of 3 ores.
Swords:
Jasper's sword: This sword is the most powerful of the addon, as it does more damage than a Netherite sword, with a durability of 1250 uses, it is crafted like a normal sword, only replacing the ore.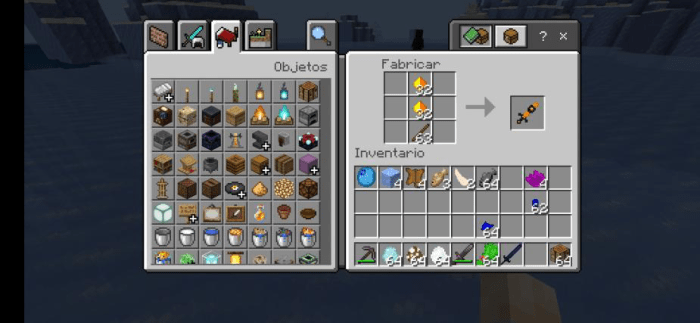 Amethyst Sword: This sword is the second least strong of the addon, but useful, it has 5 damage, and a durability of 600 uses, it is crafted like a normal sword, only replacing the ore.
Ice Sword: This sword is exclusive to the ice biome, but not that difficult since the same monsters in this beta give you the ice you need, this sword is not crafted like the others, crafted in the images below. The frozen sapphire, you have to cook it so that it gives you the one in the photo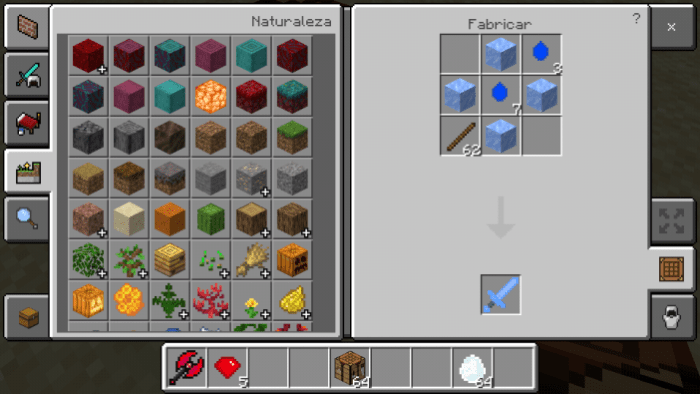 Blue Obsidian Sword: This sword has the same damage as Netherite, and with a durability of 1000 uses, the gem is crafted with the fragments of blue obsidian, image below, it is crafted like a normal sword, only replacing the ore .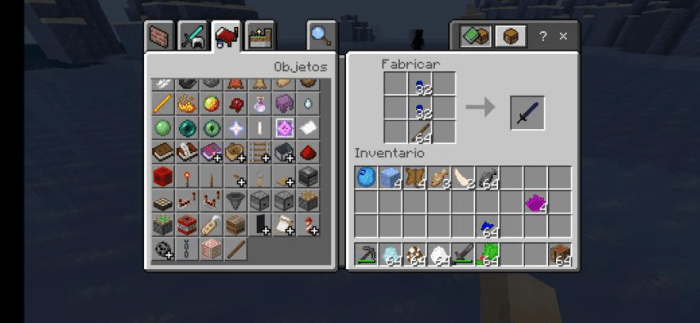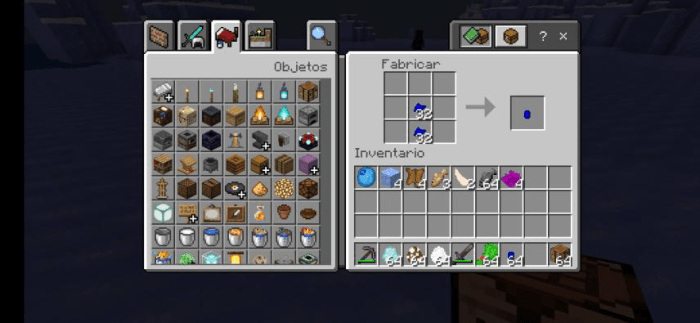 Ruby's Ax: This Ax may seem powerful, but it is not at all, its damage is 4 and its durability is 450 uses, so it is not that powerful, its crafting is different from the other images below.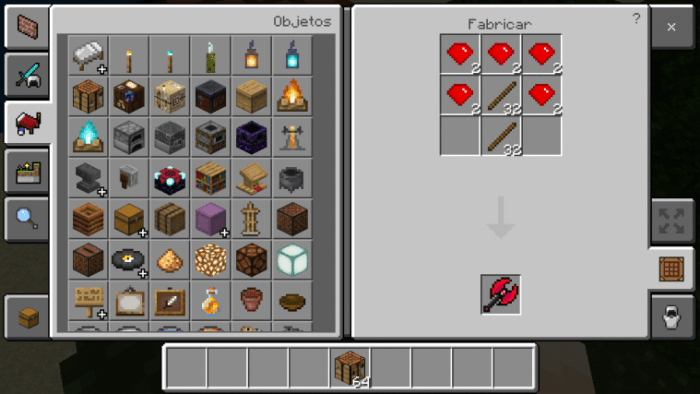 Creatures:
Penguin: This creature is friendly and is found in the ice biomes, its favorite food is the freight that can be obtained by fishing, and with that you can tame it, if you kill it it drops fish.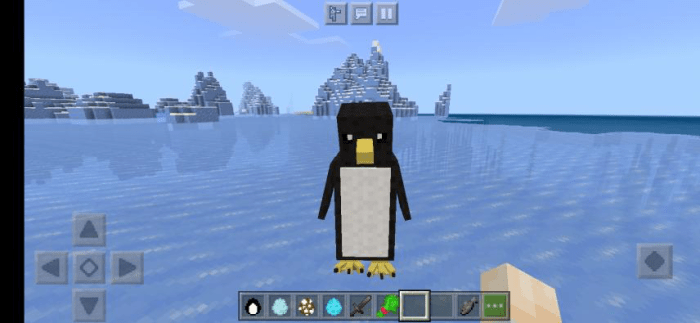 Mammoth: This creature is huge, but it does not attack you, of course if you attack it it will not last to defend itself, when you kill it it will drop its leather and one of its fangs, in the next beta it can be mounted, it is found in the biomes of Tundra.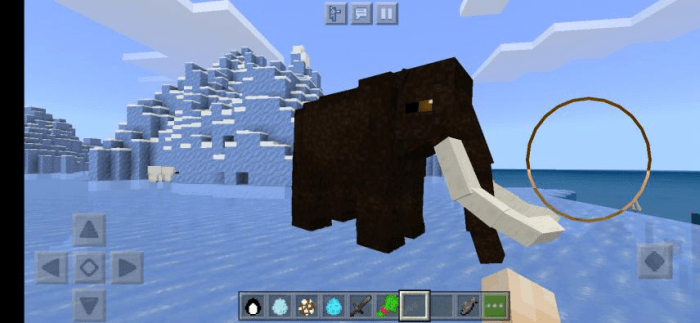 Frozen Spider: This spider is not like the common ones, since they will attack you as soon as they see you either day or night, and if that wasn't enough, when attacking you it gives you a slow effect without counting its incredible damage, when killing it releases its beware, it appears in snow or ice biomes.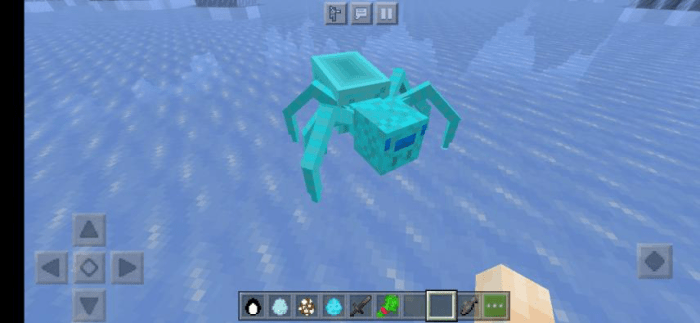 Snow Monster and Mini Snow Monster: These two monsters are the worst, the mini does not have much life but it does a lot of damage, instead the snow monster is like the boss of this beta, it has a lot of damage and it will not last in attack you, they appear in the snow or ice biome, when you die they release the Packed Ice.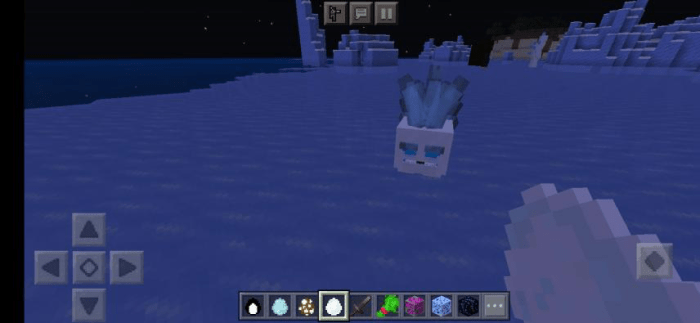 Snow Giant: In this beta, it is not added due to certain bugs, but we will try to get it in the next beta.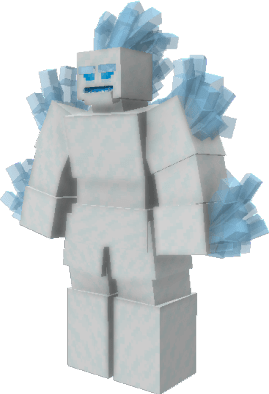 This would be all for this first beta, I hope you download it and enjoy this addon that has been working for almost 1 month, if you are going to review it please leave the respective credits to the 4 creators already mentioned 🙂
The addon still contains bugs, and bugs, since it is an early beta, if you see any bug in animations we will correct it in future betas, and if you see another bug other than animations, write it in the comments 🙂
Fixed several bugs, about not appearing prayers and more
Upcoming bug fixes as we read your feedback. Thanks for downloading the addon :)
Installation
First press the direct link.

Then click on the green button and you will be downloading.

Lastly, press the file and open it with Minecraft, and if it does not appear, with a file explorer you open it with Minecraft
Downloads
Supported Minecraft versions
1.16