Pop quiz! What is (a) Fancy and (b) Furniture? If you guessed Fancy Furniture you're exactly right! Genius-level in fact. And you may download this Add-On. Actually, everyone can download it. No judgement here!
Firstly, and most importantly, we have a new salesman, Sven, who travels around birch forests with his moose selling all the latest Fancy Furniture you could ever want (at least until v2 comes out). Everyone give a warm greeting to Sven [background golf claps ensue].
This furniture includes (and is limited to):
Old-style Jukebox – built a tavern and need a real jukebox..? This is for you. Some great country tracks by The Caffeine Creek Band and JuliusH.
Outdoor speakers, loaded with awesome tunes from Patrick de Arteaga; see patrickdearteaga.com
Bar stools
Reclining lounge chairs (let's be lazy)
Bookshelves
Pedestal fans (to keep your desert houses nice and cool)
Office chairs (you want a red one, trust me)
Lamps
Coffee tables
Tents
Sun lounges
Outdoor chair
Much more to come…..
To make the speakers and jukebox play music, you need to 'tame' them with redstone. And then interact with them once to start the music and again to stop the music. There's around 15 minutes of music for your listening pleasure on both devices. If you want to move them, just chop 'em up and they will drop a spawn egg.
Same deal, pretty much, with the fan. Tame with redstone, and interact to stop/start it.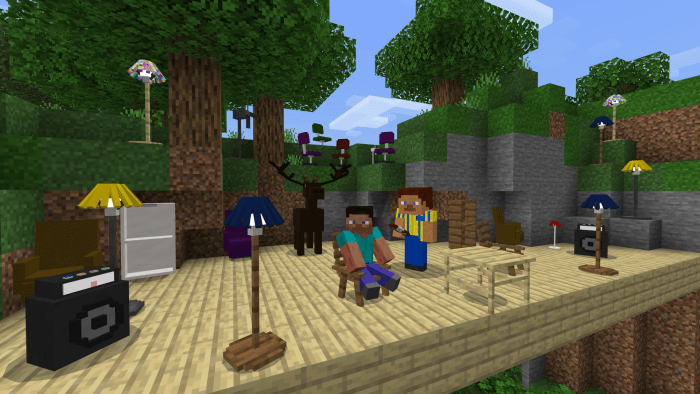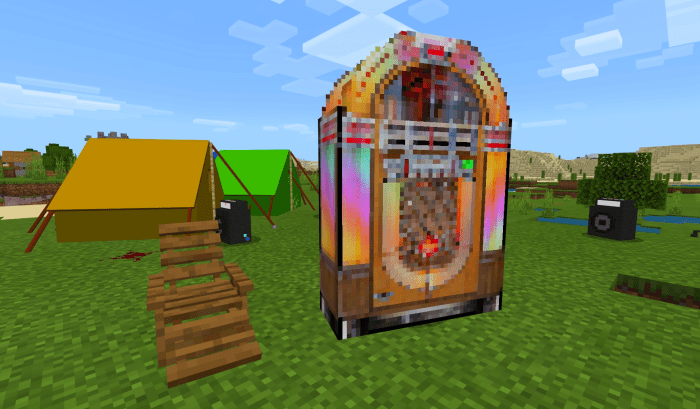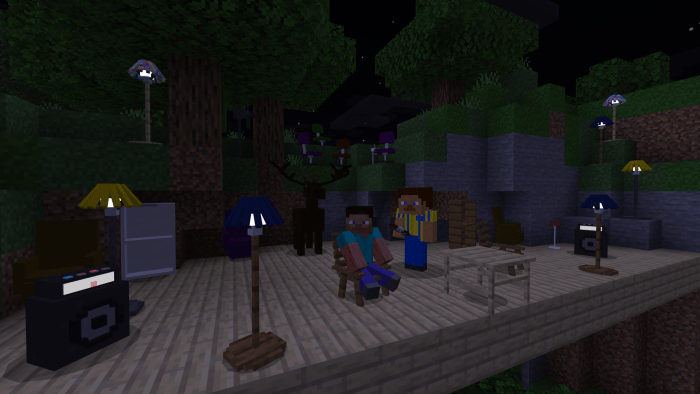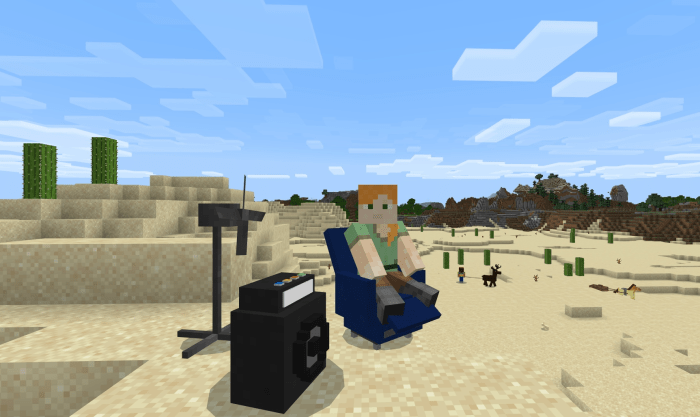 To the fancy youtubers out there, if you do a review/showcase, thank you! Please link back to *this page* on mcpedl. Cheers!
Added the old-style jukebox (with 15-16 minutes of country music, thanks to the Caffeine Creek Band and JuliusH), tents, and sun lounges.

Added a few items of furniture and some more tunes on the speaker (around 18 minutes of music now). More to come!

Downloads
Supported Minecraft versions
1.16