Fantasy Islands is a made-up theme park with over 50 rides & attractions, 4 themed hotels and some great scenery for you to enjoy throughout 7 different & engaging themed areas!
Fantasy Islands is a medium sized theme park with several fun areas worth exploring. Each area is themed around a different topic and they include Roald Dahl, The Lord of the Rings, Castle, Pirates, Tropical and Horror. It's really a great mix of everything compressed in one theme park. Some other awesome things checking out are the daily fireworks shows, a hotel with lots of themed rooms and five restaurants.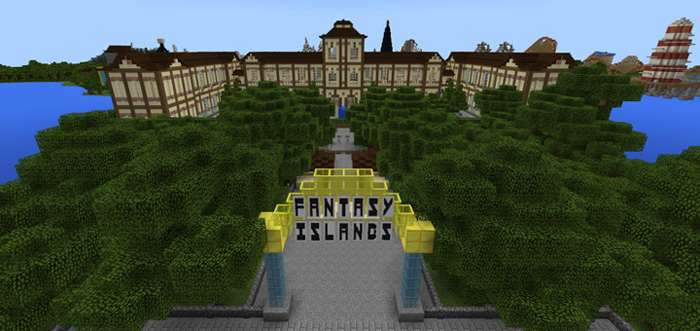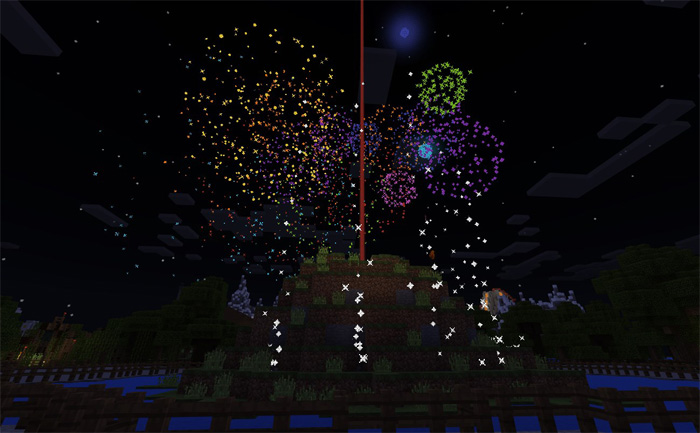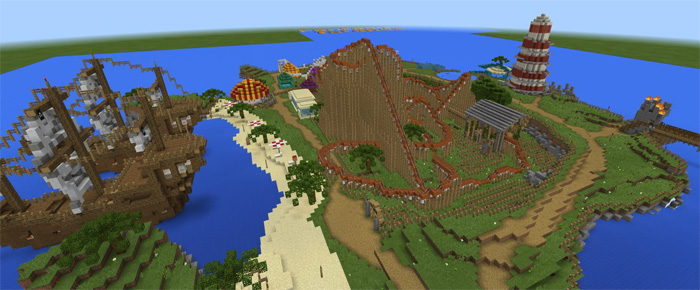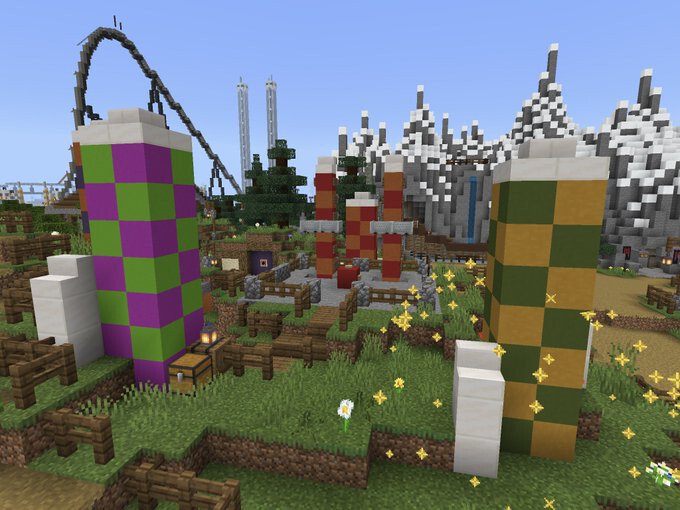 Trailer
Reopened Hobbiton! All rides in the area have been updated!
The full ride list is:
- The Desolation of Smaug: Dragon Chase
- The Mines of Moria
- Mount Doom: The One Ring
- Rivendell Rapids
- Bilbo's Hobbit Hole
- Spider Web
- Firework Leap
- Ended Fantasy Islands' Wonderland 2020
- Continued preparations for Islands of Screams
Started our brand new Christmas event: Fantasy Islands' Wonderland! This event includes park-wide festive theming!
- Opened Kahiti Point Waterpark! This includes 5 new rides!
- Bug Fixes
- Fixed issue with textures not working on some downloads
- Removed Islands  of Screams 2019 (Don't worry, it'll be back next October!)
- Started construction on Kahiti Point
- Bug fixes in Jester and Sauron's Meet & Greet
Stared Islands of Screams 2019! The mazes are:
- Subject 101
- Mineshaft
- The Peregrine
- Jester
- Began preparations for Islands of Screams 2019
- Bug fixes due to changes to minecart friction
- Closed Dahland
- Added Xanerth
- Opened Ascension
- Opened Interstellar
- Opened Crystal Falls Island Tours
- Opened Rampage
- Opened HyperDrive
- Continued closure of Dahland
- Added the Dahland closure commemorative fireworks display
- Full revamp of the hotel
- New hotel restaurant
- New money system
- All rides are now trackless
- New entrance plaza
- Updated Dragonspire Keep
- Rebuilt Mystical Adventure
- Rebuilt Aqueous
- Added The Alchemist's Tower
- Added the Dragonspire Keep Hotel
- Added The Dragonspire Keep Love Show
- More bug fixes
- Fixed problem with .mcworld not downloading
- Minor bug fixes to Rum Cove
- Reliablility inmprovements
- Added in .mcworld download
- Updated Twisted Curse
- Added Skull Mountain
- Added Sea Splash
- Updated Treasure Hunter
- Updated Rum Cove
Downloads
Supported Minecraft versions
1.11