A world that has a couple of heat or cold themed minigames on it, like spleef (snow) and SKOG. (Snow and Lava) The proper game details are in the description. The lobby/games are located in a plains/forest area, near a deep drop cave. There is no way for me to give people VIP (You get a diamond shovel and access to the VIP caves, which just gives you the diamond shovel but I can make benefits of VIP better) so if you are a host, get yourself a button, and anyone else you want to a button. (A thing to note, after you vote for the minigame, you may want to actually select the game with the most votes. Go to the other side of the wall and press which button had the most votes. However, anybody could cross the wall, so it is advised you play with friends that won't muck around and grief things.
I am planning on making updated versions of this, but I need game ideas. If it's possible (and simple enough that I don't give up) I will create special abilities for some games. I will also make some more of the games. Maybe even a deaths/scoring system! VIP is just another thing I have to work on.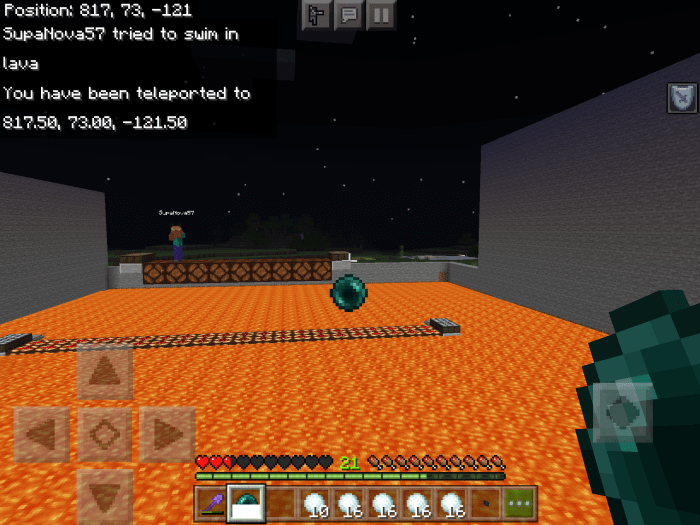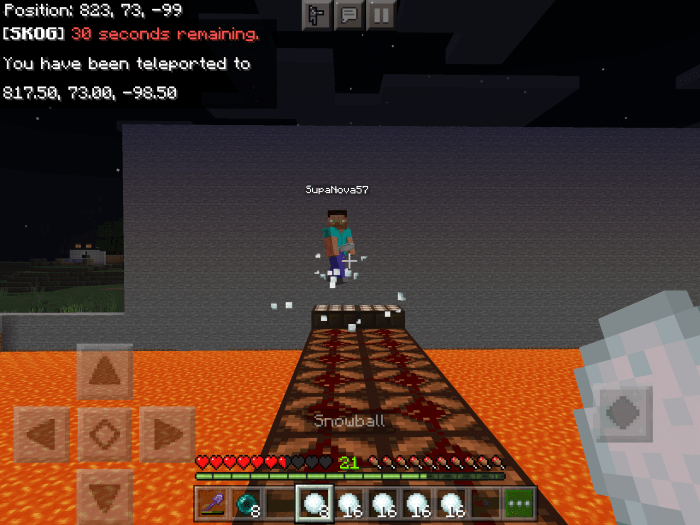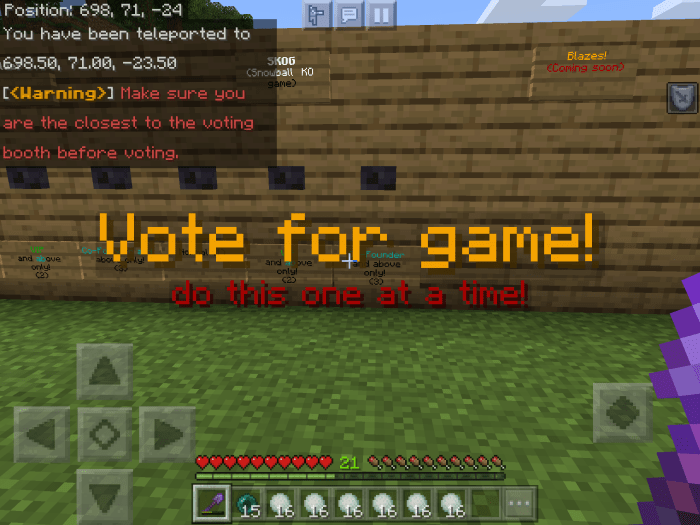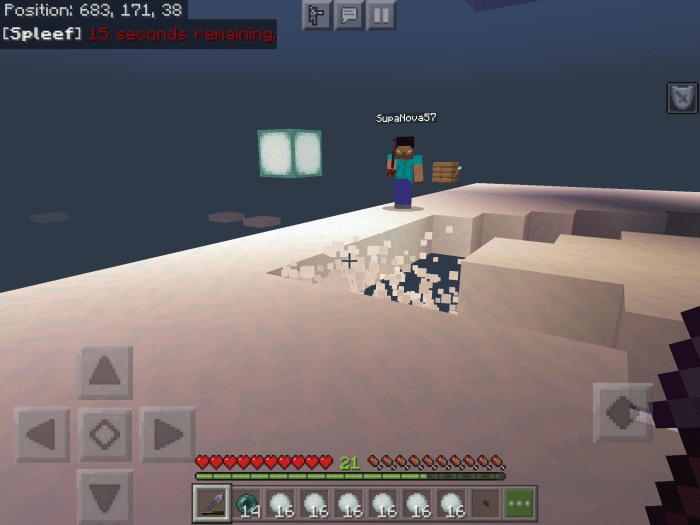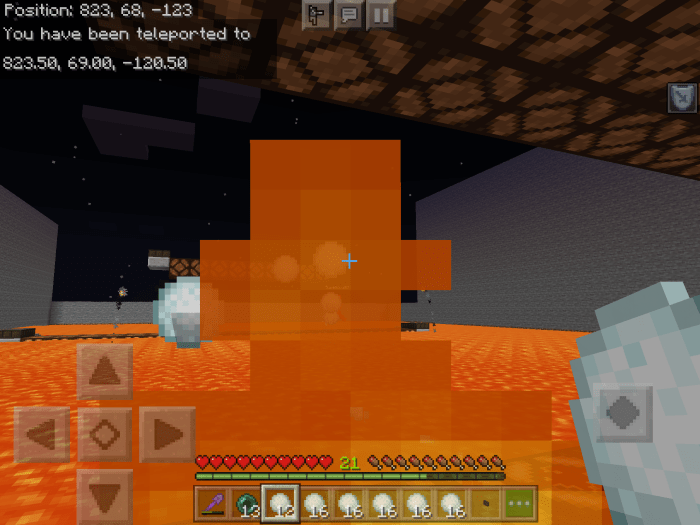 Spleef is the classic 'Drop you down' game where you mine snow under your opponents' feet. This time there are multiple twists.
1. You can build. (Snow blocks only – other players and you can mine these. Automatically refreshes the playing field (removes all structures) every 1 minute until A certain point. The game will notify you when the field will stop refreshing.
2. You can throw Ender Pearls and Snowballs., You can throw Ender Pearls everywhere except out of bounds, which is throwing them down towards the ground. Snowballs can be thrown anywhere.
3. There are 2 floors of snow. You start on the top floor, and you get up to the top one again by building or throwing an Ender Pearl (Be warned, if you throw it into the roof, you teleport to the top of the roof. I will solve this in a future update.
4. If you fall, it's NOT over yet! When you fall to your death, there are multiple holes in the ground. Falling in them means you fall into water. In that underground 'lake', you will find a button. Press that to get Ender Pearls and Snowballs.
Ender Pearls and Snowballs are used in other games.
SKOG (Snowball KO Game) is a team game where you throw snowballs at the enemy (on a platform) to knock them into lava. You select a spawn place. Take note of which team you side with, because it's against the rules to change teams. Try to keep teams even and equal. You can also use Ender Pearls to teleport to the enemies' platform, where you can use your fist or snowballs (In a future update you will get a knockback sword) to take enemies by surprise.
Blazes! (WIP. It's accessible, (Maybe, I think) but you are advised not do do it, because there is no way back. The signs with a red X in brackets (X) under the name is not to be used, unless you want to ruin the gaming experience until you try and sort it out. The description of this game is what I am planning. It is subject to change.) is the most recent game I'm working on. You will be given a background story in the chat, and then after 30 seconds, waves of blazes will start spawning. There is a set amount of time between waves, that may vary from 15 seconds to 45 seconds. If you die, you cannot get back in, but you can spectate from a bird's eye view. (Beware that it WILL summon the next wave on time regardless if you finished the previous wave or not. Also be aware that I may have some problems, because I don't know how to finish the game when all players or monsters are dead. I may put a timer on the game, where you lose if you don't kill the monsters in a certain amount of time. Regardless, I will figure things out.)
!Warning: This is not grief proof. You can also farm for resources. Please don't do that. Your best asset will be kicking or banning. There are multiple flaws which will only get solved until I get the ability to use commands to make blocks in a certain area breakable, and allow NPCs to be tapped so they can scan inventories. I need info like that.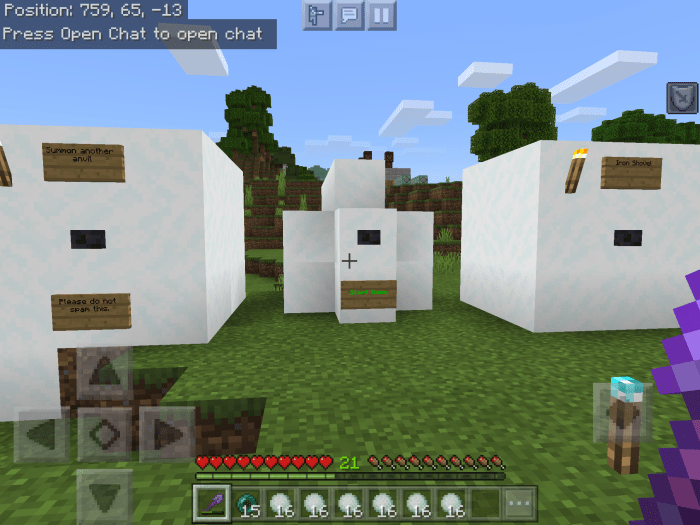 - I am working on Blazes! Resist the temptation for that button to be pressed!
Downloads
Supported Minecraft versions
1.16