Freddy and his friends wants to play with you!
come join them for Five nights and play together
It's been a long time since Freddy sang to the world. Bonnie have a Ruff year since 1987. Chica has been getting fat download the map to get here running around so she can lose weight 
Freddy and his friends are waiting for you download the map and play with them.
Map base on the saga of FIVE NIGHTS AT FREDDY´S of the creator SCOTT CAWTHON. This map replicates The Fnaf 1 game.
I use Danyfox's addon because I couldn't made this map if i never found his addon so. A huge shoutout for DanyFox for making this addon
Main Stage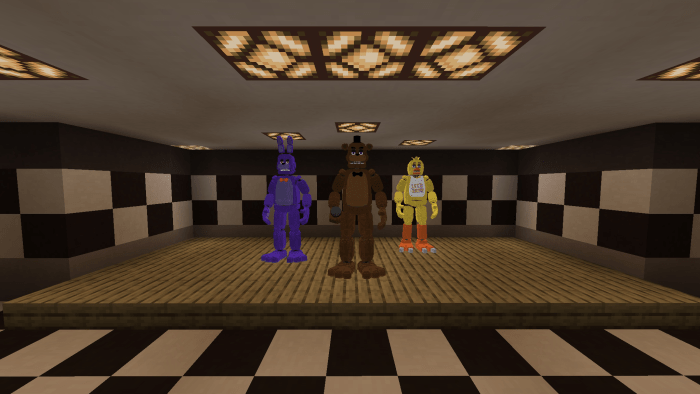 Pirate cove
Night guards Office
Dining area
Women's bathroom
Men's bathroom
Kitchen
Employees Only
The Addon wil not work on the beta version of Minecraft I don't know if it's going to work on the older versions .
Map areas:


Animatronics :
🔘Freddy Fazzbear
🔘Bonnie the Bunny
🔘Chica the Chicken
🔘Foxy the pirate Fox
🔘Golden Freddy
🔘Shadow Freddy
🔘Glitch trap
🔘Foxdee the creator of the addon


Follow me on my social media
You
Tube: Mr.CirstYT
Twitter : Mr.CristYT_
Next Update:
Adding iron trap doors on lights
sit-able Chair (only the office room)
A secret button that you will or will not found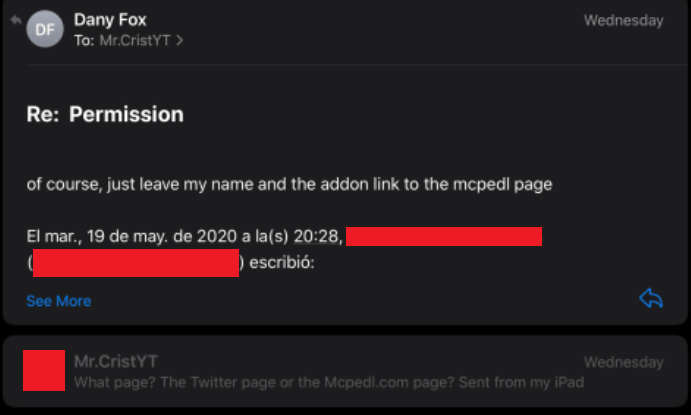 Please mcpedl i just want to upload my map i all ready have DanyFox's approval to use his addon he said i will just put his addon on the download link as well just look on how many versions i had to fix please just accept my submission 
Got permission from dany fox to use his addon for the map
Changed the brief description and changed some other  parts as well.
DanyFox approve my request to use his addon on my map
Got permissions from DanyFox and FH_Miner to use There Addons on this map
Changed the description a little bit Changed the title a little bit (current name: Five nights at freddy's(beta map) 
Nothing has changed just got permission from the addon creators 
Nothing has changed just got the permission form DanyFox to use his addon on my world 
Installation
On Android 
1. Download the .mcwolrd file
2. Open any file manager 
3. Find a file called download
4. Now find the .mcworld file
5. click or tap on it.... it will automatically open Minecraft wait until its done importing the world
On iOS
Recommended: .zip file
1. Download documents by raddle
2. Download the .zip file
3. Open the files app or documents by raddle
4. Click or tap on the zip file wait until it unzips 
5. then transfer the file to Minecraft if you don't know how watch the video 
Downloads
Supported Minecraft versions
1.14