Add over 70 new flower entities to your creative world! Add some colour to your world, beautiful wild and garden plants of all shapes and sizes.
Also included are some unique garden items to decorate your world like a birdbath and a mini pond!
NEW UPDATE! MAY 24 2020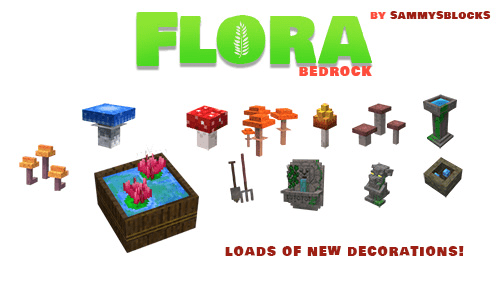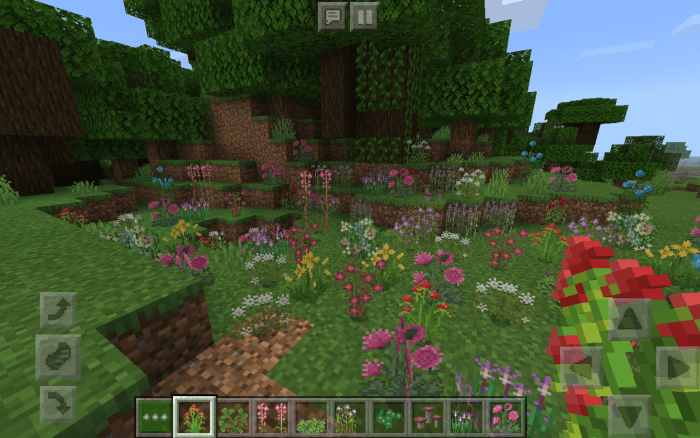 FLORA bedrock is an exciting new addon to beautify your minecraft world
Adds over 70 new flower and fungi entities in creative mode.
Beautiful 32×32 textures.
Garden tools, birdbath, windchimes, rocks, herbgarden and more decorative items for the garden.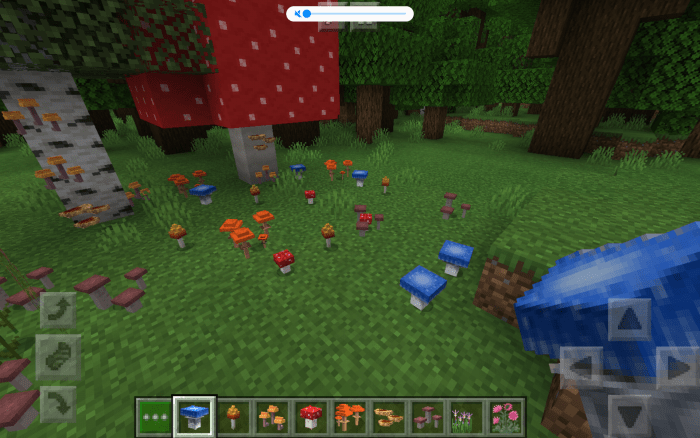 The new content can be found with the spawn eggs. Please make sure both resource and behaviours are activated!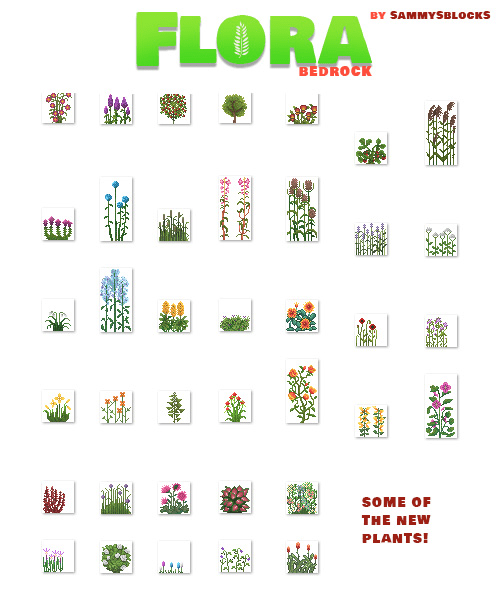 FLORA! Bedrock now has it's own development site
www.sammysblocks.com
This is a unique mcpe mod created by myself with original handdrawn textures. The artwork is not to be re used without permission.

FOLLOW @SAMMYSBLOCKS ON TWITTER FOR FLORA AND FAUNA DEV UPDATES.
Added new plants! some spawn in desert areas only.
fixed signpost texture, 
removed shadows
Added the  Herb Garden
fixed download links
added link and splash image to Fauna sneak peek. an addon coming soon from sammysblocks
Added 12 new entities, Bromeliad x2, Orchid, Rockpool, Venus Fly trap, Passion Flower & more
added Natural spawning (optional download) flowers now spawn in world generation. (w.i.p)
Fixed a few spelling mistakes.
Changed link to direct to safer download/addon dev site.
Removed links which may have been giving downloaders viruses.
Updated description to provide copyright information.
This is 100% unique mod made by myself for the bedrock engine
Added 50+ new plants and entities
Changed link to adfly
Downloads
Supported Minecraft versions
1.14