This pack expands upon the basic Minecraft foods adding additional foods that can all be crafted or obtained through natural game play. This pack will add uses for otherwise useless food items like tropical fish and honey.
This pack includes foods such as sushi, candy apples and much more.
(Enable Experimental Gameplay to use.)
This pack adds a wide range of food items for you to craft as well as some food related blocks.
Some of the foods added include: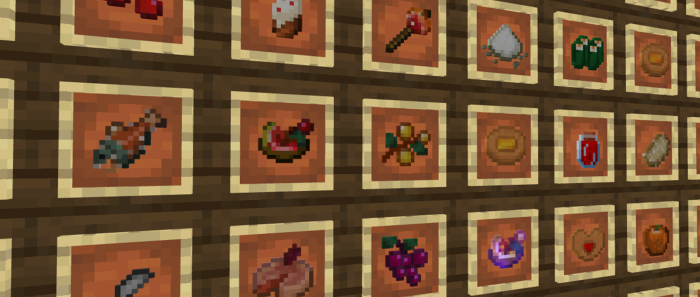 Fruit bowls – These bowls combine the three vanilla fruits into one easy to carry container.
The Golden variety allows for an effect similar to a god apple, meaning that it is now craftable again in a different, more balanced, form.
New fruits – Oranges, Cherries, Grapes and many more. These new fruits can be crafted into jams and even cookies.
Some are found naturally while others are dropped by one of the new mobs introduced.
Fish – Make use of all those tropical fish with Sushi and calamari to give more purpose to those squids.
Some of the new blocks include: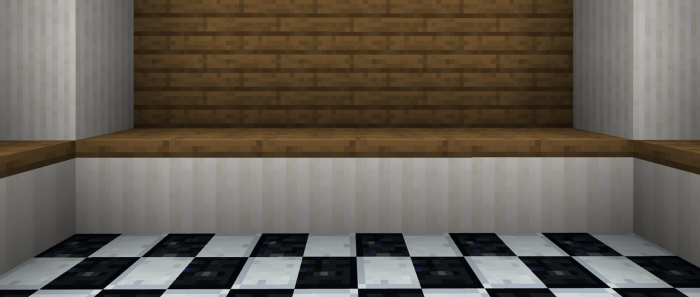 Counters and tiles – Create a more detailed kitchen with these new decorative blocks.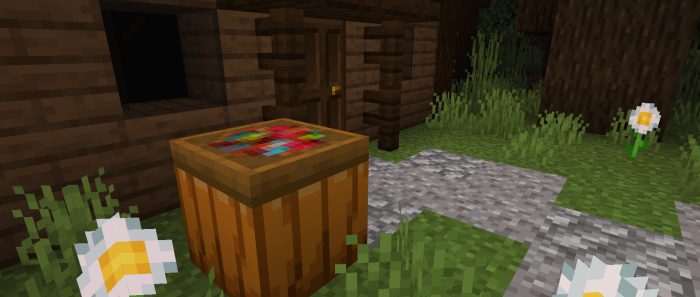 Seasonal food blocks – Food related blocks for the seasons, starting with a pumpkin bowl for Halloween.
Fruit leaves – Find them naturally in the world to obtain the new fruits.
Finally this pack adds an additional mob: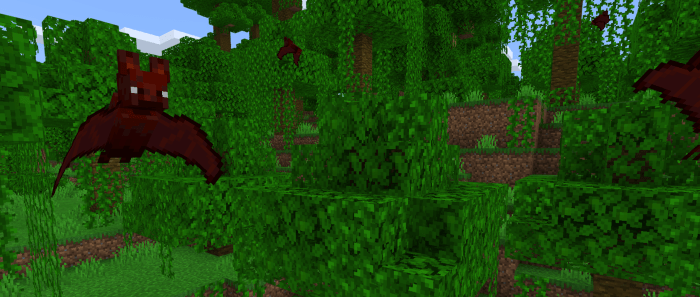 Fruit Bat – This little creature can be found in the jungle and drops cherries and grapes when killed.
Much more!
So have fun exploring and crafting all sorts of new foods!
Optional achievements for this pack:
I'm just cooking in my kitchen
-Craft a kitchen counter and tile.
Idle cooking
-Collect every type of cookie.
What have you got?!
-Craft a knife.
Fruit salad, yummy yummy
-Craft a fruit bowl.
Nemo No!
-Craft a sushi.
Jamming
-Craft all types of jam.
Godly again
-Craft a golden fruit bowl.
A whole lot of bowls
-Craft every food that comes in a bowl.
Updated the title for this add-on in order to remove the version number.
New mobs
Fruit Bat - Drops Cherries and Grapes,
                   Spawns in the jungle,
                   Bigger than regualar bats.

New blocks
Pumpkin Bowl - Perfect for Halloween!
Kitchen Tile - Made from black and white concrete.

New Items
Candy Corn - Bite sized treats.
Salted Meats - Give more saturation when consumed.
Cherry and Grape Jam - To finish off the jams.

Fruit Leaves now generate naturally in the world

Updated many textures.

Updated the download links to allow for easier access to the files

New Additions:
Knife for chopping food up
Cake Slices for that cake you make for the achievement
The beginnings of tea!!!
New types of jam and cookies

Adjustments:
Recipes that use wheat now use flour instead
Adjusted some of the stats of food to make them more balanced

Bug Fixes:
Golden Berries are now craft able

Honey cookies
Chocolate
Spider pieye?
Blocks for oranges and limes to allow them to be found in survival worlds in a similar way to lemons

Oranges - Appear in jungle trees
Limes - Appear in dark oak trees
Chocolate - Crafted with cocoa beans and sugar
Marmalade - Crafted from oranges

Downloads
Supported Minecraft versions
1.16