This is a simple but really great resource pack which transforms the rabbits in your world into friendly amphibians known as frogs! The frogs have complete new textures, models and sounds. It's perfect for all you frog lovers out there!
Creator: Hezakey (Artwork), Krixwell (Renamed Items), Bridal (Froggy Sounds), Loreweaver (Original Java Edition Post)
Ported by: GalaxyGlitch, Twitter Account (thanks to argo_menor for helping with the Plus version)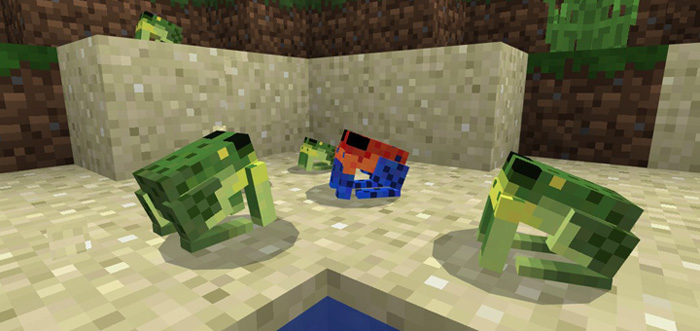 New Frogs
All things related to rabbits such as textures, models and sounds have been modified to turn rabbits into frogs. The behaviors are still very much the same as it only includes a resource pack.
Different frog types spawn in different biomes (similar to rabbits). Here is a list of frogs which will appear in your world.
Yelling Ponds Friends
Absolutely Inedible Strawberries!
Jungle Leapers!
Angry Squeak Balloons!
Friendly Frogsicles!
And Sticky Frogs!
Custom Items
These items were created by GalaxyGlitch and doesn't exist in the original FORGS Resource Pack. It replaces vanilla rabbit items.
Frog Leg
Uncooked Frog
Cooked Frog
Frog Skin
Frog Stew
Frog Egg Spawner
Installation
Download one of the following Resource Packs:

Activate the pack for a world in-game
You can get a .ZIP file for this resource pack here.