The pack is now finished. All of the features (planned and suggested) has now been implemented. Now, the hands of the villagers and illagers is not tied together anymore and enables them to render armors. This addon/texture pack is what making it possible. Transforming villagers hands without losing all the notable features like their big heads and most importantly, their NOSE.
Note: This add-on is just a resource pack. Don't worry, it will not disable achievements in your world so it is safe to use so have fun using it in your survival world.
———————————————-
Unlike other addons out there, they are transforming villager models to become humanoid but the most notable features are lost in the process, because of this, the villagers loses their trademarks, especially the NOSE.
But this addon gives importance to the villager's large head and their NOSE while also keeping the models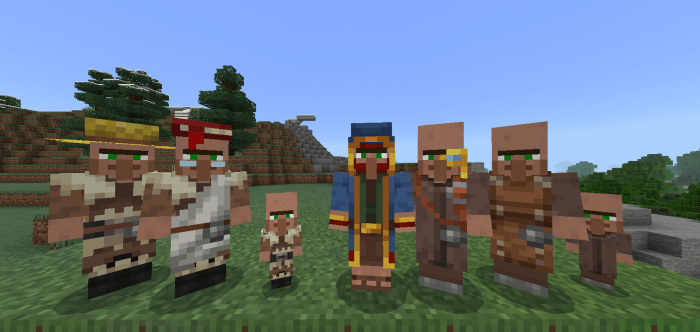 Not only that, but I also made them wave whenever they want to trade with to make it more fun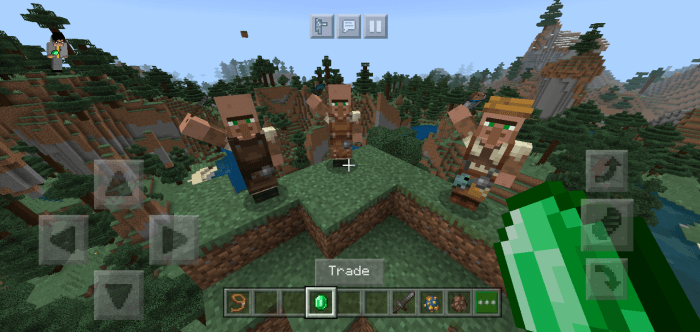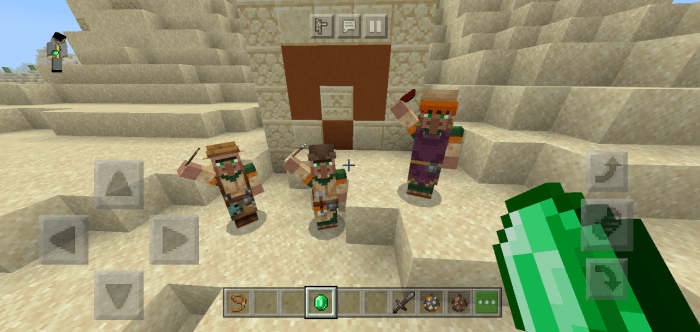 Except for the nitwit and that kid back there. They can't trade, so they can't wave their arms.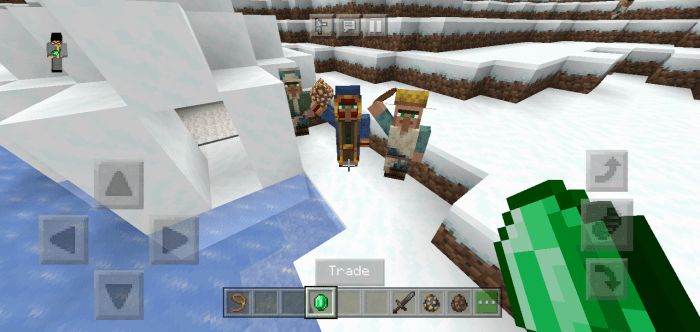 Illager Update is Here!
New features:
– Illagers like Vindicator, Evoker, and Witches have now managed to untie their arms too. They are now have more freedom to do their evil deeds and nobody can stop them now. (Fan suggested feature)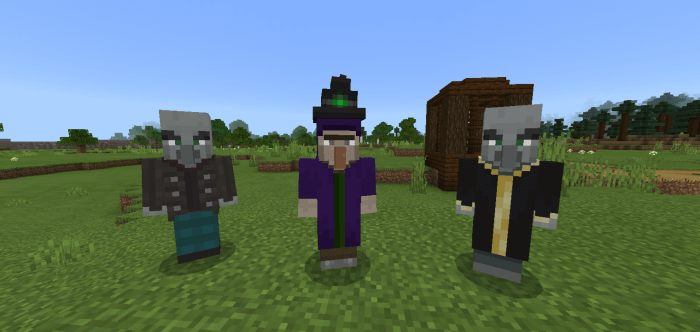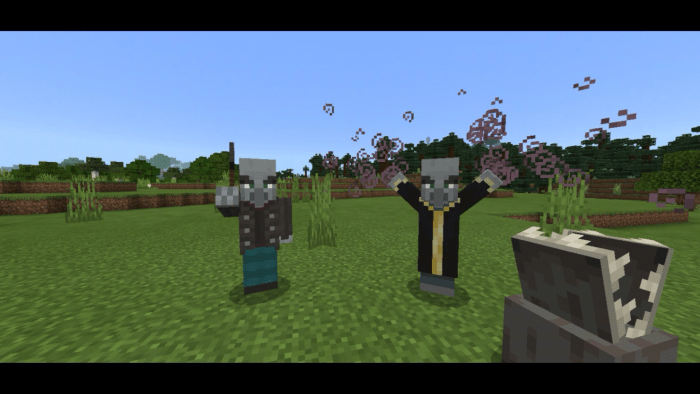 – Added new drinking animations for Witches and Wandering Traders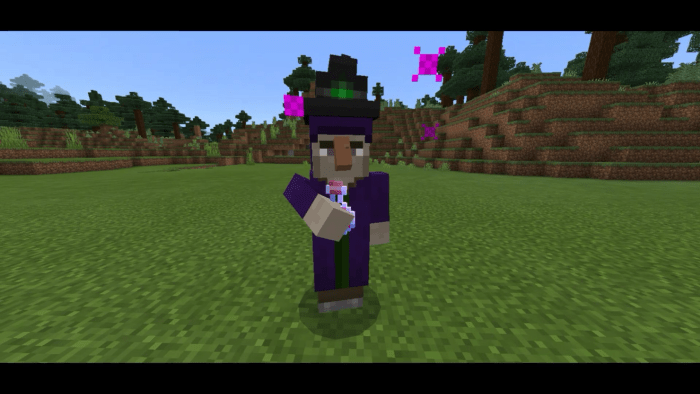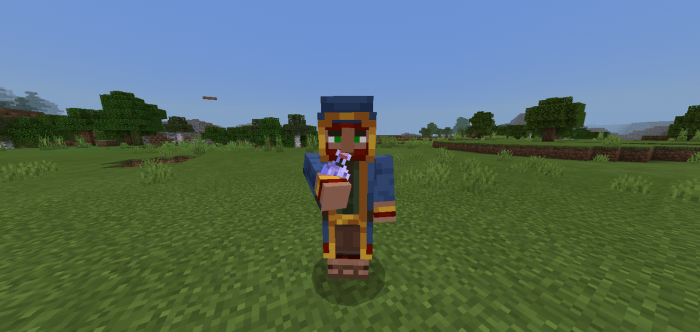 – Added a new riding animations for villagers, wandering traders, and witches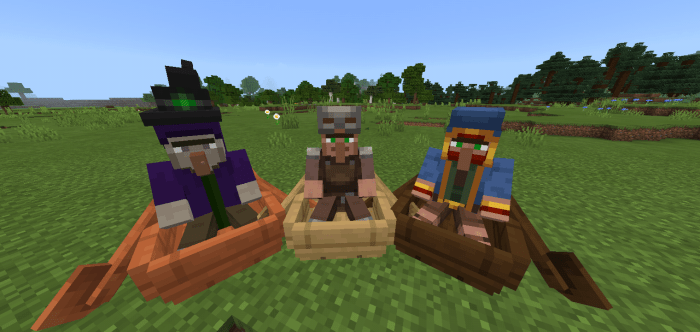 Armor Update is Here!
New Features:
– Villagers and Illagers can now render armor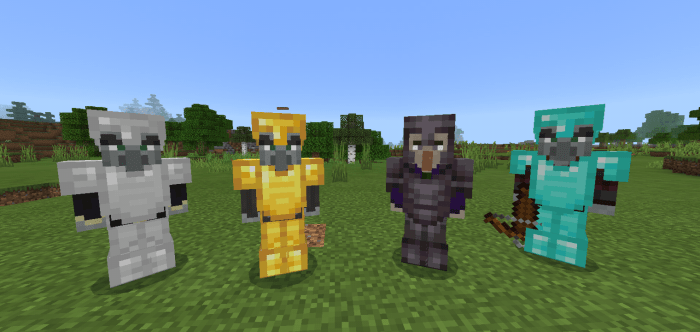 – Villagers and Illagers can also now render elytra and all other custom armor from other addons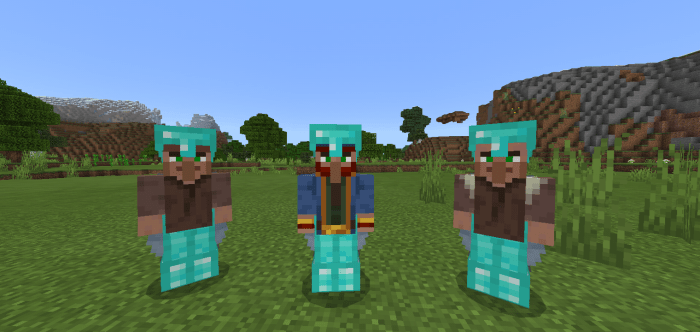 – Villagers can also now close their eyes when they are sleeping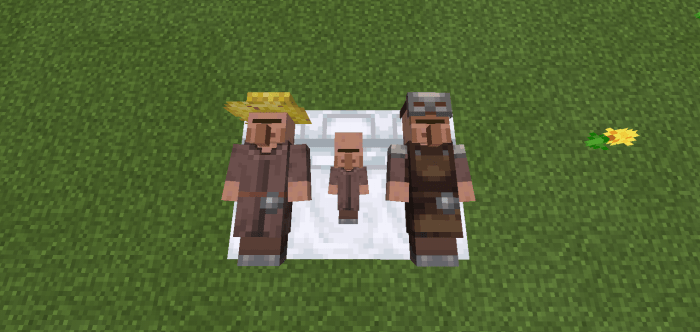 Final update is Here!
This is addon has been successful and gained a lot of positive feedbacks. Sadly, we are now on the final update and no more features is gonna be added in the future. If necessary,the pack will be updated to fix bugs so don't forget to report them. I always appreciate your cooperation.
New features:
– New riding animation for Evokers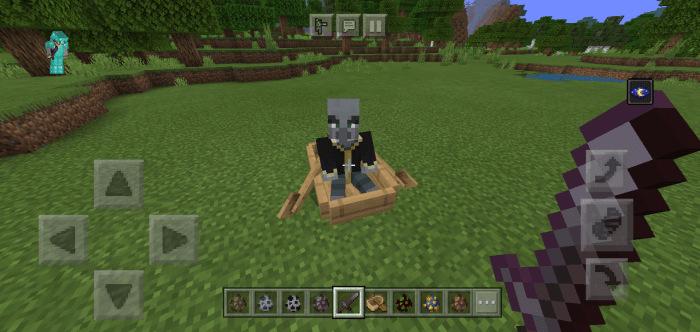 – Zombie villagers can now properly render armor (Fan requested feature)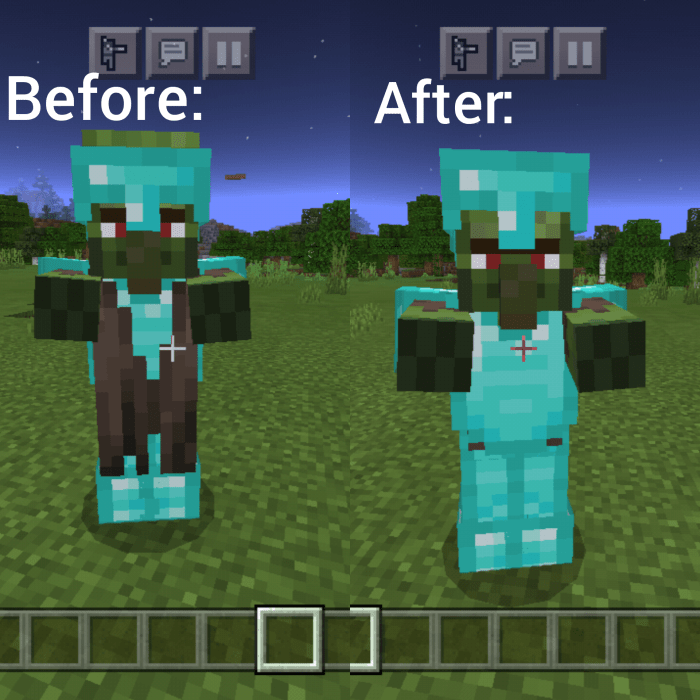 – Added a new panic animation for Villagers and Wandering Traders (Fan requested feature) which in my opinion is really hilarious.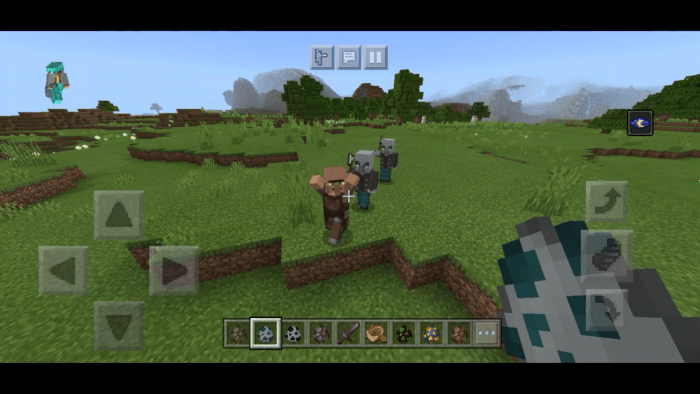 Fan-requested features that was not implemented:
"Make NPCs look like this too" – I wanted to do NPCs but apparently they are hard coded and can't be changed using resource packs (or probably I just haven't figured it out)
"Make vexes render armors too" – Vexes can't render armor. I did the same method that I used to render armor for the villagers to vexes but unfortunately, it didn't work. (or again, I just don't know how to really do it)
"Make Vindicators always expose their axes" – Vindicators can't expose their axes unless they are angry. This is hard-coded too and can't be changed using resource packs. (or I may have just overlooked something)
"Add the ability for villagers to fight back" – This requires behavior pack which removes the ability of the player to get xbox live achievements. Besides, there are other mods out there that enables villagers to fight back.
I want to thank you all for your suggestions and bug reports, I really appreciate them all. It made this pack better, thanks to your cooperation and feedbacks.
If you have any suggestions, questions, asking for a permission, or bug reports, you can DM me at my discord withnout#8935 or at my twitter @withnout
Final Update Changelog:
Additions:
- New riding animation for evoker
- Zombie villagers can now properly render armor
- Panic animation for Villagers and Wandering Traders when they are scared
Fixes:
- Animations for Evoker has been fix
- Drinking animation for witch and wandering traders don't overlap with walking animation anymore
- Lead locators for Wandering traders has been fixed
- Wandering Trader's skin has been fixed
Additions:
- New sleeping animation for vilagers: They can now sleep with their eyes closed
- Villagers and Wandering Traders can now render armor and elytra
- Illagers, including the pillager can now render armor and elytra
Fixes:
- Witch's head texture has been fixed
- Witch's sleeve has been extended to be similar to other illagers
- Drinking animation of wandering trader has been tweaked
- Villagers now get rid of their robe when wearing any type of chestplate or elytra
- Fixed sleeping animation
- Fixed riding animation
Additions:
- New sleeping animation for vilagers: They can now sleep with their eyes closed
- Villagers and Wandering Traders can now render armor and elytra
- Illagers, including the pillager can now render armor and elytra
Fixes:
- Witch's head texture has been fixed
- Witch's sleeve has been extended to be similar to other illagers
- Drinking animation of wandering trader has been tweaked
- Villagers now get rid of their robe when wearing any type of chestplate or elytra
- Fixed sleeping animation
- Fixed riding animation
Additions:
- Villagers and Wandering Traders can now render armor and elytra
- Illagers, including the pillager can now render armor and elytra
Changes and Fixes:
- Witch's head texture has been fixed
- Witch's sleeve has been extended to be similar to other illagers
- Drinking animation of wandering trader has been tweaked
- Villagers now get rid of their robe when wearing any type of chestplate or elytra
I hear your suggestions from the last one so here I am once again to update the pack
- Changed models of Vindicator, Evoker, and Witches to match villager models
- Added Drinking animation for Wandering Traders and Witches
- Added riding animations for Villagers
- Tweaked waving animations when trading to villagers and wandering traders
Installation
Downloads
Supported Minecraft versions
1.16