Hello! Thanks for viewing my Skin Pack! I originally made these skins for some friends and myself. These are all military skins based between the 1940s and 1950s. I hope you enjoy them!
The Skins (In Order)
Funiversian Troop & Pilot
Funiversian Troop is based on WW2 era United States Military Police uniform
Funiversian Pilot is based on Cold War era United States Airforce flightsuits
The Empire of Funiverse is one of the largest military powers in The Continental Funiverse. Known for it's history and influence in the world. It's usually involved in most international politics.
Auberian Troop & Tanker
Auberian Troop is based on the Vietnam era United States Marines uniform
Auberian Tanker is based on the WW2 era Soviet Tanker uniform
The Empire of Auber is a small but prideful nation. It's military isn't the largest but has seen its fair share of victories. Even thought it is a small nation it still manages to get involved in major international affairs.
Pommetopian Troop
Based on a 1950s Canadian Military Police uniform
The Kingdom of Pommetopia is a fast growing, economic powerhouse. Know for it's incredible infrastructure and innovative building methods. It's military is one of the smallest for a major nation.
Percivalian Troop
Based on Vietnam War era US uniforms
The Republic of Percival is a military powerhouse within The Continental Funiverse. It leads the world of military innovation with it's cutting edge vehicles and weaponry. The only other nation that could stand up to this beast is the Empire of Funiverse.
World Assembly Peacekeeper & Enforcer
World Assembly Peacekeeper is based on an early United Nations uniform
World Assembly Enforcer is based on Schutzstaffel uniforms
The WA, or World Assembly is the biggest international group in The Continental Funiverse. A few nations consider the WA to be corrupt and evil. It ultimately dictates the rules of war.
Terebellium Troop & Nurse
Terebellium Troop is based on Korean War era South Korean uniforms
Terebellium Nurse is based on the WW2 era United States Army Nurse Corp uniform
The Kingdom of Terebellium is a small nation recently formed from a civil war. The military is very small. While it is not known for having the newest and strongest weapons, it's medical knowledge is amazing.
Volker Troop & Secret Police
Volker Troop is based on Wehrmacht uniforms
Volker Secret Police is based on a mix of the Schutzstaffel and Sturmabteilung uniforms
Note: I do not condone the actions or beliefs of any of these political groups and do not intend to support them with these skins
The Empire of Volker has a very strong military and prideful homefront. It's government is considered one of the most corrupt in the WA. It often stirs up trouble with other nations and gets the WA involved.
Jainan Troop
Based on WW2 era Japanese uniforms
The Socialist Republic of Jainan is an extremely hostile nation based on political uprising and instability. Neighbors of it find themselves scrambling to increase their military power due to the constant threat of war.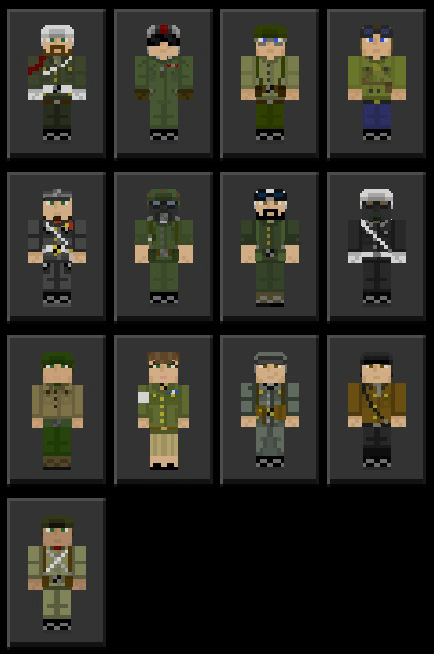 The Creator
Hello! I'm Minnesota! I'm a small Youtuber and I love to create things for the games I play! I hope you enjoy my skin pack!
Note: This was only uploaded to MCPEDL.com. If you see this anywhere else it was without my permission.
Updated and fixed past textures
Added Jainan Troop
Added World Assembly Enforcer
I've had multiple things uploaded to other sites without permission, had to update description because of this.
Removed the Adfly link, I'd rather have 100 people be able to use the pack then have $100 in ad revenue.
Hey hey hey, here is some more Funiverse Militaries!
Fixed more errors I found on older skins
Added the Terebellium Troop skin
I just updated the link and fixed up the description a bit. I'll be adding some other language support and more skins in the future.
Got you some more stuff again!
Fixed some errors on older skins
Added the Auberian Tanker
Added the Volker Secret Police
Removed Dropbox Download (I can't see how many people download it from there, sorry)
Hey hey hey, I got you some new stuff!
Added Funiversian Pilot Skin
Added Percivalian Troop Skin
Installation
Please remove any previous version of this pack before importing the newer version.
Download the .mcpack (Make sure any ad block is off)
Open the .mcpack
Minecraft will open and it should say that it is importing at the top
Once imported the skin pack should be ready for use
Downloads
Supported Minecraft versions
1.14
1.15 (beta)
1.16