The Glasses Mod adds 21 different types of glasses. Everything from colored shades, nerdy glasses and glasses shaped as pokeballs. Besides adding a super cool look to your character they also add some armor points.
Creator: Benjax6789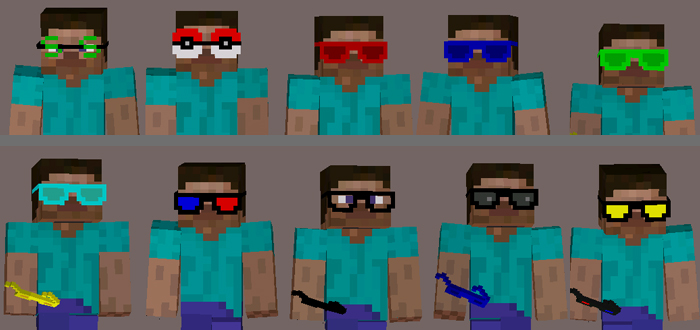 Item IDs & Crafting Recipes
Colored glasses adds 1.5 armor points. Precious glasses, like gold and diamond, adds 3 armor points. The scouter adds 2 armor points.
Black Glasses (500) – 8 ink sacks + 1 glasses
Glasses (501) – 7 coal + 2 glass blocks
3D Glasses (502) – 3 rose red + 2 coal + 3 lapis lazuli + 1 glasses
Green Glasses (503) – 8 lime dye + 1 glasses
Blue Glasses (504) – 8 lapis lazuli + 1 glasses
Yellow Glasses (505) – 8 dandelion yellow + 1 glasses
Red Glasses (506) – 8 rose red + 1 glasses
Purple Glasses (507) – 8 purple dye + 1 glasses
Orange Glasses (508) – 8 orange dye + 1 glasses
Brown Glasses (509) – 8 cocoa beans + 1 glasses
Pink Glasses (510) – 8 pink dye + 1 glasses
Dark Green Glasses (511) – 8 cactus green + 1 glasses
Gold Glasses (512) – 7 gold ingots + 2 glass blocks
Diamond Glasses (513) – 7 diamonds + 2 glass blocks
Iron Glasses (514) – 7 iron ingots + 2 glass blocks
Emerald Glasses (515) – 7 emeralds + 2 glass blocks
Lapis Lazuli Glasses (516) – 7 lapis lazuli + 2 glass blocks
Redstone Glasses (517) – 7 redstones + 2 glass blocks
Pokémon Glasses (518) – 3 redstones + 3 iron ingots + 1 coal + 2 glass blocks
Money Glasses (519) – 3 lime dye + 3 cactus green + 1 glasses + 2 coal
Scouter (520) – 3 lime dye + 1 glass pane + 5 iron ingots