This mod adds 56 new golems to the world in Minecraft. They are quite similar wolves in that sense that they will always try to protect you against possible threats which you might come across on your journeys in Minecraft. They are strong creatures which show no mercy to evil monsters. Summoning one of the new golems work similar to spawning an iron golem, but by using different blocks for the structure.
Creators: wartave (Twitter Account), RedstoneGunMade (Twitter Account)
Updated: 29 December, 2017
How do I spawn the golems?
There are two ways to spawn the golems. Either you can use the Not Enough Items mod to get the spawn eggs to your inventory or you can build the structures as seen further down to summon them.
Building the Structures
There are thirteen different types of golems and as a result thirteen different structures you can build to summon them. The types include: redstone, diamond, obsidian, TNT, iron, dirt, emerald, gold, lapis lazuli, stone, ice, sand and glass.

Summoning a Golem
The item you will need to spawn a golem is a Paper of Awakening. Tap on the pumpkin head of the golem structure with the item and the golem will appear in front of your eyes.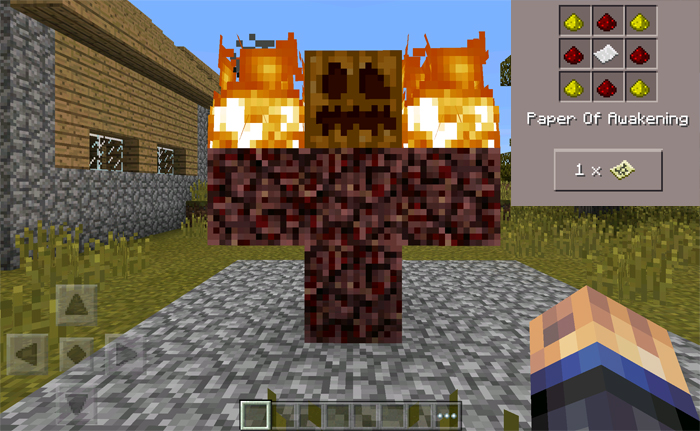 The mob is quite similar to wolves. They are friendly to you and will help you out attacking any type of mob which want you any harm.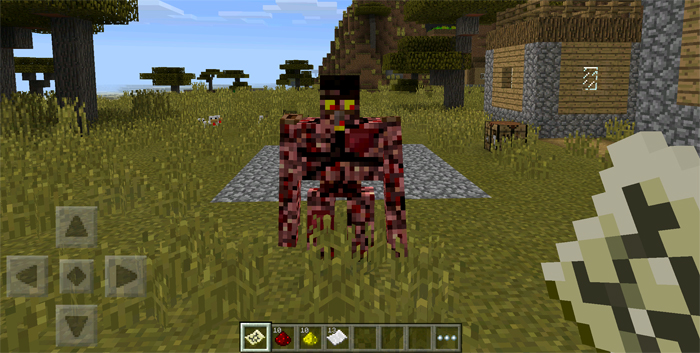 Item IDs & Crafting Recipes
The ID numbers might be outdated. Will provide new IDs if they are provided by the creator.
Paper of Awakening (519) – 4 redstones + 4 glowstone dust + 1 paper
Redstone Golem (egg) (520)
Diamond Golem (521)
Obsidian Golem (522)
TNT Golem (523)
Iron Golem (524)
Earth Golem (525)
Emerald Golem (526)
Gold Golem (527)
Lapis Golem (528)
Stone Golem (529)
Ice Golem (530)
Sand Golem (531)
Glass Golem (532)
Red Mushroom Golem
Brown Mushroom Golem
Prismarine Golem
Lantern Golem
End Golem
Slime Golem
Golem Wood (all types)
Wool Golem (14 colors)
Terracotta Golem (all types)
Requires: Latest BlockLauncher beta!
Installation
Important: Requires BlockLauncher 1.17.8 (or a more recent version).