I have seen that people have been making a lot of tree decapitators and vein miners lately so I decided to make a vein miner for the one of the most hated things ever when mining. GRAVEL!!
Gravel vein miner is a mod the makes it really easy to break gravel in survival. To activate the addon you must crouch and break one of the gravel blocks, this will break all the other gravel blocks within a certain range.
In the picture below there is gravel blocking me from strip mining and in the second picture all of it is completely gone showing how useful my addon is while mining. You receive all of the gravel when you use the addon so you can still collect the gravel if you need it for something. You do not have to use a shovel or any specific tool for it to work so you can use anything.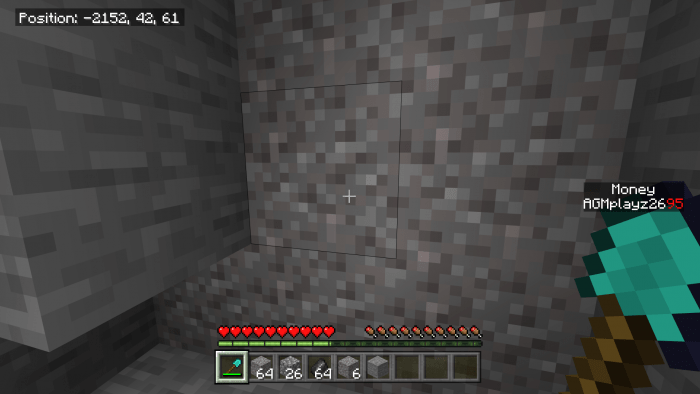 If you want to download my zip file and change it to do a different block you are welcome to! You may use this addon in any videos you want but please leave a link in the description to this mcpedl link.
IMPORTANT-THIS MOD IS NOT COMPATIBLE WITH ANY TREE DECAPITATOR OR VEIN MINER! (It depends on which one)
IF YOU DOWNLOAD YOU AGREE TO NOT REPOST MY ADDON ON ANOTHER WEBSITE!
Please leave a link in any videos you make about this add-on!

See the pictures below.
NOTE: Money scoreboard on the right has NOTHING to do with this mod.
This annoying gravel is blocking my strip mining!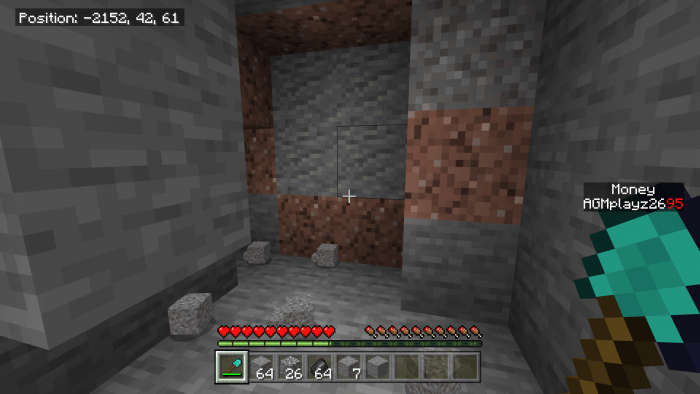 As you can see all the gravel was destroyed!
What Changed
 Updated the player.json to 1.14

Wont say "missing dependency's" any more.
--------------------------------------------------
NOTICE:
This add-on probably wont be updated any more because not many people download it and there is a awesome vein miner by dakonblackrose.
Changed Links to be a better link.
Nothing else changed

Added a file for the MCPEDL app because I felt like it.

-Removed the files for sand and gravel addon. It did not work on PE for some unknown reason so I just decided to scrap it after I attempted to fix it (Only got 500 downloads so it wasn't that popular) . I also want to work on other things but I WILL continue to update the regular gravel vein miner!

-The regular gravel vein miner still works when I tested so that's fine
-Check out my Infinite Ocean addon that came out recently!
-NEW ADDONS SOON!

-Added a separate pack that makes the vein miner work on Gravel and Sand
-Changed Text

Changed the download link because MCBedrock.com stole my addon and did not even credit me.
Changed the order of the text and added download terms

Fixed a bug that destroys all gravel blocks when you crouch even though you did not break any gravel. (Only affected PE)

Thanks for letting me know about this bug and please tell me if you find any more bugs!

Fixed The first download link so it is the correct file.

Added a more detailed submission as the editor said. Thanks!

Installation
How to install mods on Xbox One https://www.youtube.com/watch?v=MFKO1HdwTlE
Should import when you open file.

Downloads
Supported Minecraft versions
1.14