Are you tired up from Minecraft's wooden shields? You want to change it but still want to stay in vanilla style? So this pack is created for you! And now including all nether update blocks!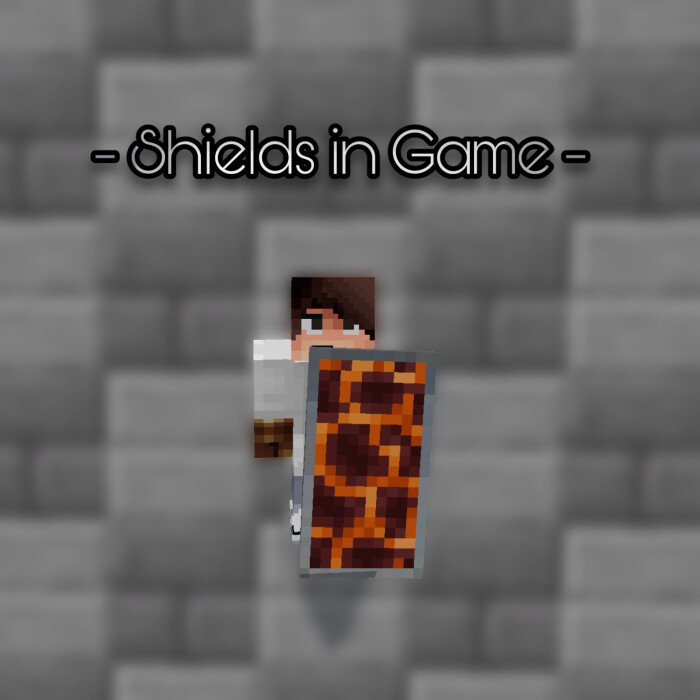 -LIST OF BLOCKS-
44 Blocks
All of Available Blocks are in 6 categories ‌‌ ‌
‌ STONE NETHER LOG ORE BEE OTHER
– STONE :
Chiseled

Cobblestone

Stone
Smooth
Bricks
Polished Andesite
Polished Diorite
Polished Granite

Redstone
– Nether :
Crimson Nylium

NEW

Warped Nylium

NEW

Crimson Stem

NEW

Warped Stem

NEW

shroom light

NEW

Basalt

NEW

Lodestone

NEW

Crying Obsidian

NEW

Ancient Debris

NEW

Target

NEW

Crimson Planks

NEW

Warped Planks

NEW

Soul Soil

NEW

Polished Basalt

NEW

Nether Gold

NEW

Nether Wart

NEW

Warped Wart

NEW
– LOG :
– ORE :
Diamond
Netherite

NEW

Gold
Emerald
Iron
– BEE :
Honey
Honeycomb
Beenest
Beehive
– OTHER :
Obsidian

Grass

Ice

sand

Magma
-HOW TO CHANGE TEXTURE OF BLOCK ON SHIELD-
-first , Check if the Pack is Activated , then tap on "Wrench" Button.

-Now you can easily Switch between All Textures !

-CREDITS-
All people who helped with making this Pack
SENIOR H ALIREZA
\/ Shields Appearing Upside Down \/
There is a known Minecraft Bug , which makes Shields Upside Down and Some of people have this Problem , This Bug is from Minecraft not the pack
7.0.0

NETHER UPDATE ARRIVED !
-All Nether Update Related Blocks Added
-Pack is now Cut into 6 different packs
6.0.0
 BEE UPDATE ARRIVED ! 
New Blocks \/
Honey Block
Honeycomb
Beehive
Bee Nest
5.0.0
Fixed Some Texture Bugs : Diamond , Andesite and Diorite
Added : Magma
Changed download link because of some AD problems - link is fixed now
Installation
Firstly , check the Captcha Box & then click on  "

Click here to Continue

"



CLOSE ANY OTHER TABS IF OPENED
Wait 5 seconds , and then click on            

"

Get Link

"
CLOSE ANY OTHER TABS IF OPENED
import the Pack and enjoy your new experience!
Downloads
Supported Minecraft versions
1.15 (beta)
1.16 (beta)
1.6
1.7
1.8
1.9