TEAM H is back with another texture pack, which brings your favorite mob to your in-game shields! – Already 19 mobs included in the pack (with your choice). Enjoy it!
Do you remember the "H SHIELDS : BLOCKS" ? TEAM H is here again with another Pack which contains lots of Mob textures for your in-game Shields !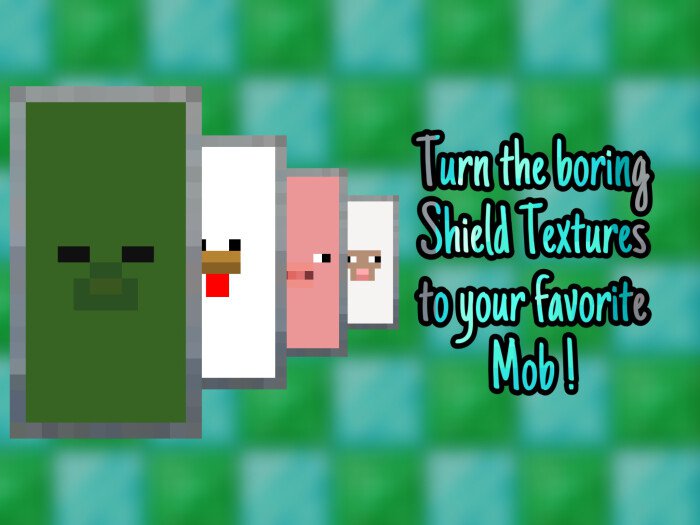 How it looks in game \/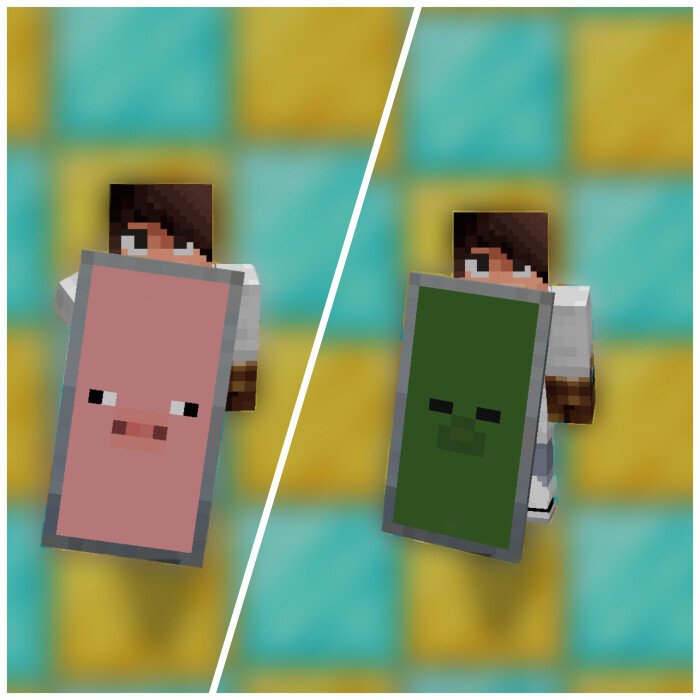 -AVAILABLE MOBS-
•

Creeper •w

Border
•

Zombie •w

Border
•

Skeleton •w

Border
•

Pig •w

Border
•

Turtle •w

Border
•

Villager •w

Border
•

Chicken •w

Border
•

Sheep •w

Border
•Llama •w

Border
•Enderman
•Shulker ( still work in progress, please dont hate ! )
•Wolf ( Still work in Progress , please dont hate ! )
•Wandering Trader •w

Border
•Drowned • w

Border
•illager • w

Border
•Fox • w

Border
•Snow Fox • w

Border
•Phantom • w

Border
•Iron Golem • w

Border
how shields look like with borders and without \/


HOW TO CHANGE SHIELD'S TEXTURE
1.first tap on the Pack , and then tap on the wrench button

2.Now you can easily switch between textures !

we will keep updating the Pack , new mobs will come soon , but you can comment your favorite mob to be added sooner ! Also , pls let us know if you have found any bugs , just by commenting it here.
NOTE
there is a " -REVERSED- " version for people who have the problem of shields appearing upside down , its a known 1.13 bug , so if the Original one is broken for you , try the "-REVERSED-" Version.
– CREDITS –
– MORE –
Previous Versions \/
Status \/
v : 4.0.0
build : 7
Changed download link to Mediafire because of some -Domain- problems.
2.0.0
Added 3 shields : Llama / Enderman / Shulker
Added a new variant: Borders
3.0.1
• NEW MOBS
-Drowned ( w BORDER )
-Wolf
-illager
-Wandering Trader
•FIXED
fixed Turtle shields not appearing in the Game
fixed Skeleton shields not appearing in the Game
4.0.0
•Added Fox ( w-BORDER)
•Added Snow Fox (w-BORDER)
•Added Iron Golem (w-BORDER)
•Added Phantom (w-BORDER)
•Fixed some Texture Bugs
Installation
   MUST READ 👇🏻
   - No Ads are included in the Download link -
download the Pack



after importing , active it on a world or on Global packs
    - Importing Tutorial for iOS13 users -
      ( without Jailbreak ) ( legal )
After downloading the pack , try to find "Minecraft" Folder in "Files" app ( its in the "on my iPhone/iPad" section )

try to move the "H SHIELDS" pack into the "recourse packs" folder
Done ! if you cant see it , pls relaunch your Minecraft
Downloads
Supported Minecraft versions
1.10
1.11
1.12
1.13
1.14 (beta)
Resolution
128x
16x
256x
32x
512x
64x