The Halloween Mod adds 10 scary masks and plentiful of delicious candy to eat. The masks include everything from the face of Herobrine to the face of an Enderman. Currently these are the main features which the mod support but in the future we can look forward to more updates!
Creator: Taizgaming, Twitter Account
How to wear a mask and where do I find the candy?
Every mask counts as an helmet armor slot. Simply wear the mask as a helmet and it will cover your face. They offer a little bit (0.5 armor points) of protection.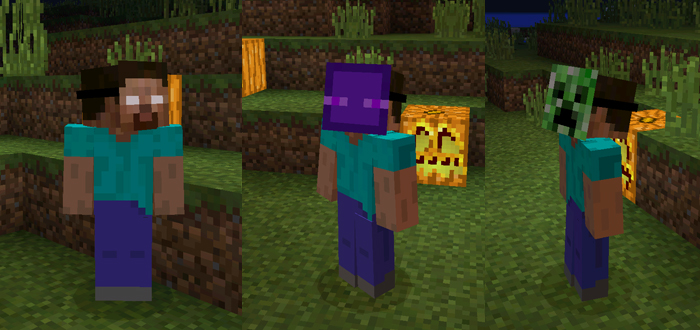 Almost all candies can be crafted using the recipes found further down on the page. But a few requires the usage of a furnace.

There are ten masks to choose from and all of them got unique crafting recipes.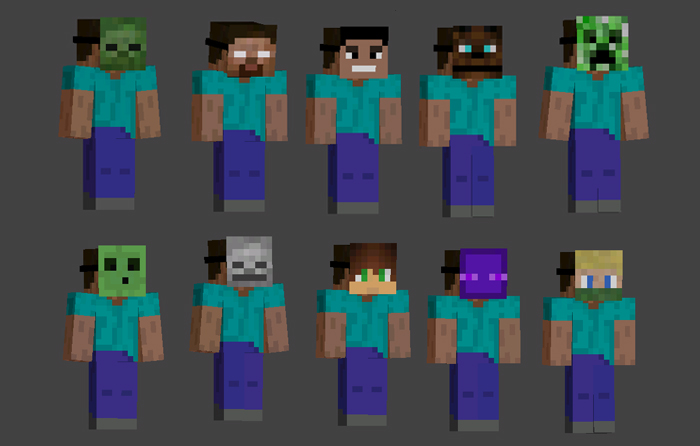 Mask IDs & Crafting Recipes
Blank Mask (469) – 8 clay
Zombie Mask (470) – 8 cactus green + 1 blank mask
Herobrine Mask (471) – 6 coco beans + 2 bone meal + 1 blank mask
FuzionDroid Mask (472) – 3 ink sacs + 2 cactus green + 2 coco beans + 1 blank mask + 1 bone meal
Freddy Fazbear Mask (473) – 8 coco beans + 1 blank mask
Creeper Mask (474) – 7 cactus green + 1 blank mask + 1 ink sac
Slime Mask (475) – 8 lime dye + 1 blank mask
Skeleton Mask (476) – 8 light gray dye + 1 blank mask
Taiz Mask (477) – 5 coco beans + 1 blank mask + 3 bone meal
Ender Mask (478) – 8 purple dye + 1 blank mask
Andy Mask (479) – 4 dandelion yellow + 4 bone meal + 1 blank mask
Candy IDs & Crafting Recipes
Candy Basket (480) – 3 strings + 1 pumpkin
Tootsie Roll (481) – 1 coco beans + 2 ink sacs
Skittles (482) – 1 purple dye + 1 rose red + 1 cyan dye + 1 cactus green + 1 ink sac + 1 orange dye + 1 dandelion yellow + 1 lime dye + 1 light blue dye
Candy Corn (483) – 1 ink sac + 2 dandelion yellow + 1 orange dye
Chocolate Bar (484) – 2 ink sacs + 4 coco beans
Lollipop (485) – 1 rose red + 1 light blue dye + 1 dandelion yellow + 1 sugar + 1 paper
Fried Pumpkin Seeds (486) – put pumpkin seeds in a furnace to get
Fireball (487) – 4 blaze powder + 1 sugar
Smarties (488) – 3 sugar + 1 rose red + 1 dandelion yellow + 1 light blue dye + 1 lime dye + 1 magenta dye + 1 orange dye
Peppermint (489) – 4 sugar + 1 rose red
Caramel Square (490) – put sugar in a furnace to get