Hangshui City is a fictional modern city with East Asian culture influence. Hangshui City was founded on 29th May 2020. This city is inspired from another Minecraft Cities (Kyokei City and Metropolitan Urashima) and also from real city (Shanghai, Taipei, Tokyo(Taito), Seoul, and etc). This city is heavily influenced by Chinese culture with some Japanese and Korean.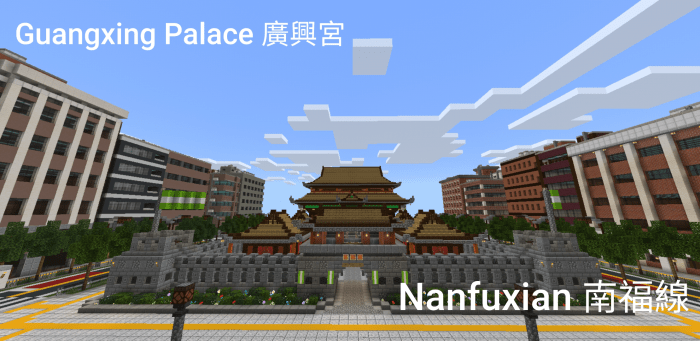 Guangxing Palace (CHINESE Style Palace) (Very tiny parody of Forbidden City in Beijing)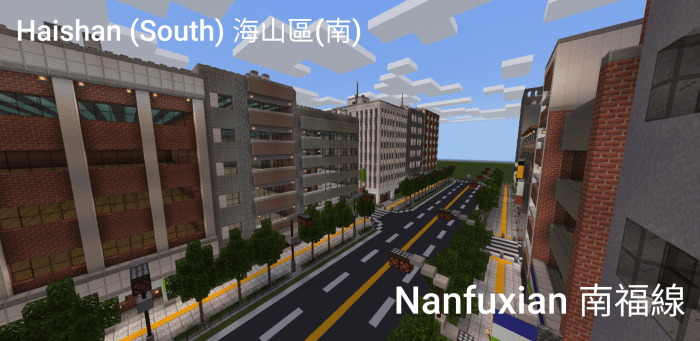 Haishan Distirct (South)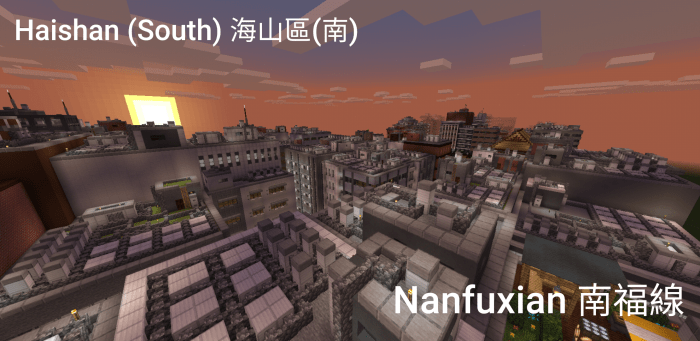 Haishan District (South) (Panorama)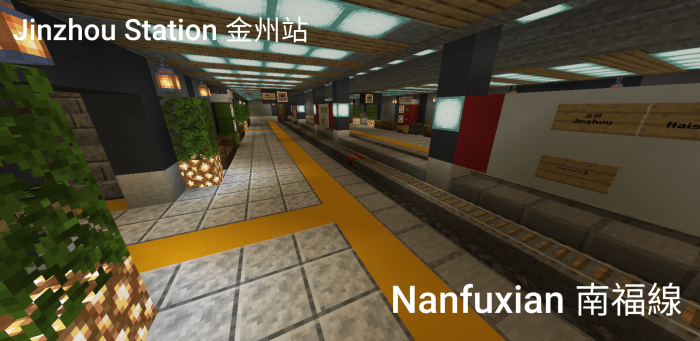 Jinzhou Station (Metro Station)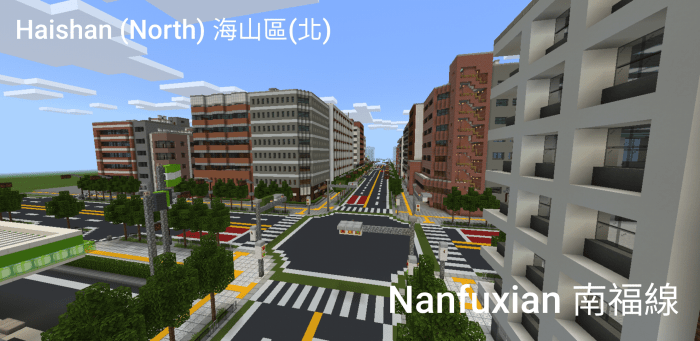 Haishan District (North)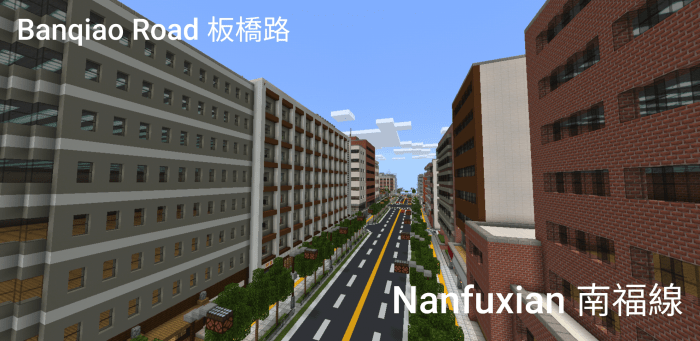 Banqiao Road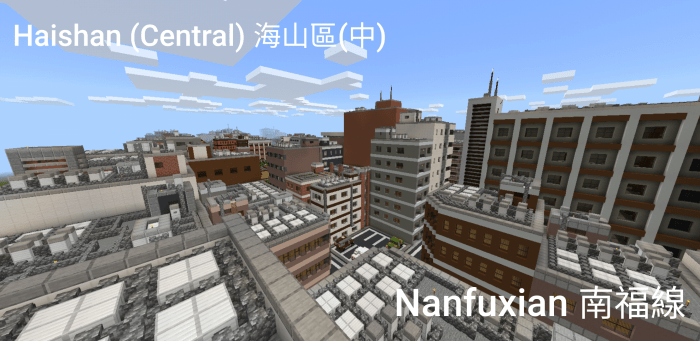 Haishan District (Central)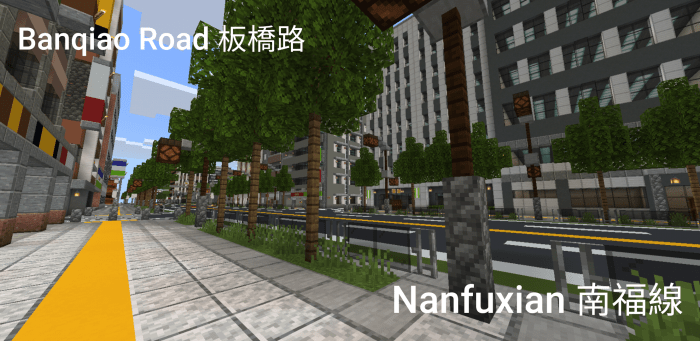 Banqiao Road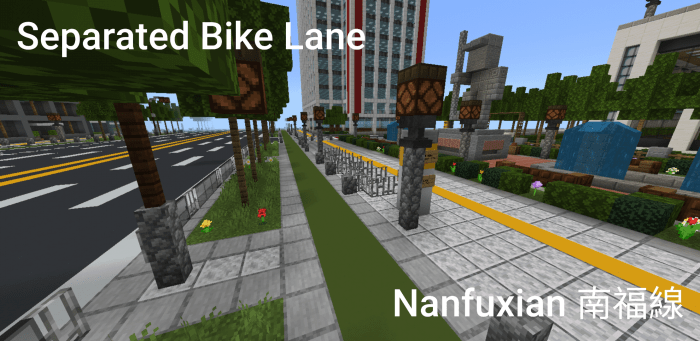 Separated Bike Lane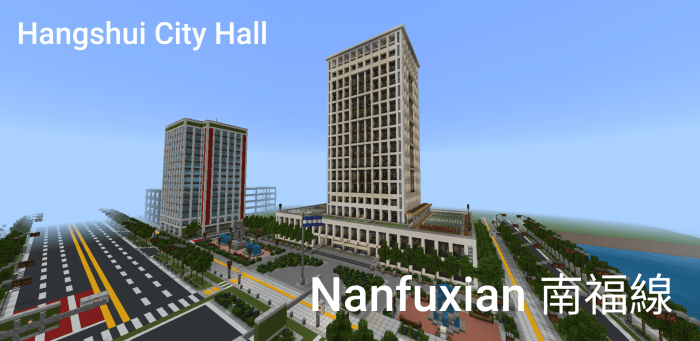 Hangshui City Hall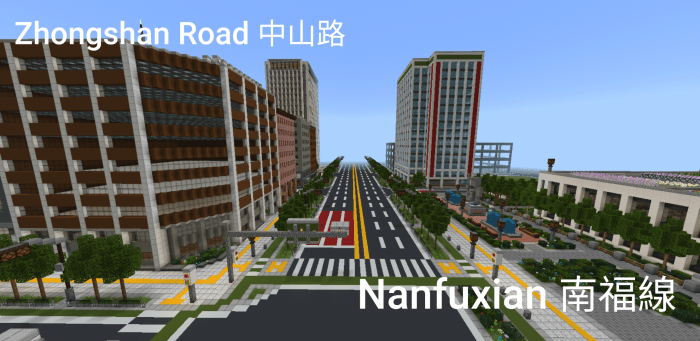 Zhongshan Road
Special Thanks to :
Kyokei City : https://mcpedl.com/kyokei-city-map/?cookie_check=1
Metropolitan Urashima : https://mcpedl.com/takeshita-city/
Cortezerino : https://youtu.be/6MOZyf-SDuc
WARNING
– Do NOT claim this map as your own
– Do NOT reupload this map to another website or etc.
NOTES
I only use Minecraft Default Texture Pack and I don't use any add ons, mods, and etc.
DESCRIPTION
This city contains a lot of places like:
– Guangxing Palace (CHINESE STYLE PALACE) (very tiny parody of Forbidden city in Beijing) (inspired by Cortezerino)
– City Hall
– Skyscrapers
– Restaurants
– Small apartment
– River
– Hotel
– Gas Station
– Convenience Stores (7-11, FamilyMart, and etc)
– Cafe (Starbucks)
– Bakery
– Money changer
– Metro Station
– Vending Machines
– Parking Lots
– Wide sidewalk for walking with streetlamp for road and sidewalk, trees, and bushes to make it cozy and natural
– Pedestrian traffic light.
– Tactile paving on the sidewalk (yellow bumps line)
– etc…..
Not all buildings in this city are furnished, The buildings that I wrote before (above) are furnished.
This city is UNFINISHED and still in PROGRESS. And I will give another update for this city :).
Please give me your ideas and suggestions in commentar section.
Thank you for downloading 🙂
Regards,
Nanfuxian 南福線
Note: Sorry for my bad English
Update 3
Zhongshan Road is established
New!!! Separated Bike Lane
City Hall 100% Completed 100% Furnished
Haishan North construction reached 40%
New Skycrapers
City Hall Metro Station and Hangshui Center Mall construction has begun
Hangshui Bike Rental is Available :o
More trees
Bike lane ia added
Reconstruction of Weishan Hotel (108 rooms)
Haishan District is 70% Finished
New restaurant
New Metro Station (Jinzhou)
Metro system is usable now
More detail :)
Trailer video of the city is added :). Watch it in youtube and give me your suggestions :)
Installation
Lag? Here my tips :)
Turn off Fancy Graphics
Reduce Render Distance
Turn off Smooth Lightning
I RECOMMENDED TO DOWNLOAD "MAX FRAMERATE SLIDER PC RESOURCE PACK" IN MCPEDL TO REDUCE LAG
Downloads
Supported Minecraft versions
1.16