The Helpful NPC's Addon adds 5 new mobs to the game. An NPC is a non-player character. These new mobs are all very useful to players as they can help them performing tasks such as collecting wood, food or other items. You simply need to give a npc a gold coin, which you craft with 8 gold ingots and 1 diamond.
How does it work?
Give a NPC a gold coin.
Hunter – Retrieve: Food
Farmer – Retrieve: Crops
Lumberjack – Retrieve: Wood
Fisherman – Retrieve Fish
Miner – Retrieve: Ore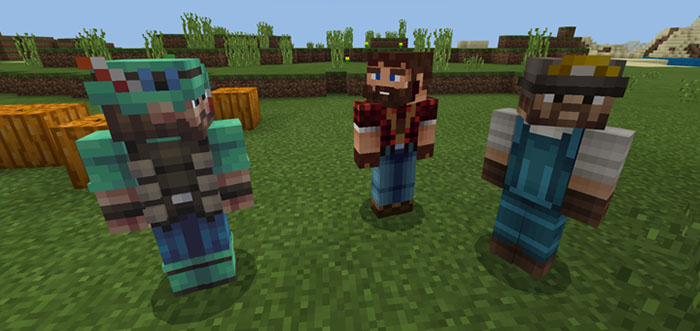 Craft golden coins to give to the NPCs.
After giving an NPC a gold coin it will disappear for 30 seconds before returning again with your items.
Press the Collect Items interact button to collect their items.
Credits
You may use this addon in videos, buy you must provide proper credit.
Owner Professor Magnum
Contacts:

YouTube: Professor Magnum
Removed license terms, and updated credits sections. And removed duplicate description.
Installation
Downloads
Supported Minecraft versions
1.12