If you watch videos coming out from Hermitcraft server and like to have all of their new skins (If you are fallowing videos you can notice changes in skins) this pack is for you! just import with a single click you have all skins together!
There isn't a lot to tell about the pack everything is obvious just here is the list of Hermits skins: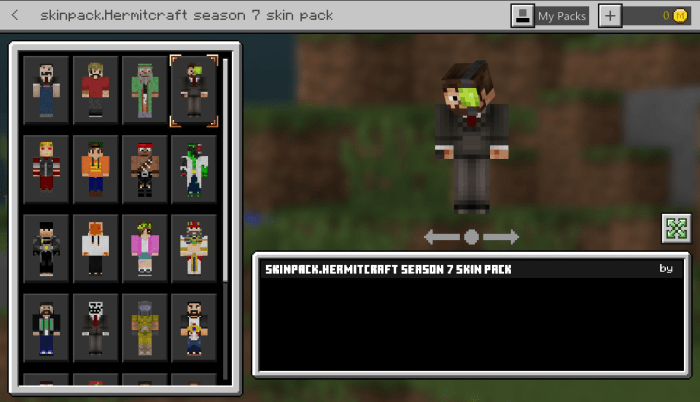 – MumboJumbo
– iskall85
– GoodTimeWithScar
– TangoTek
– Grain or (Grian)
– BdoubleO100
– Rendog
– JoeHills
– Docm77
– hypnotizd
– iJevin
– Stressmonster101
– cubfan135
– xBCrafted
– xisumavoid
– VintageBeef
– Keralis
– ZombieCleo
– Tinfoilchef
– impulseSV
– falsesymmetry
– EthosLab
– !%#*%@#$
Removed extra (useless links) which I removed before, But weirdly nothing changed when accepted....
*- Fixed Kelaris skin missing -*
Modified pack featured image
Small change to description
Removed support me (With ad) link
Installation
Simply click the link to download
Downloads
Supported Minecraft versions
1.14