Fight the evil Herobrine in an incredible battle for life and death. He has some amazing powers so make sure you're well geared up before taking on the challenge. However, if you do manage to slay Herobrine he will drop a weapon and an armor set which lets you turn into Herobrine yourself.
Creator: TheEndOficcial, Twitter Account
How to spawn Herobrine?
To spawn the Herobrine boss you will need to craft a Herobrine Totem item. Once you've got the item tap on the ground with the item to build the totem structure.
Nucleo (ID: 201) – 7 netherrack + 1 nether quartz + 1 diamond
Herobrine Totem (ID: 510) – 1 diamond + 4 nucleo

Then tap on the netherrack in the center of the structure with a flint & steel. As soon as you do that Herobrine will appear!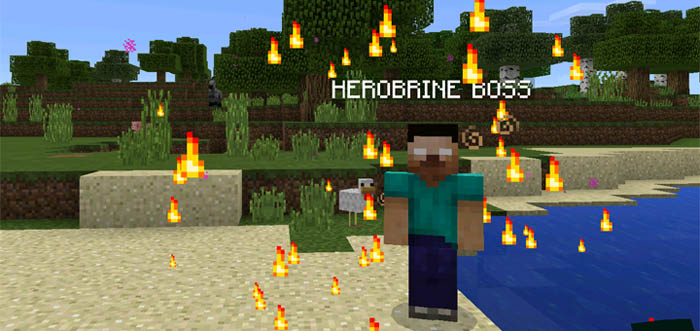 He will start attacking you immediately. Once you've killed him four times (he will respawn each time) he will finally die and drop an armor set and a weapon.
By wearing this armor set you will become Herobrine yourself and gain some of his incredible powers.
Boss Helmet (ID: 1758) – 5 nucleos (also dropped by Herobrine)
Boss Chestplate (ID: 1769) – 8 nucleos (also dropped by Herobrine)
Boss Leggings (ID: 1760) – 7 nucleos (also dropped by Herobrine)
Boss Boots (ID: 1761) – 4 nucleos (also dropped by Herobrine)
Sabre (Sword) (ID: 1010) – dropped by Herobrine