The Horses Mod implements random spawning horses in the world of Minecraft. You can ride a tamed horse and the riding will be an increased speed of normal walking.
Creator: Argll
How to get a horse?
Horses spawn randomly in the world. But if you don't want to go out searching for one you can also use one of the spawn eggs which we have listed in our items and crafting recipes list in the bottom of the post.
Taming
Before finding a horse you should focus on find and crafting the following three items as they are needed for taming the horse.
10-20 wheat – grow some wheat with some seeds
1 saddle – 3 leathers + 2 iron ingots
1 whip – 1 stick + 1 string + 1 leather
When you have spotted a horse walk up to it and tap on it while holding some wheat in your hand. If the horse grunting it means that it didn't work. Continue giving it more wheat until a message pops up on the screen saying "Tame Horse" and you can hear the horse neigh.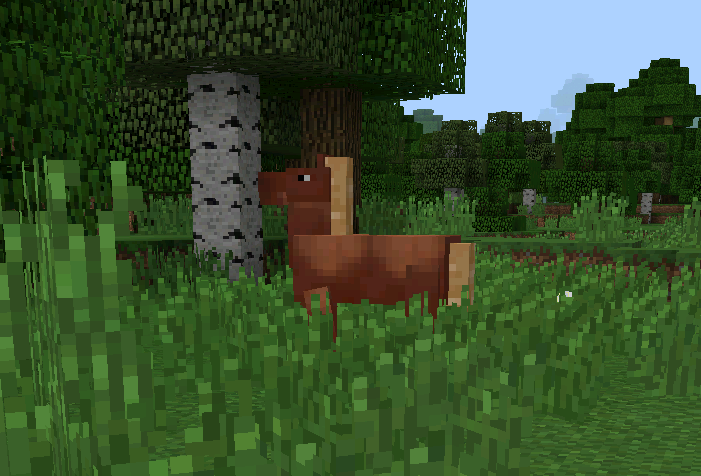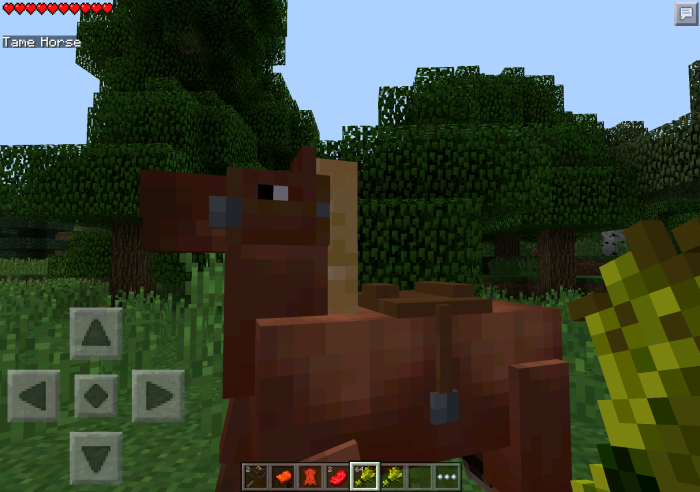 Riding
Get up close to the horse and then tap on the horse back to ride it.
To pick up some speed and control the horse craft a Whip with 1 stick, 1 string and 1 piece of leather and simply hold the whip in the direction you want to go.
Item IDs & Crafting Recipes
Whip (398) – 1 stick + 1 string + 1 leather
Saddle (329) – 3 leather + 2 iron ingots
Horse White Spawn Egg (488)
Horse Dark Brown Spawn Egg (489)
Horse Chestnut Spawn Egg (490)
Horse Grey Dpawn Egg (491)
Horse Creamy Spawn Egg (492)
Horse Black Spawn Egg (493)