A hoverboard is a levitating board which is quite similar to a skateboard, except that it flies. It has often been used in old futuristic movies to describe the future. But last year a Kickstarter hoverboard project was actually funded. That makes this mod not that unrealistic after all. Maybe we'll soon be using hoverboards in the same fashion as bicycles? Who knows!
Either way, this mod does a good job implementing hoverboards in Minecraft. You can color them in mostly any color you want and they are much faster than flying in creative mode!
Creator: UltraPeachMC
Item ID & Crafting Recipe
Basic Hoverboard (448) - 3 diamonds + 6 iron ingots
How to use it?
Begin by crafting the hoverboard and then tap on the ground with the item to stand on it. Go in your settings and toggle on third person view to get a better view.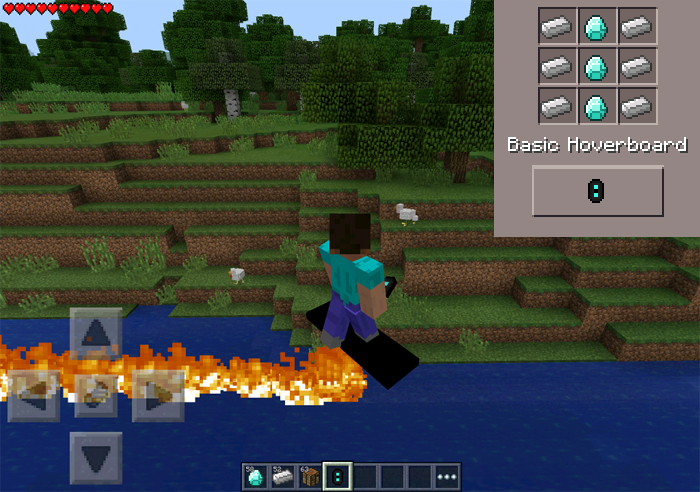 If you've played in creative mode you will notice that it's similar to flying, except that using the hoverboard is a lot faster and much more cool!
Coloring Your Hoverboard
By default the hoverboard will be black, but you can color it.
To color it look straight up and use any of the below items.
Gold Ingot (yellow)
Emerald (green)
Redstone (red)
Lapis Lazuli Block (blue)
Exiting the Hoverboard
To exit/remove the hoverboard take it off from your boots slot.