The Hulk Addon introduces two new mobs to Minecraft. The first and most known one is the Hulk. He's a fictional superhero with an extreme physical strength. The second mob is the Hulk Buster. He's basically the enemy of the Hulk and it's actually quite exciting watching the two fight it out in a battle. Both of the mobs can be ridden and controlled (to some extent) by players.
Creator: Andrew99, Twitter Account
Updated: 5 October, 2017 (read changelog)
The Hulk
Build a structure as seen below with four iron blocks. Then place a pumpkin on top of the structure as a head to spawn the Hulk.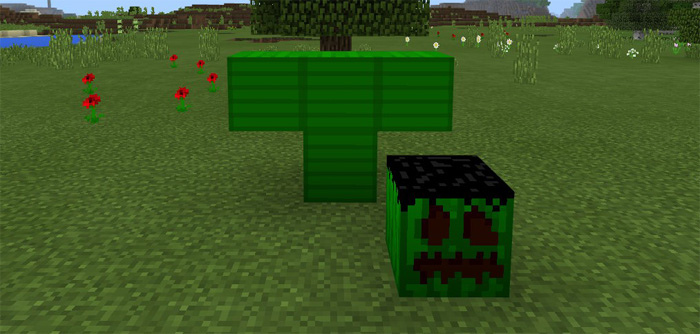 The Hulk is a neutral mob which will only attack you if you provoke it. You can mount the Hulk and then ride it similarly to a horse. The Hulk main purpose on this world is to defeat evil and this include hostile monsters. He is also hostile towards the Hulk Buster which is another mob this addon implements.
iOS / Android: Long press on the Hulk and press Ride to mount the Hulk
Windows 10: Right-click on the Hulk to ride him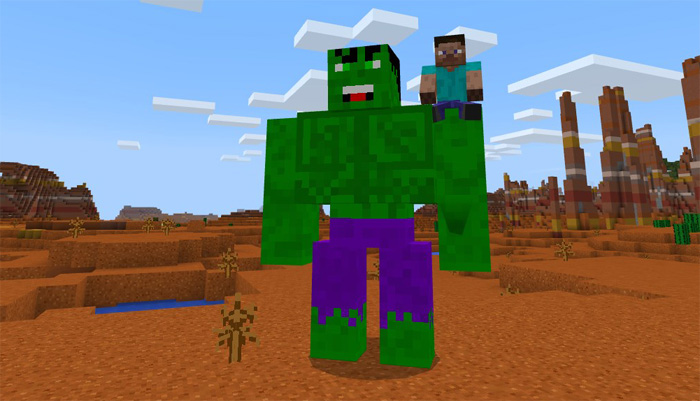 Spiders, zombies and any other hostile mobs can expect to get beaten up by the Hulk! He's merciless.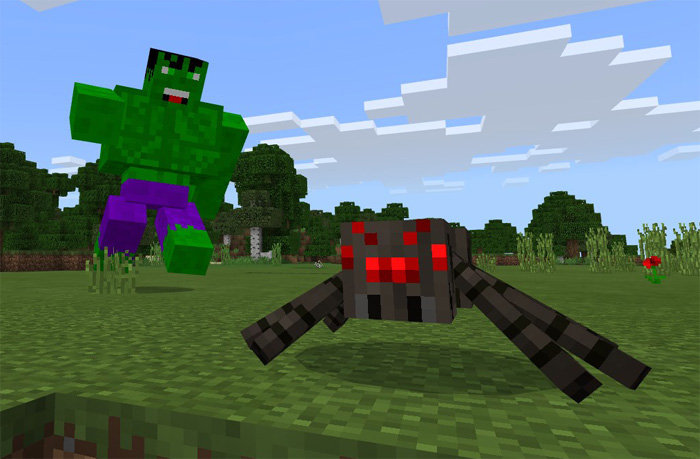 General Hulk Features:
Replaces iron golem
Neutral toward players
Hostile towards the Hulk Buster and hostile mobs
Rideable
Health: 225 hearts
He is very fast, but he gets even faster once he attacks
Attack damage: 15 – 21
Drops 1 – 3 diamonds, 2 – 5 emeralds and 1 nether star
Iron block and pumpkin retextured
Hulk Buster
Most of the mobs in Minecraft have no chance against the Hulk. However, there's one exception and that is the Hulk Buster. It's basically a robot which looks quite similar to Iron Man. Players can ride the robot and use it for either just walking around, flying or to attack other monsters.
iOS / Android: Long press on the Hulk Buster and press Ride to ride it
Windows 10: Right-click on the Hulk Buster to ride it
Use the Activate Flying Mode (attack mode: beams (fire charges)) item on the Hulk Buster to activate fly mode. Use the Activate Walking Mode (attack mode: melee, punches) item on the Hulk Buster to make it start walking again.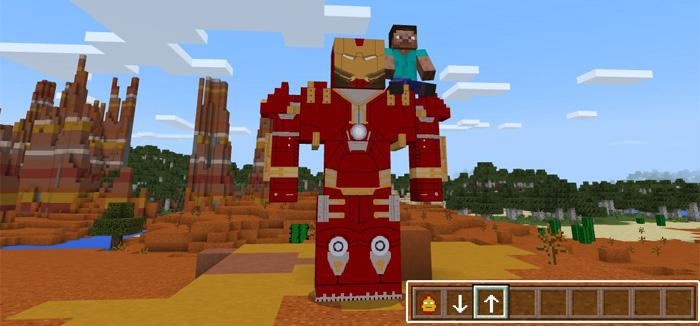 The Hulk Buster has been engineered to be able to fight the Hulk. It is its sole purpose in this world. Just remember to use the activation items as mentioned above or else it won't do much. Also.. you might want to stay out of their fight — it gets very dangerous quickly!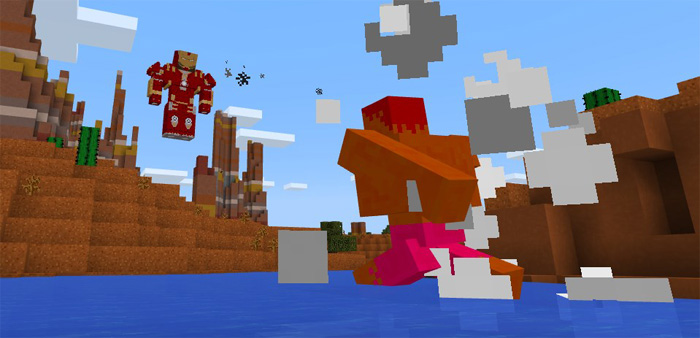 General Hulk Buster Features
Health: 225 hearts
Attack damage: 15 – 25
Hostile towards the Hulk
Rideable
Robot, stands still until commanded to something else (use Activation Items as described further up to make it walk or fly)

Activate Flying Mode (replaces coal item)

Shoots beams at his enemies

Activate Walking Mode (replaces redstone item)
Trailer
Changelog
This update makes the hulk addon useable in the new 1.6.1 version.
Installation
Apply the packs for a world
Create the world