HHP (Hungry Hungry Piggo) is a parody minigame based on the Hasbro board game with the name of Hungry Hungry Hippo.
If you find any bugs or problems please leave a comment so I can try and fix it. Enjoy!
This minigame was built with over 100+ command blocks.
( LOBBY )
When you download the world, you will be greeted with a quite good-looking lobby. The lobby contains Start The Game, Credits, How To Play, and Game Length.
—————————————————————————————————
Start The Game is a button. When you press it wait 5 seconds and the game will start. If press it again before the 5 seconds, the initialization will cancel.
Credits shows who did what in making Hungry Hungry Piggo
How To Play is a in-depth description on how to play Hungry Hungry Hippo
Game Length lets you decide how long a game lasts for. Options are 30 seconds, 1 minute, and 2 minutes.
A Picture of the Lobby Below.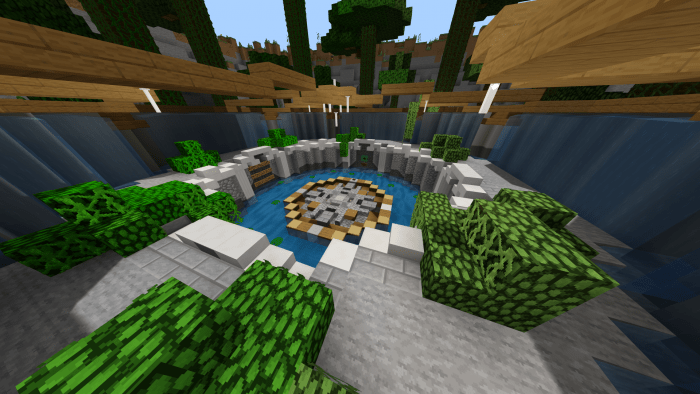 ( GAME )
( BEGINNING )
When you decide how long you want a game to be, press Start The Game button. You and up to 7 others (8 in total) will be teleported to an arena. All the players will be given a fishing rod, then after a countdown from 6, pigs will be dropping down from the ceiling.
—————————————————————————————————
( MID-GAME )
Your goal is to hook as many pigs as you can into a pit below you. At the end of the timer (which you set at Game Length) you will be sent back to the lobby and how many pigs you caught will be counted. You can see how many you and others caught on the scoreboard display on the right of your screen.
—————————————————————————————————
( END-GAME )
You can only observe the placements for 3 seconds. Feel free to replay as many times as you like, if you found a bug or problem, please leave a comment below. I hope you enjoy Hungry Hungry Piggo!
A Picture of the Arena Below.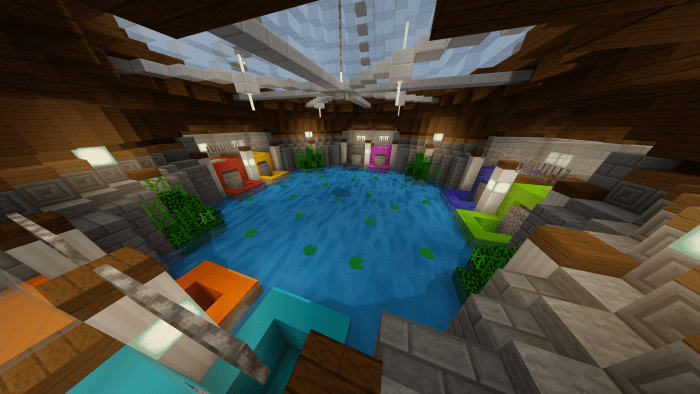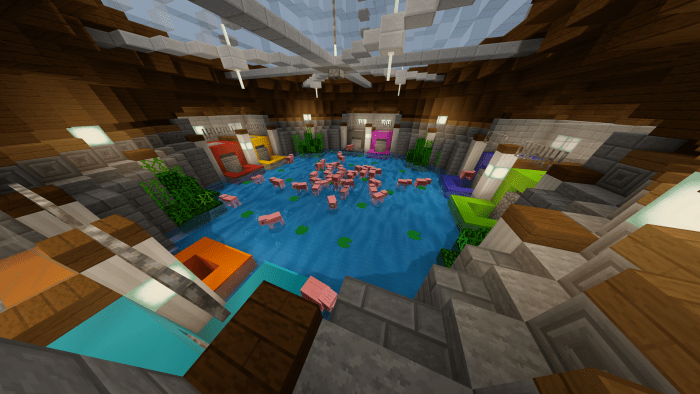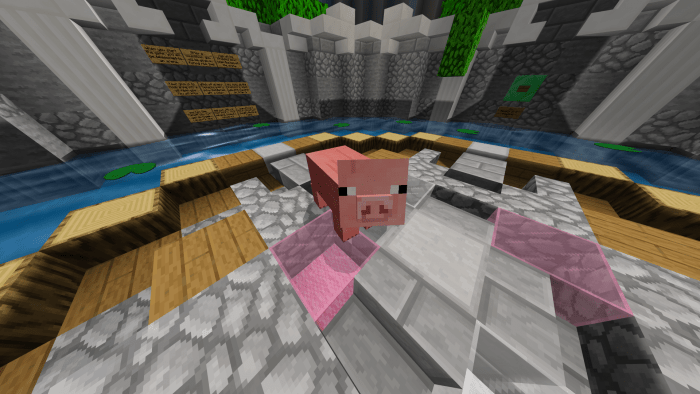 -Added a .mcworld file download along with the .zip file download.
-Changed the feature image or thumbnail to a picture with the name of the minigame.
-Updated the arena to suit for a better gameplay experience.
-Added the .zip file download for Xbox users,
-Changed the featured image or thumbnail.
Installation
Downloads
Supported Minecraft versions
1.12