The ice and fire mod for Java edition has nice weapons, and I really wanted to see them in Bedrock edition.
ATTENTION! THIS IS NOT A PORT. TEXTURES ARE MADE BY ME, AND DESIGNED BY ME. THE CONCEPT OF THIS ADDON WAS ICE AND FIRE'S WEAPONS AND ARMOR, BUT THIS IS ORIGINAL WORK, AND I DID NOT USE ASSETS FROM THE ORIGINAL MOD.
Approved by Raptorfarian, known from the development of the orgininal Java ice and fire mod.
This addon is probably not as good as other addon you would see today.
Discord screenshots aren't enough, so here's a link to a PUBLICALLY ACESSIBLE tweet by raptor. I know you admins are just doing your job, so here's what you asked for: https://twitter.com/TheRaptorfarian/status/1171074625599692803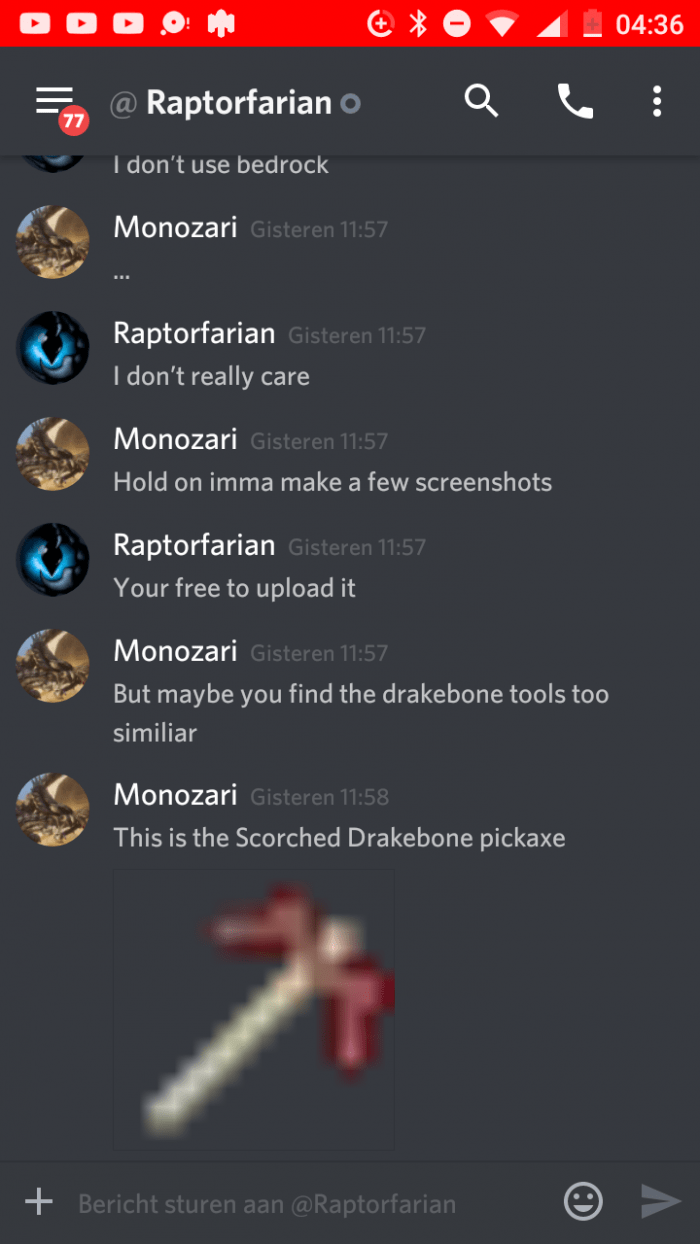 See here, Raptorfarian told me I could upload the pack. I did not rip assets from the original ice and fire mod because there's no fun in that.
Evert tool, weapon, block and armor in this pack is designed by me and not a version of a similiar weapon in ice and fire. I let raptorfarian check my work and he told me it's different enough.
First of all, this only a resource pack. This means you can still have achievements with this on. Disclaimer: Names will only change if you enable the language English (US). I tried to do UK too, but for some reason it didn't work.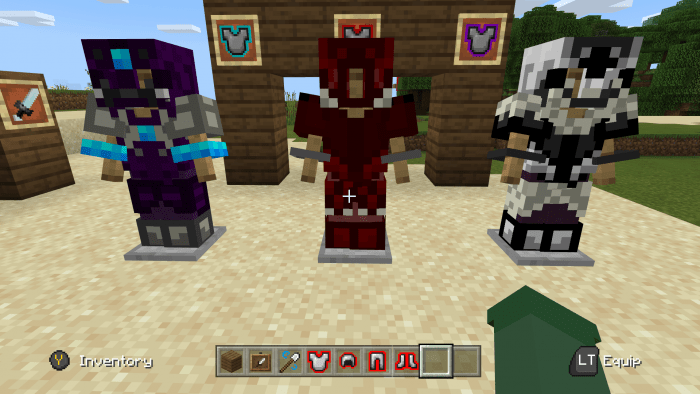 Armor.
Gold armor = Thunder Dragonscale Armor
Iron armor= Frost Dragonscale Armor
Diamond armor = Flame Dragonscale Armor
This counts for all materials;
Iron = Frost/Frozen
Gold = Energetic/Thunder/Electric
Diamond = Fire/Flame/Scorched
You actually have a reason to wear golden armor now, since it looks good. (In my opinion, gold armor looks better than diamond armor in vanilla minecraft, but who am I?)
Blocks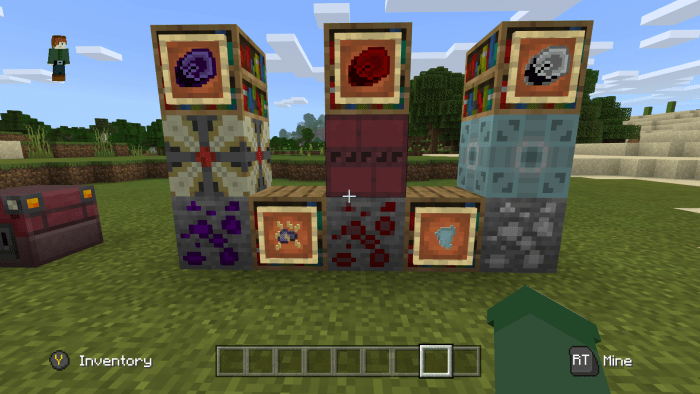 Gold ore has changed to a purple texture, and the gold block is now… different.
Gold ingots are now Energetic Steelscales, Diamonds are now Scorched Steelscales and iron ingots are now Frozen Steelscales.
Also, you can get volt and frost residue by smelting energetic steelscale items and frozen steelscale items.
The iron ore and gold ore got their own make-overs, and their blocks have been changed t0o.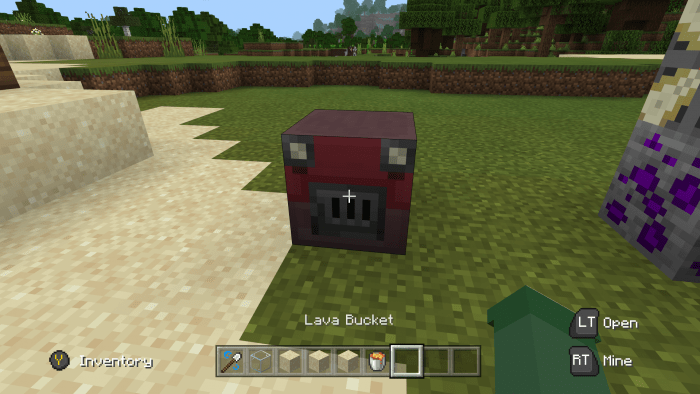 This is the Drakeflame furnace.
It's just a blast furnace but retextured.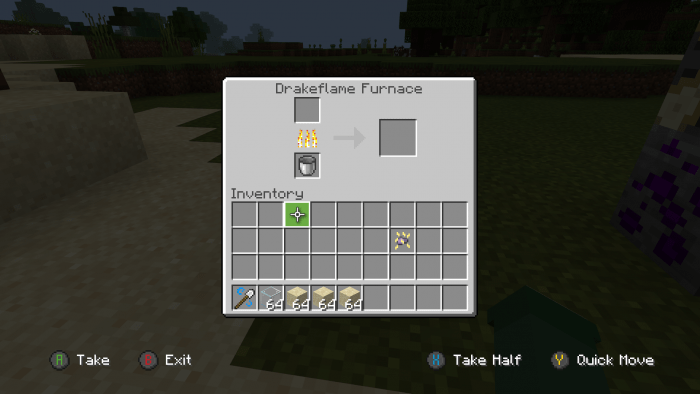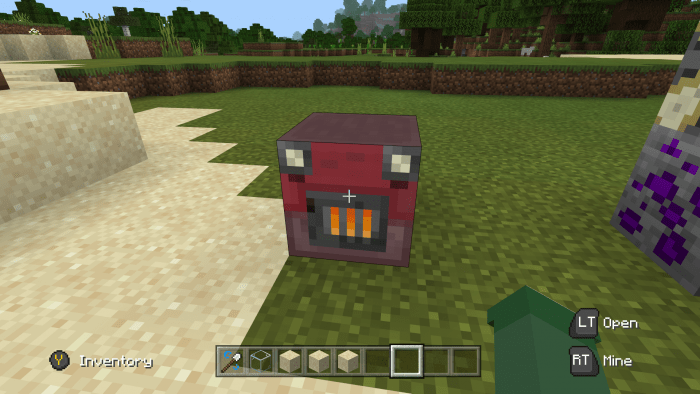 Now you might be curious to what that shovel like tool in my inventory is, huh?
I'm going to show that later. First:
Tools!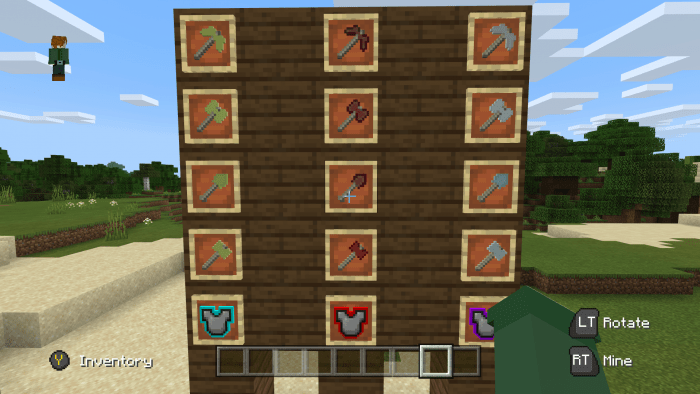 The normal tools have been replaced with these drakebone tools! (And yes, I was too lazy to actually give each armor item an original texture.)
Pickaxes are still pickaxes, shovels are spades, but that's basicly the same thing, axes are now double sides, and hoes are now hammers. Why? Because in a forging addon/texture pack, you need atleast ONE hammer. They still function like hoes, so have fun stomping your wheat fields.
WEAPONS!
The thing I started with!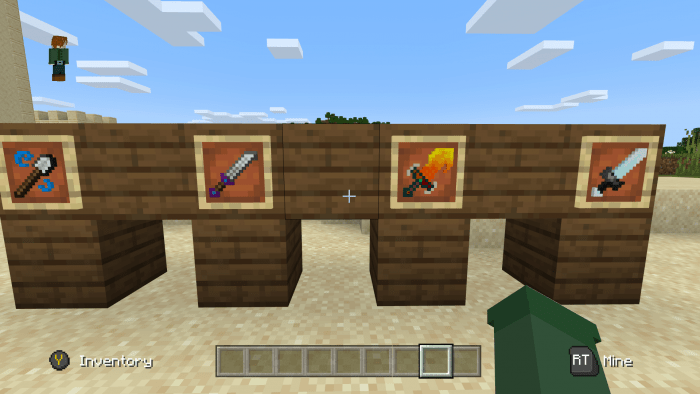 There's that mysterious shovel again….
I have replaced the swords with different swords! I'm not going to tell the names, because they're not simply called "steelscale swords". I wanted to give them unique names, which you can always change with an anvil.
Let's talk about that shovel, or should I say…
FISHING SPEAR!
NGAAAAAAAAAHHHHH!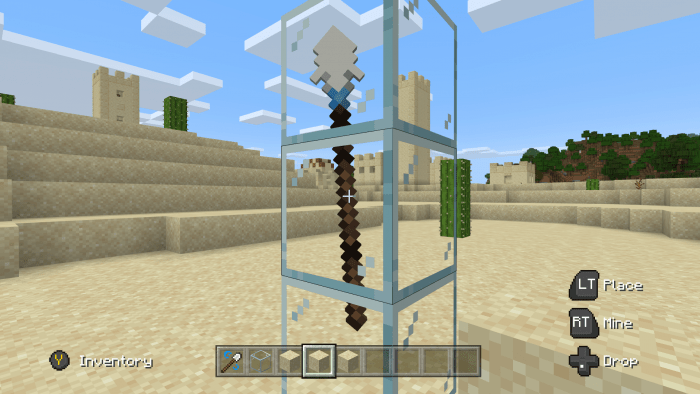 It replaces the trident, and actually looks pretty good on drowned.
Works like a trident, looks like a spear.
I've always wanted spears in minecraft!
This thing is actually a whole new model, since the trident is not actually your typical minecraft texture, so I had to edit it in blockbench.
This was my first actual addon, and I want to give special thanks to Aiden on Creeper's addon making discord server for helping me out on a few things for this addon.
If you want to see me in minecraft, in a realm called Kingdom of Solaris, I can be found as one of the residents of a town called Scavenge Town. I may not be online, but I built an arena and tower there.
I'm also on the ice and fire discord server, and the cracked cubes discord server.
If you want to edit this addon (I do not allow to publish it.), please message me on discord or twitter.
Twitter: https://twitter.com/monozari
-Added a note that states this is not a port. Please change your tweet, MCPEDL. You're making we look like a lazy bastard who reuses premade textures.
Installation
For XBOX, download UFO .transfer and turn on an app boundry option, I don't know which one though. Open in file explorer, go to packages, go to minecraft UWP console, localstate, games, com.mojang, resource packs, go to your resource pack, copy the resource pack, press b to return and paste it in the resource packs folder.
Restart minecraft, and you should be able to use it.
Downloads
Supported Minecraft versions
1.12
1.13