This minigame has been built during a period of two months and the end result is a fully functional (and for the most part automatic) Ice Hockey minigame. To make some of these things possible an add-on is included which adds a puck, hockey sticks, trophies and so on. The V2 update was created according to the IIHF World Cup 2019. It's a really well made minigame which is best played together with friends. If you like ice hockey, or just sports in general, then give it a try!
Creator: Nogard (Twitter, YouTube, Facebook)
Ice Hockey Minigame V2 Update was created according to IIHF World Cup 2019. I was working on the update for over a month. Stadium got roof and it was almost completelly redesigned. With Karlos Games CZ we also created new fully automated in map scoreboard system. We have also reworked a system that returns puck back to the center of the arena. Now it is made by using command blocks. There is no need of minecart and rails.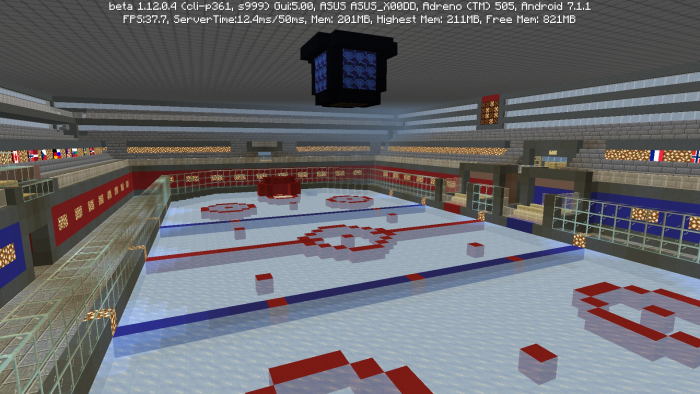 I have also redone the Ice Hockey Addon according to Minecraft Addons standards. Now every single mob, which was added is new entity. I had to redesign behaviors for it. I have done new much better looking model for the puck. Hit box was fixed. For the better design of the map I have created trophies (diamond, gold, silver, bronze). There is still ice hockey sticks, jerseys, food and so from the first version. Whole addon was translated to all Minecraft supported languages (29 langs). And I was also fixing some small mistakes made in V1 like painting kz.png.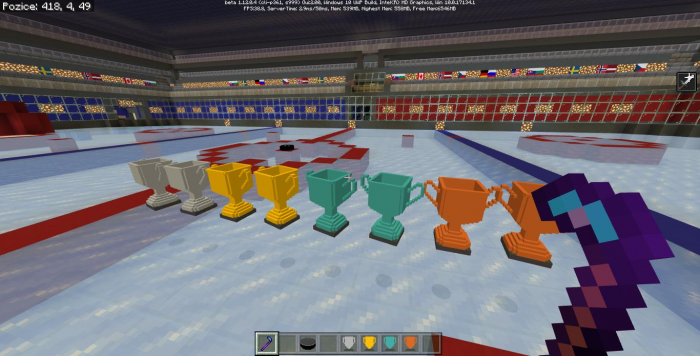 Trailer
Ice Hockey Minigame V2 Trailer: https://www.youtube.com/watch?v=YYppKssHq3Y
Licence terms
All rights reserved. By downloading of this Minecraft Minigame you agree with this terms. No part of this work may be reproduced or transmitted without author's permission. Person with permission must share the addon only with official download links and credits to author. Illegal distribution of this addon in apps, websites and YouTube videos and earning money from Nogard's ownership will be punished by law. For other ways of sharing and editing the source code, you must contact the author.
Nogard
Contacts:
Email: [email protected]
Twitter: @Nogard_YT
I have just fixed the description. There was Installation paragraph twice.
I have fixed all bugs, which appeared in first version of this minigame. The chest are prefilled with items and the scoreboard works properly.
Uploaded files for the new MCPEDL app and added support for Minecraft 1.14 Beta. 
Installation
You have to own Minecraft Bedrock 1.12. (Recommended 1.12.0.4).
In the BETA version of MC 1.12 the addon is not automatically part of the map, so you will have to switch the resource pack and the behavior pack on.
Ice Hockey Minigame V2 .mcworld: http://www.mediafire.com/file/46fq26m3v1cpbkt/Ice_Hockey_Minigame_V2.mcworld/file 
Ice Hockey Minigame V2 .zip: http://www.mediafire.com/file/nxsw96to76dqvbk/Ice_Hockey_Minigame_V2.zip/file

Downloads
Supported Minecraft versions
1.12
1.13
1.14