Have you played on Death Run on servers? Yes, of course. But in worlds? No. Now the answer will become yes. This world is a 100% automatic Death Run. Interested? Let's find out more!
Welcome to IL Death Run! This map is 100% created by IL Team!
Before we show you all about it, let's see how good the lobby looks: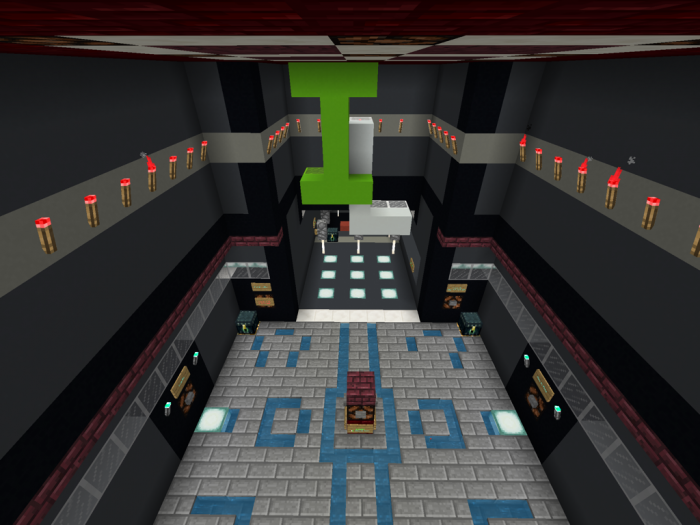 Looks great, right? Now, we'll show you all about the map.
Requirements
Requires 2-10 players (it will not work properly if you have under 2 players or over 10 players in the world).
Minecraft version 1.8 and up (it does not work on v1.7).
Please do not change ANY of the settings, or it will break the world!
Please do not try to cheat, or it might result breaking the world.
About
This map is just a bit over 1MB.
There are in total of 4 stages (4 checkpoints), and 14 obstacles in total.
Each game is up to 8 minutes long.
Objectives
There will be 1 death and 1-9 runners.
If you are Death: You are trying to kill all runners with traps, and power-ups (such as kill a runner, give runners bad effects, etc., which costs emeralds), or hold them down until the game is over.
We will tell you how to get emeralds below.
If you are a Runner: You are trying to get to the end of the map without using all of your lives (you get 3 lives in the beginning, you can buy lives at each checkpoint in "life stations", which costs emeralds), and before the time runs out. There are multiple obstacles that death controls, so be careful of the death!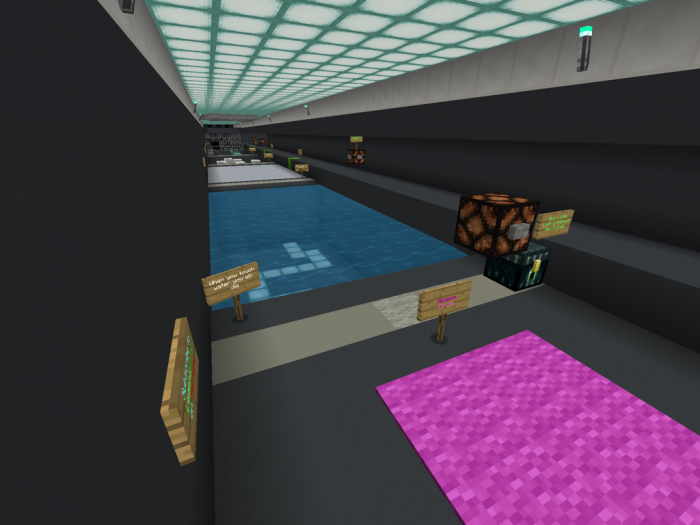 How to Get Emeralds
You will get emeralds in the following ways:
1. By participating, you will get randomly 1-4 emeralds each game.
2. By winning, either as Death or as a Runner, you will get randomly 4-16 emeralds each game.
There is a spectator mode, if someone joins mid-game, or if someone gets eliminated, they can press the spectator mode button when the game is running!
Now you can play without any struggles, remember, never give up, even though some of the obstacles are HARD!
Updates Coming Soon
v3.0: New shop, new power=ups, new scoreboard system, new money system, new themes, new lobby, new obstacles, and more!
Credits (About the IL Team)
Owner: MathGenius0203
Senior Moderator: Alast382, GRANTAWE
Intermediate Moderator: SCUDBOMB76, ZombieFire101PZ
Moderator: D3RPD3STRUCTI0N, Giltgamer465, Heyitskabob, KureinaiGai, Isaiah408, SweeterVictory, WraithTheRebel
Trainee: Ashus01234, GamerKiller1113, WinteryOsprey38
Contact the Owner
YouTube: iLegendianoth
Discord: iLegendianoth#9324
Minecraft Gamertag: MathGenius0203
To stay tuned for more updates and more maps, please do the following things
1. Subscribe to iLegendianoth (IL Official) on YouTube: https://youtube.com/ilegendianoth
2. Join the IL Official Discord Server: https://discord.gg/4quUhUv
3. Join the Official IL Minecraft Realm (Available after July 1, 2019): https://realms.gg/LhMKWu8SQ38
If you did all 3 things above, you're a gem!
Thanks for reading all of this, now you are ready to download!
* Added more methods to download the map: Adf.ly, and iLegendianoth.com.
We heard your feedback, and we fixed the issues that have been happening!
The previous download link does not work anymore, we have updated the download link.
Updated contact information.
For more bug fixes, issues, or just want to contact us (business inquires), please email at: [email protected]
Installation
When you pressed download:
You will be redirected to MediaFire;
Press the green "DOWNLOAD" button;
Wait for about 10 seconds for it to process;
If you are on iOS/Android, press "Open in Minecraft"; if you are on Windows 10, press "Run";
You will be redirected to Minecraft;
The installation will begin, it usually takes less than 10 seconds to install.
Downloads
Supported Minecraft versions
1.10
1.8
1.9