You dream as if adventure is fun especially with fantastic supplies? .. These addons will make your adventure more colorful with food features and lots of ores and blocks for decorations and various monsters will challenge you, and sorry if you don't like and are interested in these addon.
This addons will adding various interesting
features that may not be in the game, as
new biomes, new entities, and much
more, but remember this still in the beta
stages, and this addons only for version
1.13 or above, but can be support version
1.12 (only for version 0.1 final)
Features: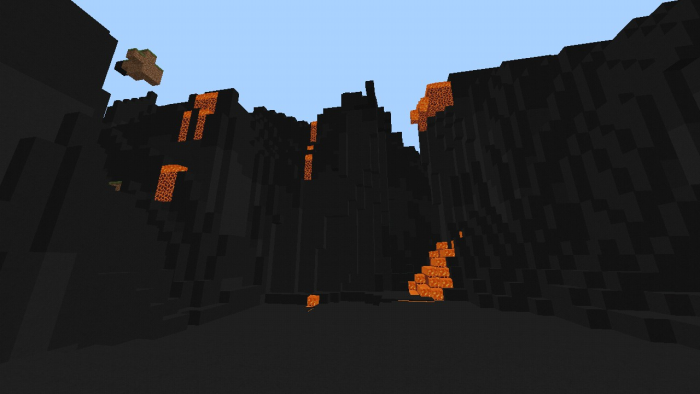 ( be careful because a lot of lava )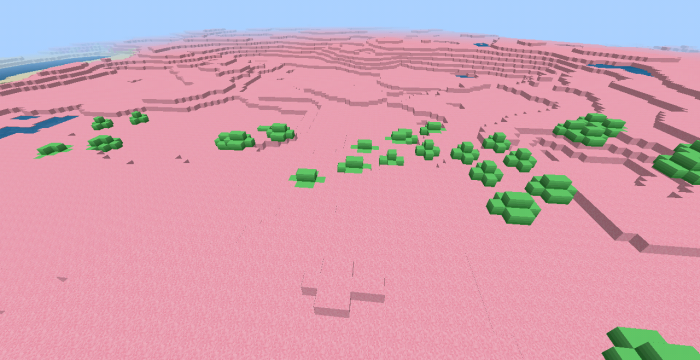 ( humm, Yummy )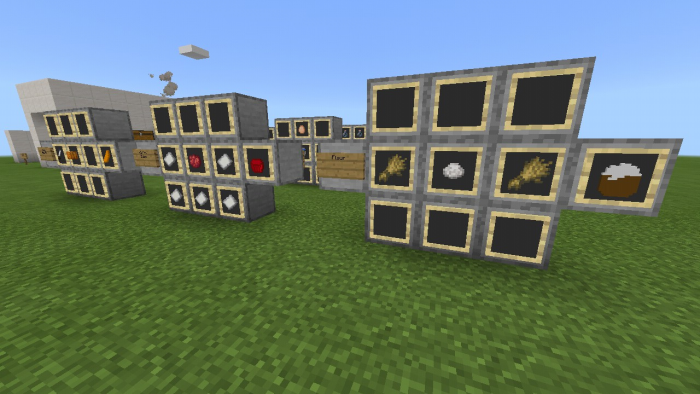 Naturally Generate Limestone ( Found them only in swamp underground )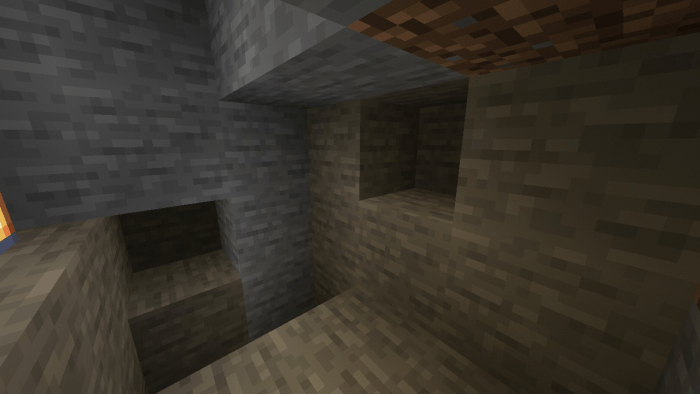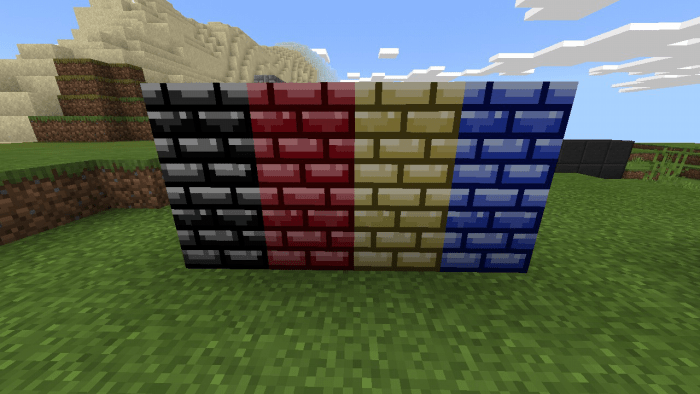 Abilities:
Melee Attack
Can be tamed with Any Flowers
Naturally Spawned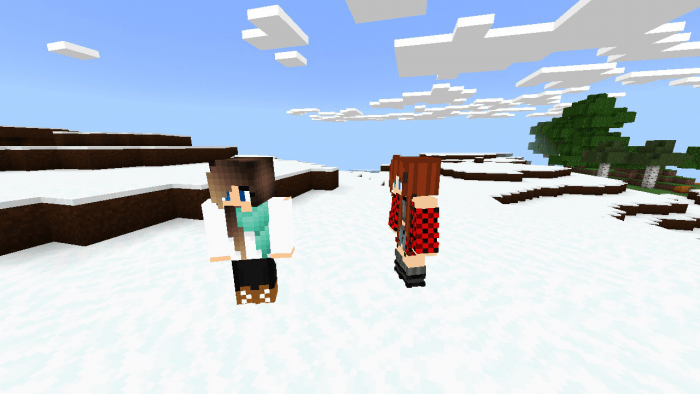 Abilities :
Shoot purple bullets then give you "

slowness

" effects
Randomly teleport
Naturally Spawns at The End
Weak to Water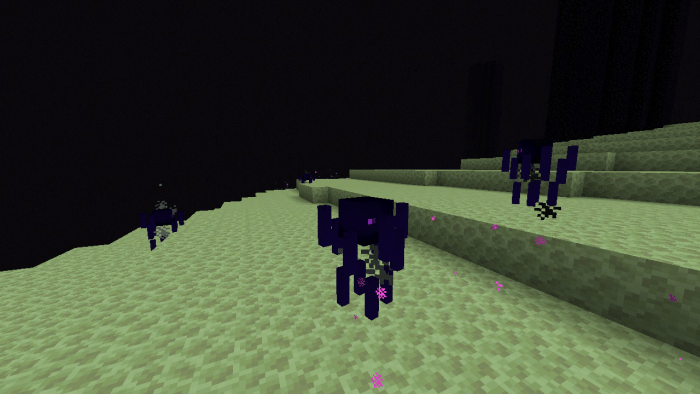 Abilities
Naturally Generated on Swamp
Normal Pigs become Dirty Pig if them at swamp
Clean them with Bucket of Water, Bathe them but only work if them outside swamp, or clean with Sponge Wet
Behavior same as normal Pigs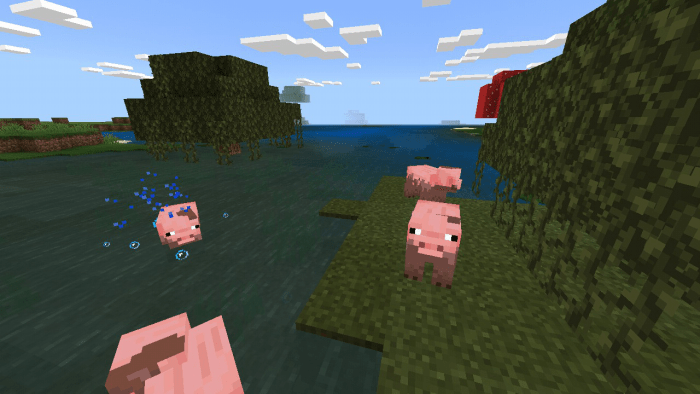 Abilities
Become Guardian if them at Village on Night time
Shoot Arrows (Ranged Attacks)
Help Player to defend villages
Cannot be tamed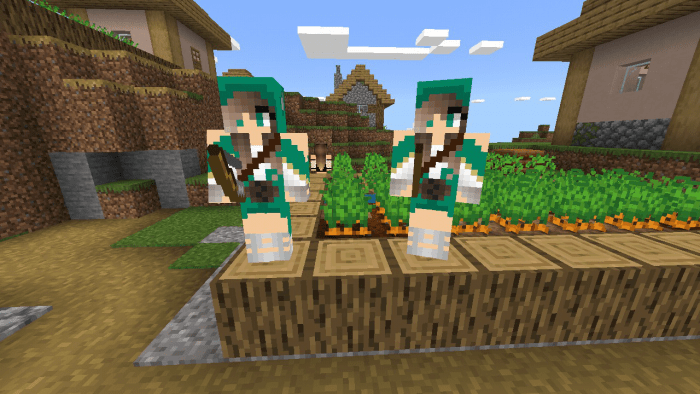 /function insane_list_of_items
/function info_weapon_swords ( to view damages of sword and more additional when you holding it )
Note from Author:
Please Report if you found some bug or error
Remember to Activate the "Experimental Mode" on World Setting before you enter the world [ It's Important ! ]
This add-on is updated to the latest beta.
If you want to review/make a video about this content, at least credit me in the video/description
Don't use your own link, use the proper link on MCPEDL
Partner Credits :
[ To support my work, please download by passing the ads ]
Remember to Backup your world if wanna used this Addons, Thank You
Update v0.3.2!
New Ores now can be smelt by Furnace or Blast Furnace
Added Brain (New Item) as New Loot Drop for Zombies find Them
Added More Gems & Ingots
Added Block of Gems
Added Smooth Coal Block (Only for Decoration Block for Now)
Added Swords for Existing Gems (Craft as Normal Sword)
Golden Coin now can be Craft
Added Silver Coin (Get from new Trader or Craft it)
Added Butcher Knife (Trade with Villager Butcher)
Added "Russian Language"
Added New Trader (Named "Intrusted Trader")
Intrusted Trader can Spawn with Tamed Horse as his friend
Update v0.3.7
  Whats New ?
Added Chainmail (Item)
Swords and Knives no longer wrong grip when seen in the 3rd person
Added More Recipes for Vanilla Items
Swords durability now can be used for longer
Update v0.4.1
Added More Supply to Intrusted Trader
Now You can purchase the Swords from Intrusted Trader
Added Marble & Basalt Blocks
Added New Light Block
Added More Interesting Items
Added More Coins
Added More Ore Blocks
Added More Ingots and Gems
Added "Medical Kit Block & Item"
Added New Entity (Only Concept)
Bugs & Mistakes has Fixed
Updated the Block Textures
Update v0.4.7 (beta 1)
Added More Metal Blocks (not including metal ingots)
Added Oxygen Helmet (Carved Pumpkin is Retextured to this and so that it can be useful)
Added "Function Command" to View Item lists
Added "Bluebell Flower" (It might be a bug in its shape)
The Crafting Recipes is coming soon
Changelog v0.4.7 (Beta 2)
Added New Coins
Added New Ingots
Added New Items
Added New Structures
Now " Platinum Ores " can be naturally spawns in Jungle & Plains
Now " Amethyst Ores " can be naturally spawns in Taiga & Mesa
Now " Stacked Acorns & Dark Acorns " can be naturally spawns in Jungle
Now " Basalt & Marble " can be naturally spawns in Extreme Hills
New " Floating Rainbow Structure" Naturally spawns on the sky over oceans
Added New Entity (Ender Blaze (WiP)
Added New Entity (Piratey) spawns underwater near shipwreck
Version 0.0.5a
Recreate from 0% to anticipate errors, bugs, and items & blocks that are missed
Renamed from Insane Worlds
Please Follow my Twitter for the info next update
Beta v0.0.7 Update

What's New?
Added back Oxygen Helmet certainly replace Carved Pumpkin
Added More Crafting Recipes to Map
Added Mud Block (not in creative inventory) and will be spawns on new Plastic Biome
Added Plastic, Salt Generate, Salted Sand Biome
Added Sweety Candies
Added More Beautiful Flowers
Might be will there's bugs on Water & Glass Block
Added Candy Cane Block
Added Neon Lamp, Neon Shard, and Neon Chips
Improved Textures
Added Marshmallow & Plastic Block
Update v0.0.7.3
[ Small Changes ]
What's New?
Rename Oxygen Helmet to Diving Helmet
Fixed Diving Helmet Effect not work
Fixed Custom Structure won't Spawn
Fixed Transparent Inner on Diving Helmet
Added Girls Non Playable Character (give them flowers to make your friends or your protector)
NPC : Support Your Custom Skin (beside Default Skin)
Update Testing Map
What's New?
- Version 0.1 -
Added Variation of Bookshelf
Added Block Vending (Entity)
Added Food Color (Can Nothing for Now)
Updated & Improved Custom Biomes
Support & Only for 1.13 Beta
v0.1.4 Update !
Added More Oak Tables
Added Ore Blocks
Added "CANDY CROWN" Biomes
Added "CHOCOLATE SWIFT" Biomes
Added Cotton Candy Blocks
Added Chocolate & Cloud Block
Added Ingots, Sticks (can't craft now), and Gems
Ore Blocks can be Generated in Undergrounds or in Caves
Added List of Items
Swords & Tools is Coming Soon
Added Custom Crafting Recipes For Vanilla Items
Updated Some Textures
v0.1.4 Beta 2 !
 Disable Custom Flowers to anticipate glitch that results in a block being transparent
Now "Chocolate Block" is in Creative Inventory
Now "Chocolate Grass" is in Creative Inventory
Now "Chocolate Dirt" is in Creative Inventory
Added "Chocolate Block Crafting Recipes"
Added new "Volcanical Biomes"
Added "Ash Block" and "Shale Block"
Fixed Bugs for Chocolate Recipe in Crafting Grid
Added Crafting Recipe of "Material Stick"
Added "Mineral Swords + Added has different Damages and  Durabilities"
You can Type "/function insane_swords_info" in Chat, to see the swords info of how much damages, if you attack other entities
Added "Mineral Sticks"
v0.1.4 Beta 3 (Update!)
Only Small Changes
Change the UUID in both Packs
Fixed "Copper Stick" Missed it Crafting Recipe
Removed the "Destroy Texture"
Fixed "Sword Damage and Diving Helmet Effect" didn't work properly
Update v0.1.5 (1st Beta) !
---- Builders and Their Friends ----
Added new Limestone Blocks & Type of Limestone Bricks
Added new type of Stone Bricks
Added new type of Basalt Bricks
Craft the new brick blocks in "STONECUTTER"
Limestone can be natural generate on SWAMP Biome
Basalt can be natural generate on Volcanical Biome
Added new animal "The Ducks". (still testing)
Added Mineral Blocks (Metal & Gem)
Improved the A.I system for Female NPC
Now you can customable Their Weapons with Swords and Normal Bow (Crossbow cannot for now)
Update v0.1 (Final Version)
-------- Become Adventurers ---------
Bug, Error, Glitch was Fixed
Format version data driven is changed to 1.10 and instead 1.8
Update the Entities & Biomes, so can be supported version 1.12 

Now "Egg" can be spawns Ducks, if players thrown it.
Ducks can be take out "Egg"

Final Version is Only for version 1.12. Final
Update v0.2 BETA !!
--- You Wanna Build ?? --- 
Added Various New Stone Bricks (can only make with "Stonecutter")
Added Various New Basalt Bricks (can only make with "Stonecutter")
Added New Colored Brick Blocks
Added Dirty Pig (clean it with bucket of water, take a bath, or with sponge wet)
Added Various New Type of Cows
Added Ender Blazes
Added Archer NPC (WIP)
Added Fossils Ore (Naturally Generated on Your World, Cave, Ravines or more) you can get bones from it
Added Sound for Ducks
Fixed Throwing Egg Only Spawning Adult Duck (Not Sure)
Added Mossy Brick Block
Added Potion of Levitation (only from Commands)
Added Potion of Blindness (only from Commands)
Update v0.2.2 !
Added Manual for Installing the Addons
Added More Detailed Info + Pics
Bug Fixes
Update Patch A17-2019!
Improvements for "candy crown biomes" to make them easier to find
Installation
Note: Beta Version is Only for Android Users
How to Download :
If there is a pop up notification appears please click "Block", and in pop up install the application, please click "Cancel"
Click Skip
If a page shown the dialog "please press allow to continue", please wait 5 until 15 seconds.
Downloads
Supported Minecraft versions
1.13 (beta)