The Kart Addon implements gokarts which can be used for racing in Minecraft and it's inspired by the Mario Kart games. Each kart can hold up to one player and there are cool custom sounds to really make it a cool driving experience. It's a really detailed model which exists in 12 different colors and they replace the spiders. The add-on is available for five different languages: English US, English GB, German, Czech and Slovak.
Creator: Nogard, Twitter Account
How does it work?
The Karts replace Spiders and Cave Spiders, so this means you will find the spawning mostly in caves. You could also use the Kart spawn eggs to access them quicker.
iOS / Android: Long press on the vehicle and press Drive
Windows 10: Right-click on the vehicle to drive it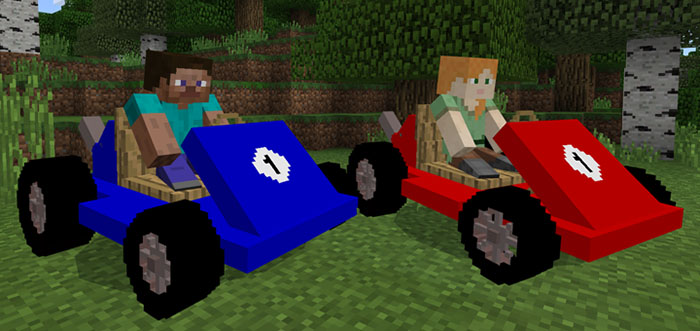 They are very fast and are perfect to use for racing!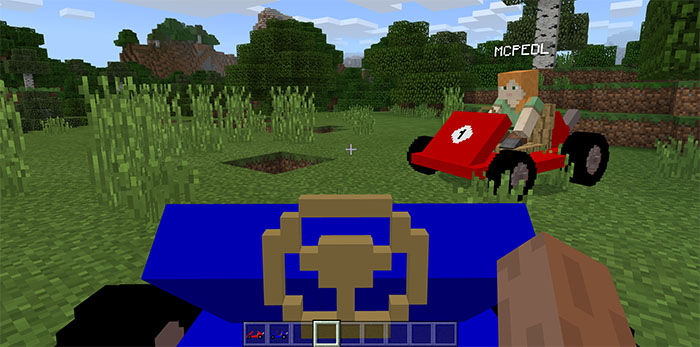 License Terms
All rights reserved. By downloading of this Minecraft addon you agree with this terms. No part of this work may be reproduced or transmitted without author's permission. Person with permission must share the addon only with official download links and credits to author. Illegal distribution of this addon in apps, websites and YouTube videos and earning money from Nogard's ownership will be punished by law. For other ways of sharing and editing the source code, you must contact the author.
Installation
Download one of the following Kart Add-ons:

Apply the packs for a world
Create the world
Other Files