This map is a modern mansion located on a beach, with up to date interior and exterior. This map was made by KrakenCreations, and is good for Roleplaying, and a survival starter.
First of many maps expected.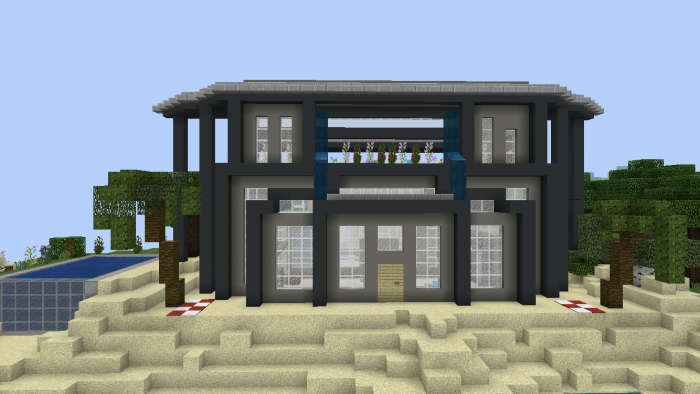 Features-
-Bedroom
-Kitchen
-Kitchen Table
-Garden
-Swimming Pool
-Working elevator and door
-Located on a beach
-Palm Trees/Towels
-Secret Base (Hidden)
(Secret Hidden Base added)
-Fixed Door and elevator glitch 
-Fixed Kitchen Sink/Trash
-Added minor decorations/details
-Added more safety in garden
-Adden more flowers around the building
(Extra exterior columns)
Installation
Simply click on the link, click on the Capcha verification box (Robot scan) then click on the blue button below the box (Skip) it will redirect you to a new page, scroll down and wait for the 12 countdown to finish, then click get link. Clicking on that will open 2 new pages, the first page is unnecessary, so you can exit out of the first page, then the page behind/left will have the download link, simply click the link and start installing!
Downloads
Supported Minecraft versions
1.10
1.11