What is this competition?
2020 has already been rather challenging for many of us around the world – including in the Minecraft community. Therefore, as a welcome distraction from the Covid-19 pandemic and lockdown, we are running a free LEGO inspired Minecraft build competition.
The idea is simple. We've sourced nine different open source instructions for different LEGO sets which vary in difficulty. To participate, you have to follow the instructions in Minecraft. The best rated builds by our judges will win – with prizes (see below) for first, second, and third place. 
Please Note: All of the information about this competition can be found on our website (www.crackedcubes.co.uk/competition) and on our Twitter (https://twitter.com/CrackedCubes). You will need to join our dedicated competition Discord server (https://discord.gg/ZVy5x2M) if you have any questions about the competition.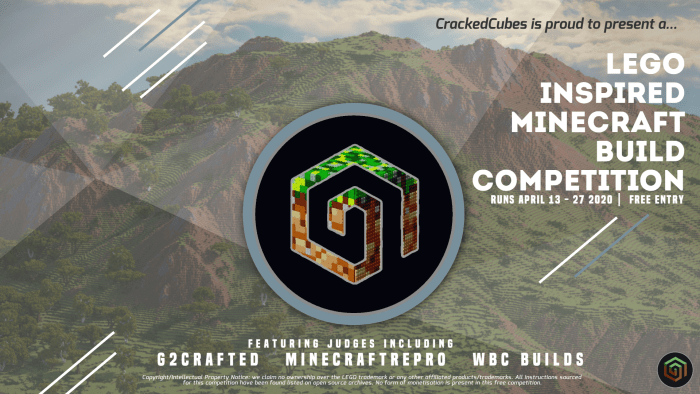 Copyright/Intellectual Property Notice: we claim no ownership over the LEGO trademark or any other affiliated products/trademarks. All instructions sourced for this competition have been found listed on open source archives. No form of monetisation is present in this free competition. We are also not endorsed/affiliated with MCPE DL or Mojang.
What are the Prizes?
The three winners will all receive 1720 cross-platform Minecoins and renders of their build. Second and first place get the privilege of naming one future CrackedCubes' Marketplace map. The exclusive prize reserved only for first place is a unique custom CrackedCubes terrain, adjusted to suit preferences, for the winner to use exclusively.
The winners were announced on April 30 2020. Thank you to everyone who participated!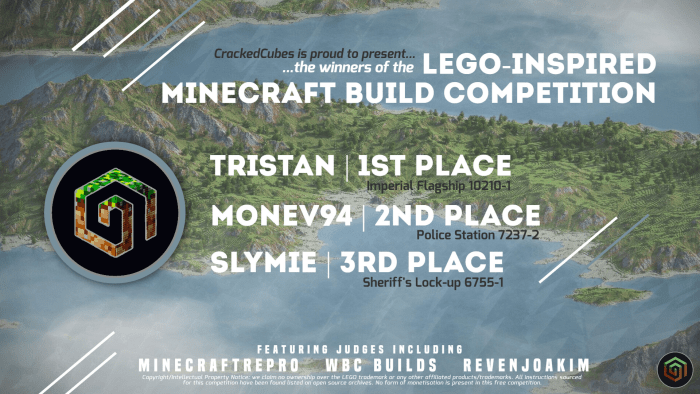 Our Community Judges
G2Crafted: I started playing Minecraft on my phone in 2011 and since then I have played, created mods, and built maps for basically every version of the game, all leading up to being partnered as a creator for the Minecraft marketplace. I'm excited to see all of the creative talent put into these LEGO inspired builds. View their profile on Twitter: https://twitter.com/G2Crafted
MinecraftRepro: I started playing Minecraft in 2012 and have been an avid player ever since. I specialise on recreating real life monuments from various countries across the world. I first started the LEGO to Minecraft experiment and can't wait to see what you can come up with! View their profile on Twitter: https://twitter.com/ReproMinecraft
WBC Builds: I've been playing Minecraft since the days of 2011 with the mindset of building towns and cities. Over the past few years I have had many projects related to this theme with my current one revolving around a Victorian town. I have keen eye for accuracy and dislike over detailing in builds. View their profile on Twitter: https://twitter.com/BuildsWbc
RedStudios: When I first learned about Minecraft I was instantly captured by its infinite worlds and creativity. Normally my job as a creator is to come up with really cool additions to Minecraft, but this time I get to sit back and take a look at what you're all capable of. I can't wait to see what you guys build! View their profile on Twitter: https://twitter.com/RedStudios_
RevenJoakim: I started my Minecraft journey around 2012 and have always admired structural design. LEGOhas also been a huge part of my life which lead me to Minecraft and who I am today. Through all of this I have had one goal to one day become an architect and maybe get to design buildings which people one day can live in. View their profile on Twitter: https://twitter.com/RevenJoakim
Lego Inspiration
Please head to our website, www.crackedcubes.co.uk/competition, to view the nine pre-selected LEGO plans by our judges. All of these are open-source instructions readily found online for free.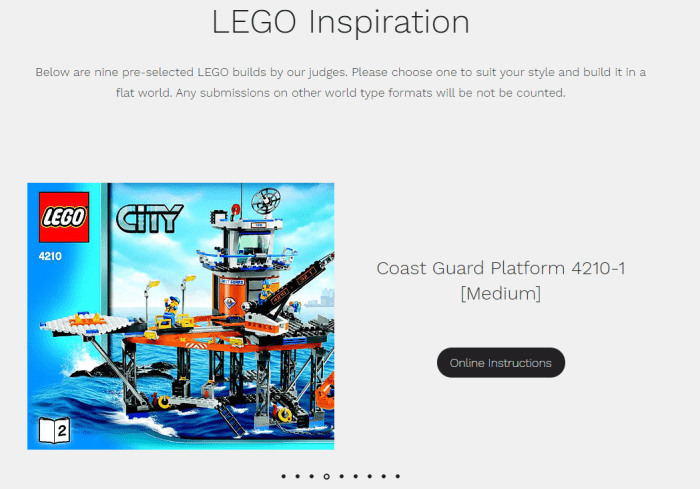 Lego Inspiration Example
You can download a .zip Java version or a PE/Bedrock .Mcworld version of this example map on our website or below.
This LEGO inspired build is a relatively simple one. I first followed the instructions to replicate the build as faithfully as possible. Only once I had proved that I could do this did I experiment with a freehand version of of the build. Take care to keep shapes simple – LEGO and Minecraft are both blocky so use that to your advantage.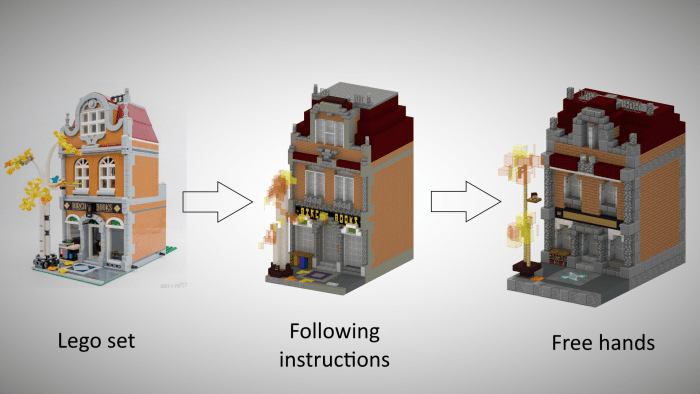 Competition Submission
If you are participating in this event – please make sure to submit your build before the 27 April deadline! You have to do this through our website, www.crackedcubes.co.uk/competition. If you run into any problems, please drop us a message on the dedicated Discord server created for this competition.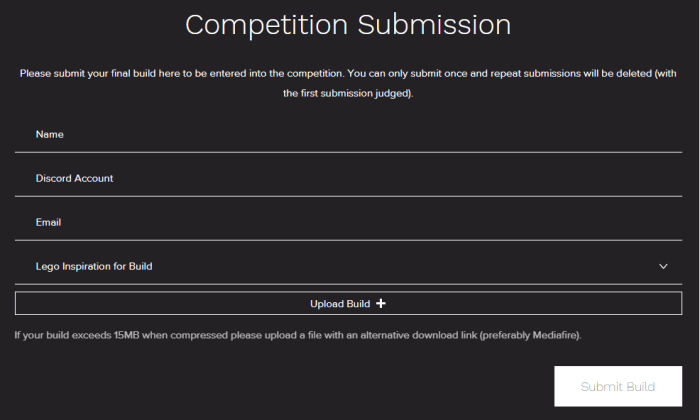 Changes Includes:
Update to highlight those who won the competition and that the competition is now over. 
Downloads
Supported Minecraft versions
1.9