This is one of the best seeds I've ever seen. There are tons of cool things to explore and most of it is packed in a quite small area which is very easy to navigate. You'll find lots of ravines, villages, desert temples, exposed dungeons and much more. Make sure to check out the video review in the bottom of the post if you want an even more in-depth guide on this seed!
Found by: TelepathicGrunt, Twitter Account
Cluster 1
This is the cluster you spawn at. Here you will find a desert temple fused to a desert village and it will be positioned right in front of you. You will also be able to find a stronghold under this magnificent structure.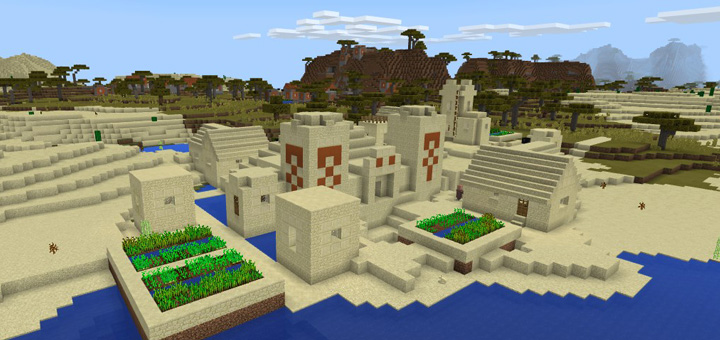 Next to this area you will find a savannah biome and there you will find a double village. All around these villages there are three exposed ravines. And one of the ravines is actually fused to a fourth ravine.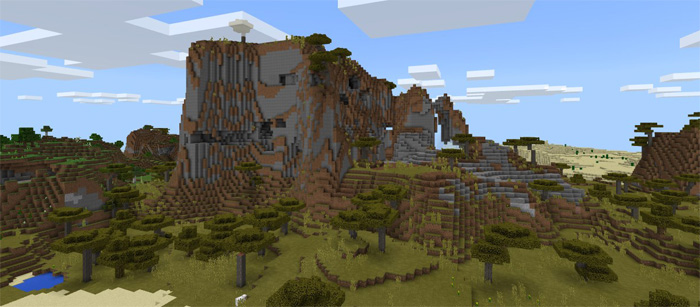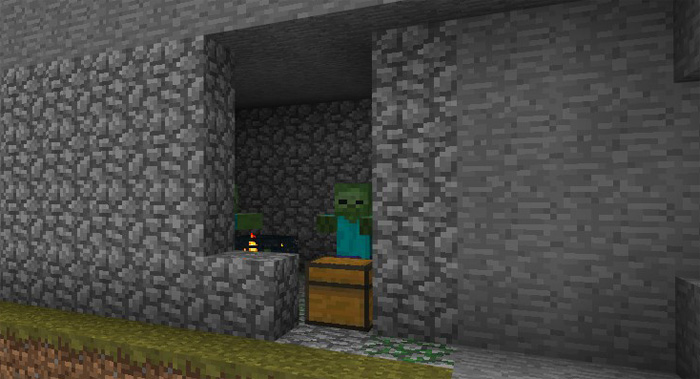 Coordinates:
Spawn – X: 828, Y: 64, Z: 0
4 Villages and Desert Temple together – X: 736, Y: 68, Z: 154
Stronghold Portal Room – X: 808, Y: 33, Z: 70
Ravine 1 – X: 623, Y: 64, Z: 93
Ravine 2 – X: 968, Y: 56, Z: 315
Ravine 3 and 4 fused – X: 575, Y: 50, Z: 330
Cluster 2
Go straight forward from spawn and you will soon reach the second cluster. As soon as you see a super tall savanna mountain next to a flower forest and village then you know you've reached it. Look towards the top of the side of the mountain and there you will see an exposed zombie dungeon.
Near the village are two ravines. The ravine that cuts into the desert mountain is the one with an exposed fossil in it.
And near the forest, there's an exposed dungeon in the desert. Look at the coordinates down below to know where it is and to place a block to make its sand roof fall into it.
Coordinates:
Exposed Dungeon in Savanna M – X: 872, Y: 110, Z: 750
Savanna Village – X: 741, Y: 69, Z: 672
Exposed Dungeon near Flower Forest – X: 1035, Y: 65, Z: 800
Ravine 5 with Exposed Fossil – X: 565, Y: 11, Z: 606
Ravine 6 – X: 712, Y: 56, Z: 470
Cluster 3
Go back to spawn and head in that opposite direction for a while and you will find a plain village which touches a savanna village. There is also a third village next to them.
Coordinates:
Double Village next to single Village – X: 781, Y: 68, Z: -491
Cluster 4
Turn left when you reach the third cluster and continue straight ahead. Soon you'll see a river run alongside a large desert hill. Go around this hill to find a desert village. Close to the village there is a desert temple. There is also a ravine nearby with an exposed fossil in it. Look around the ravine for another desert temple but that one is mostly buried.
Coordinates:
Desert Village near Desert Temple – X: 123, Y: 70, Z: -279
Mostly buried Desert Temple – X: -148, Y: 74, Z: -255
Ravine 7 with Exposed Fossil – X: -23, Y: 47, Z: -240
Ridiculously tall Ravine 8 – X: 107, Y: 75, Z: -58
Video Preview
Seed: 1431023779