Are you tired of collecting a lot of logs? Then this Add-on is just for you! Lumberjack Add-on add a new mob named "Lumberjack", who cuts down trees around him every 15 seconds. He also picks up logs on the ground. He has more ability helpful for your exploration. Please read below!
General Features
spawns in taiga, jungle or anywhere which has

forest

biome tag
has 20 health
gets injured in the head if lower than 25% of max health
healable with 'bread'
can pick up specific items
can share items between them, if given a 'gold nugget'
has inventory, which turns to be public when given an 'emerald'
nameable
leashable
can break leaves
can be tempted with 'gold ingot'
You can toggle cutting ability with 'stick'
You can toggle pick-up ability with 'lever'
To get access to Lumberjack's inventory, you must pay an 'emerald' to him. If his inventory is open to you, he has an emerald badge on his chest.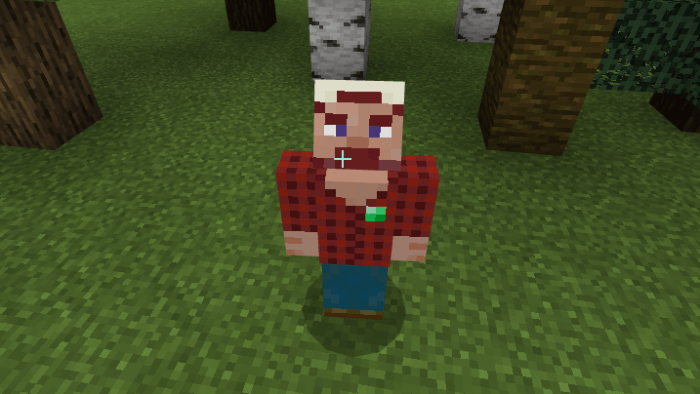 To stop him picking up, tap him with 'lever', and a yellow black cross sign will show up on his left hand. The same way to restart picking up.
Shareable items (it means pickupable)
all kinds of logs
stick
items monsters droped
Lumberjack
Giving an axe to Lumberjack allow him to chop down trees around him every 15 seconds,
To stop cutting, tap the Lumberjack with 'stick', and yellow black cross sign will show up like this,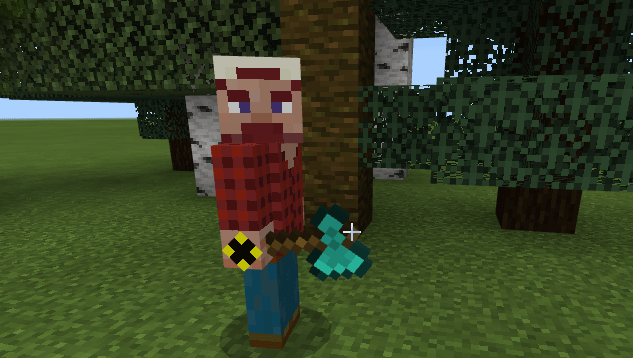 Supported axes are wooden, stone, iron, golden and diamond axe. Cutting distance in block increases from 1 to 5, as it goes to the right.
Level System of Lumberjack
On the latest version(v2.0.0), Lumberjack has got a level system, which means he will gain 1 level when chopping down trees. If reaching level:50, his axe in the hand will upgrade, like stone axe is replaced by iron axe.
Planter
Giving a sapling allows Lumberjack to plant trees every minute. You can check what kind of trees is being planted by looking at his left hand.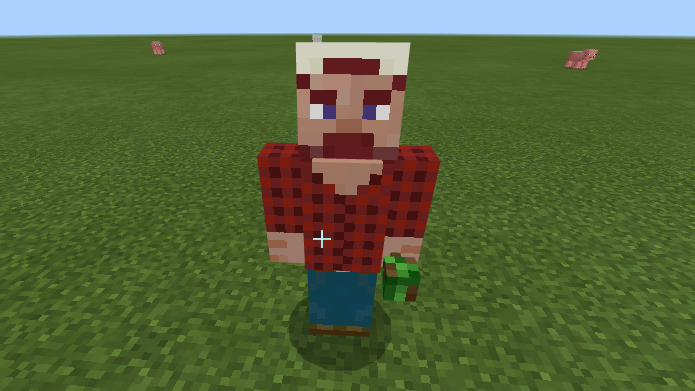 To cancel planting, give him a 'stick'.
Note that Lumberjack can't have both abilities of cutting and planting at the same time.
Lumberjacks given a 'gold nugget' can share items between them, if they have no equipment in their right hand. Taking advantage of this feature, You can automatically steal the items they have in their inventory with hopper.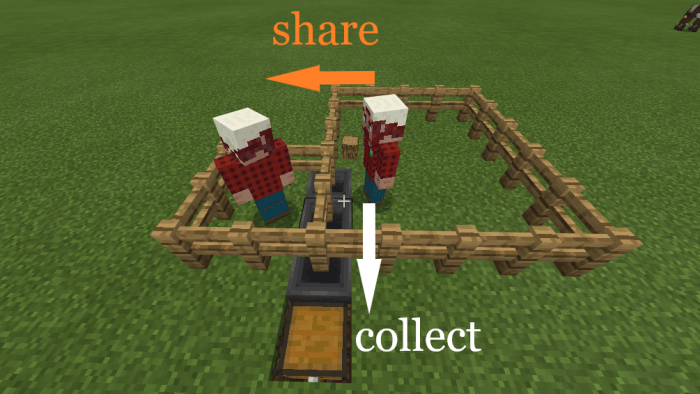 Soldier
Given 'iron sword', 'bow', 'crossbow' or 'trident', Lumberjack becomes Soldier, who has a weapon to defend village, like 'iron golem' does.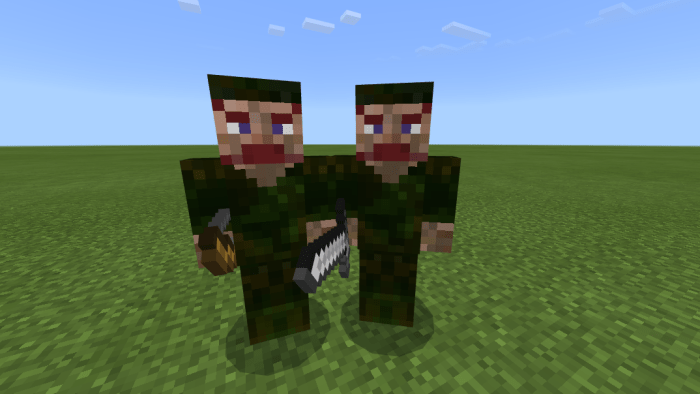 Soldier's features
fights monsters within his eyesight
defends village
has 40 health (v2.0.0~)
10 damages with sword
6 damages with bow or crossbow
8 damages with trident
can be full armored with iron armors. Give an 'iron helmet' to Soldier
tameable with 'gold ingot'. They will follow and fight with you.
can't become Soldier if having shareability (to prevent bug happening)
Strengthened Soldier
Soldier will be strengthened if he has 100 fights with mobs. (2.0.0~). So keep his health in mind so that he won't be killed by monsters..
I'll rebuild this feature as a level system on the future version.
Strengthened Sword Soldier
has an enchanted 'iron sword' (sharpness V)
moves faster (0.7 →0.85)
has longer reach (4.0 → 6.0)
has more health (40 → 80)
Strengthened Bow Soldier (Sniper)
has an enchanted 'bow'
can shoot 5 times longer (16 → 80 in blocks)
has more health (40 → 80)
damages much more ,but needs 4 seconds interval to shoot (6 → 25)
can't attack enemies under 16 blocks from this mob
Helpful Commands
I left some helpful functions in my pack to test the behaviors.
/function test/cut…a test kit for cutting
/function test/plant…summon a Lumberjack and give all kinds of saplings
/function test/soldier…a test kit for Soldier
Terms of Use
You may:
Use this addon for fun.
Record this for your video sharing, such as on YouTube.
Read its files,
You may not:
Upload this file any other website without my permission.
Copy all of its scrips to create your addon.
Use its textures without my permission.
Note
You must turn on experimental game play, or it wouldn't work.
This addon overwrites "arrow" behavior, so it couldn't work correctly depending on your another addon.
To work on 1.14, you need to download one for 1.14. On the version, their texture never changes when injured.
[2.1.0]
add crossbow as supported weapons
add trident as supported weapons
added v2.0.0 for minecraft bedrock 1.14
added test functions
[2.0.0]
fixed the problem that tamed soldier keeps staying in the village
fixed the problem that picked-up items are gone
fixed the problem that a little freeze occur when Lumberjack is chopping
supported stone and golden axe
added new textures for Soldier
added sounds on interactions
added a level system for Lumberjack
changed specifications of Strengthened Soldier
changed some of the parameters of Soldier
weapon will be given back when you exchange Soldier's weapon
[2.0.0]
fixed the problem that tamed soldier keeps staying in the village
fixed the problem that picked-up items are gone
fixed the problem that a little freeze occur when Lumberjack is chopping
supported stone and golden axe
added new textures for Soldier
added sounds on interactions
added a level system for Lumberjack
changed specifications of Strengthened Soldier
changed some of the parameters of Soldier
weapon will be given back when you exchange Soldier's weapon
fixed the problem that Lumberjack never spawns[1.1.2]
described the changes caused by minecraftBE 1.16.0.57 on this article
added zip file, download it if you have any problem with ,mcaddon file
change sword_soldier(not strengthened) not to attack creeper
reduced accidents such as overwriting diamond axe
increased spawn rate
[1.1.0]
added simple animations of cutting and planting
added tameability of Soldier
added strengthened Soldier
added breakability of leaves
modified geometry
modified shareability
changed cutting interval
Downloads
Supported Minecraft versions
1.14
1.16