MazinPack is an 8×8 project that is still in major development! Expect to see lots of awesome stuff, and broken stuff. This pack project was made by lolmarkdude2 / lolmarkdude.
Update 2.0.0
Everything Is here, Mob textures, item textures, everything! we got the zombies, and the terracota, and more!
MazinPack
MazinPack is an on-going 8×8 resource pack project by lolmarkdude2. The pack aims for a weird yet bubbly simplicity, but also keeping a strange use of light and dark colors, allowing it to be quite peculiar. This resource pack started on March, 1st, 2019, and for its birthday I decided to clean the pack of lazy or unnecessary works. MazinPack is not finished and will keep being supported until known otherwise.
The Importance of MazinPack
MazinPack Is the first User submitted 8×8 texture pack on MCPE DL and is one of the top first to be released for bedrock edition users. MazinPack gives off a different vibe from texture packs like the Minuscule (By JadeSparrow ) texture pack or the Minicraft 8×8 (Submitted By MCPEDL, I will provide links to these as well.). MazinPack Definitely gives a simplistic bubblish vibe similar to Rodrigo Pack (By Rodrigo AI).
Why Choose MazinPack
Preference, MazinPack has always been a basic choice for a good 8×8, It's quite obvious that mazinpack has the basics you need to start enjoying a 8×8 texture pack. The texture pack is being updated almost daily, and has a choice of adfly or direct link (Some packs do not have this, which ruins the point of making packs). There Is a series in development, so if you don't like MazinPack, you might like similar creations.
The Creator
I am MazinMark, better known as lolmarkdude (or lolmarkdude2, Main Xbox Account). I have started creating Resource packs Since February of 2019 and so far gained much positive feedback from users. I own a youtube channel with around 450 little crafters and bloxers (Minecraft/Roblox). I made a Website which is currently under development, and I play loads of Minecraft and Roblox.
Youtube Videos, "Porting", and More Info
You are allowed to make youtube videos, articles, and other types of content, as long as you give credit, and your link does NOT contain and adfly IF it does not contain a direct link. Porting is allowed, but you must send the port through me if you want to publicly post it, I will give credits to people who port the texture pack. I recommend sending an mcpedl link while making videos, articles, and other content.
Texture Pack Review Videos Below!!!
Photos (V1.1.6):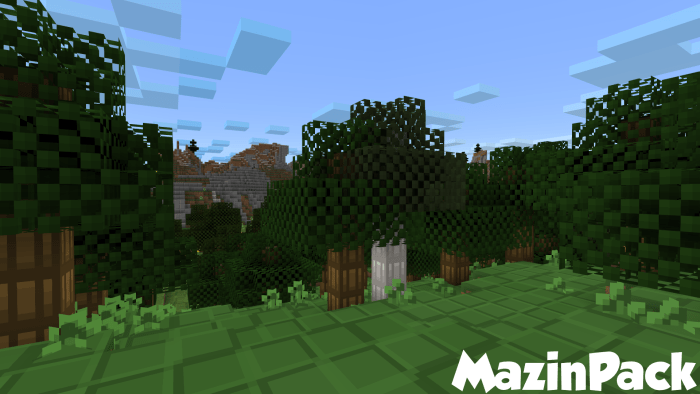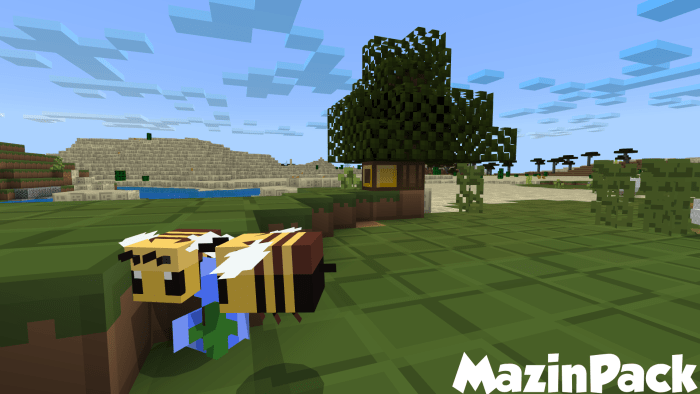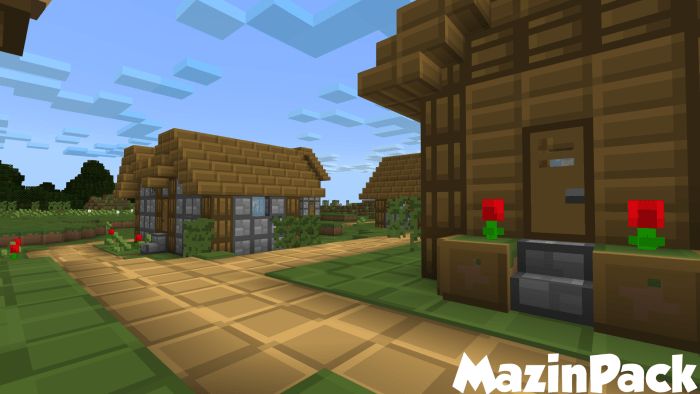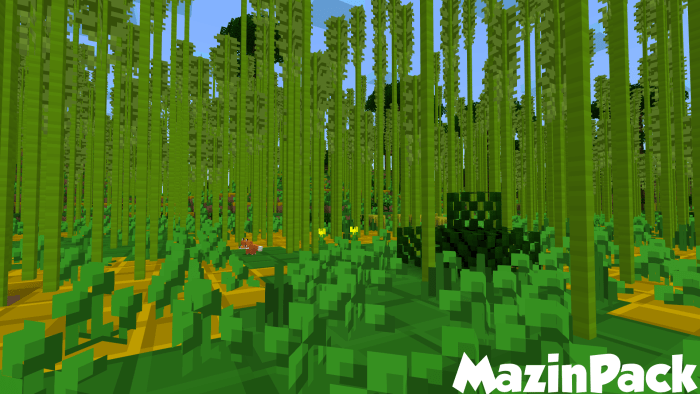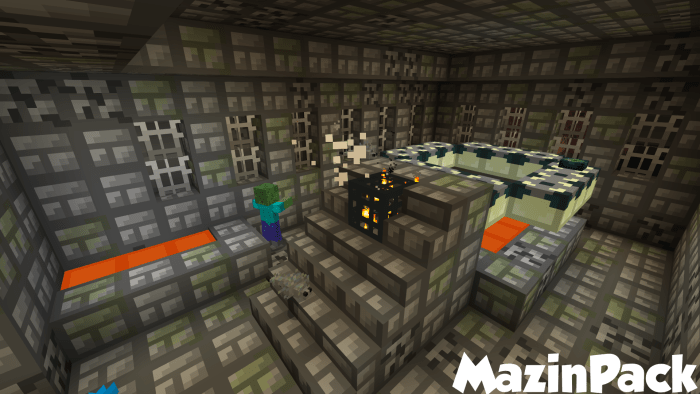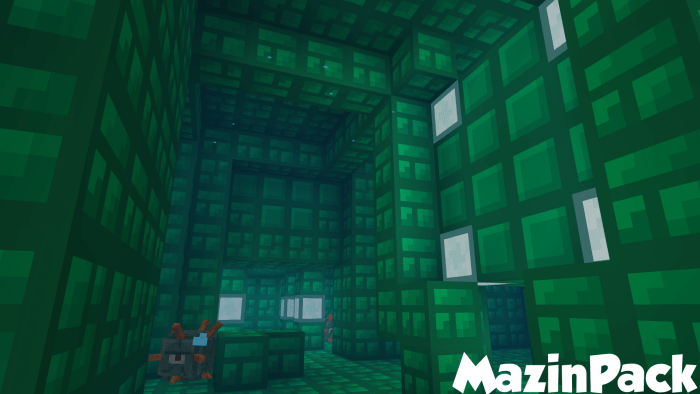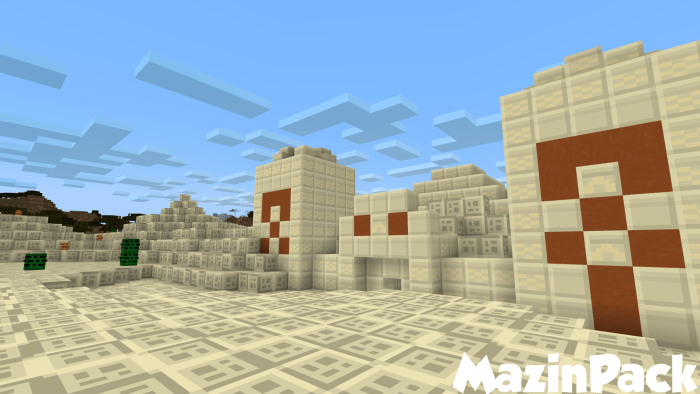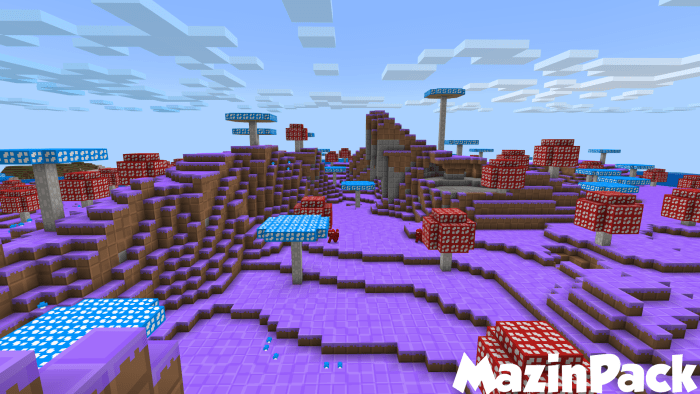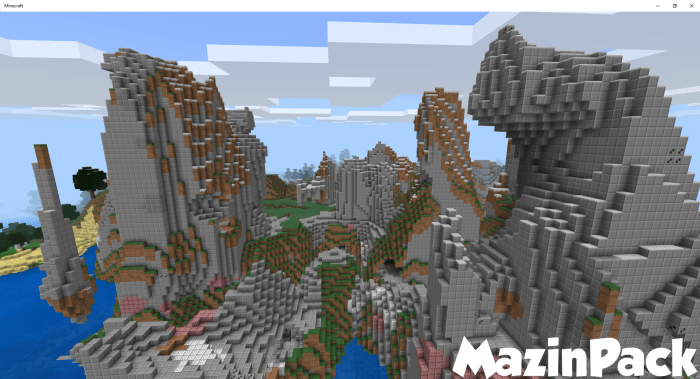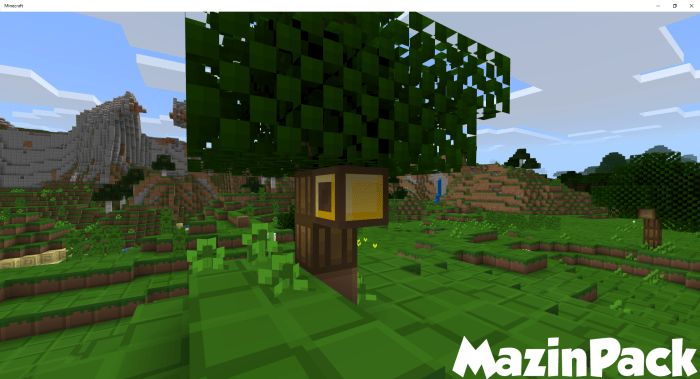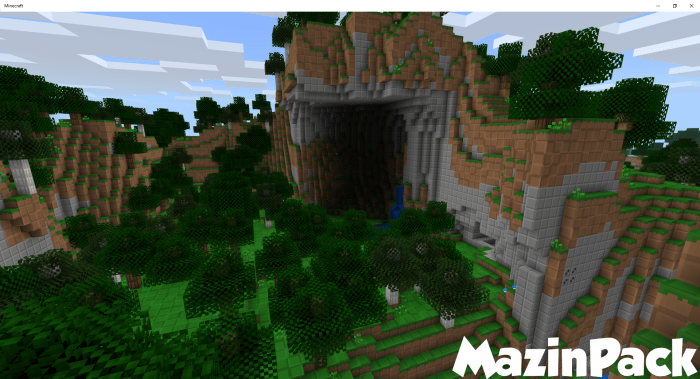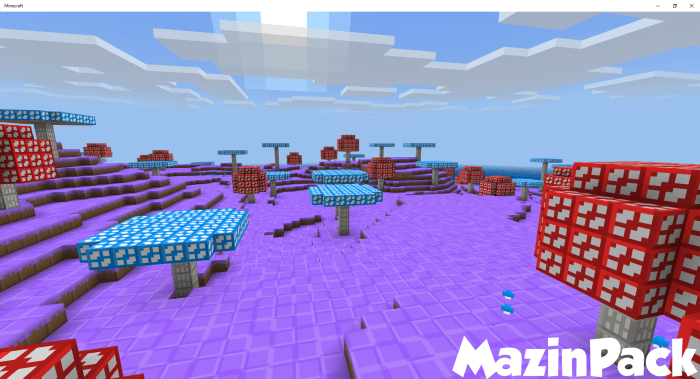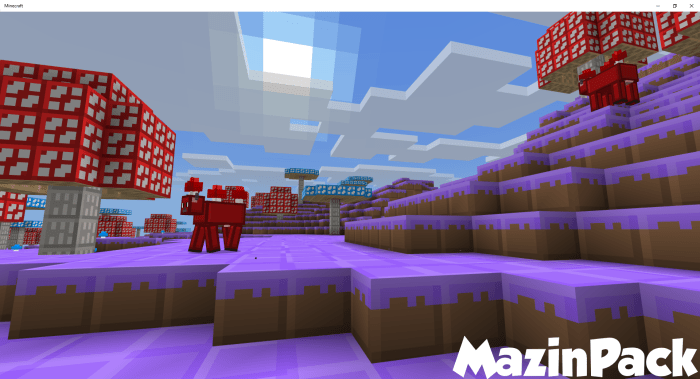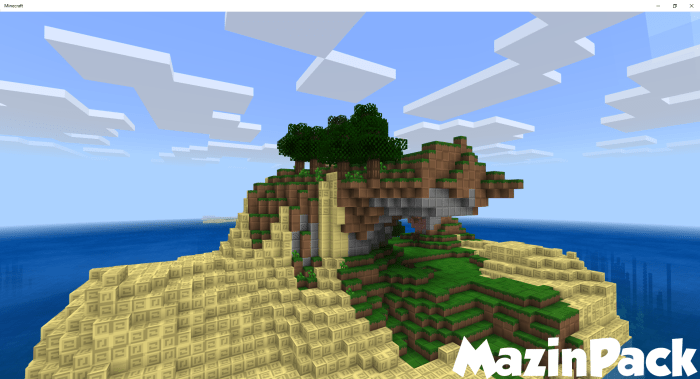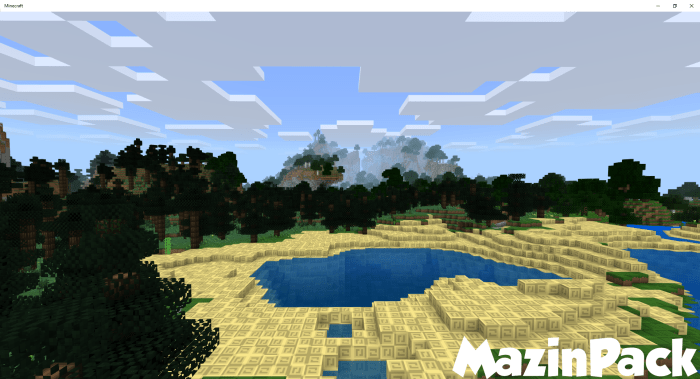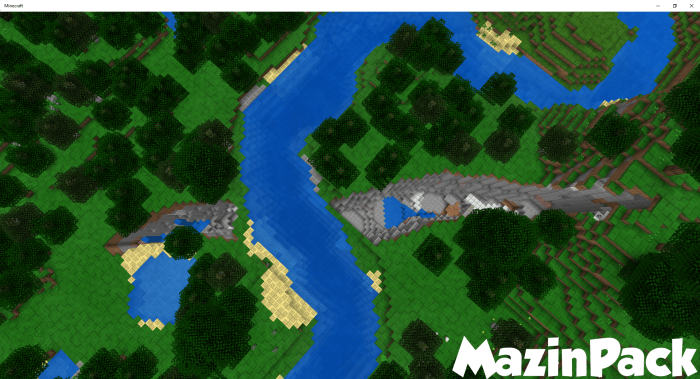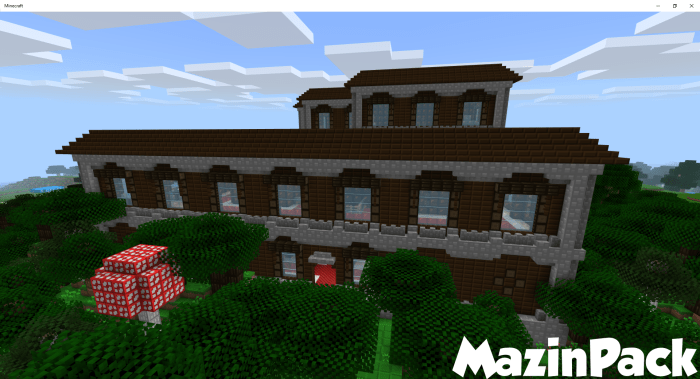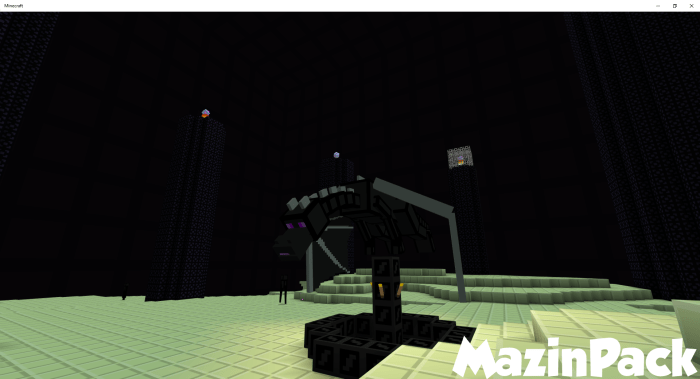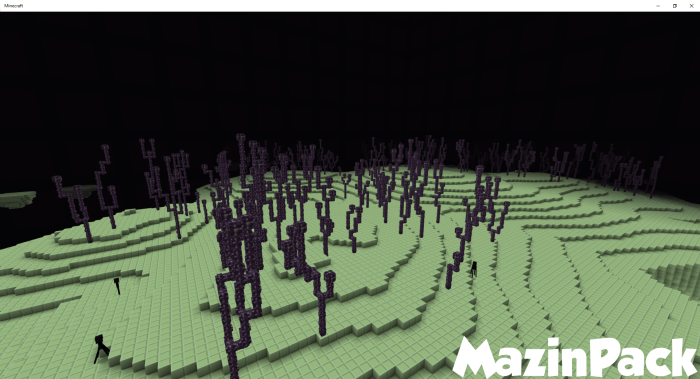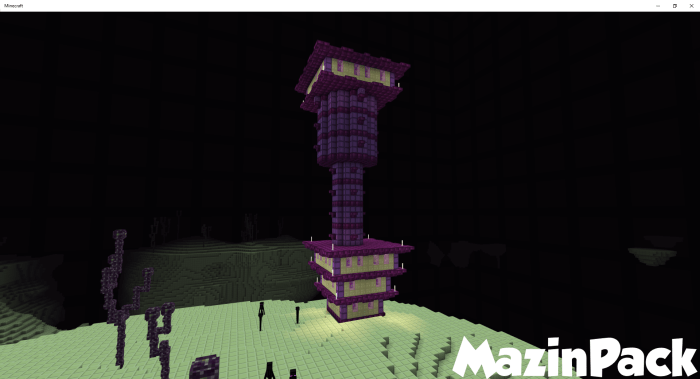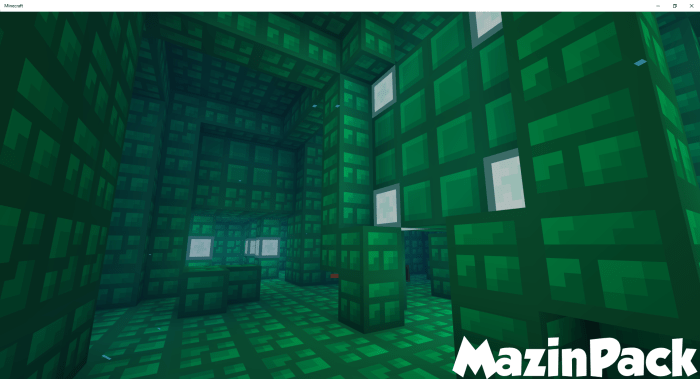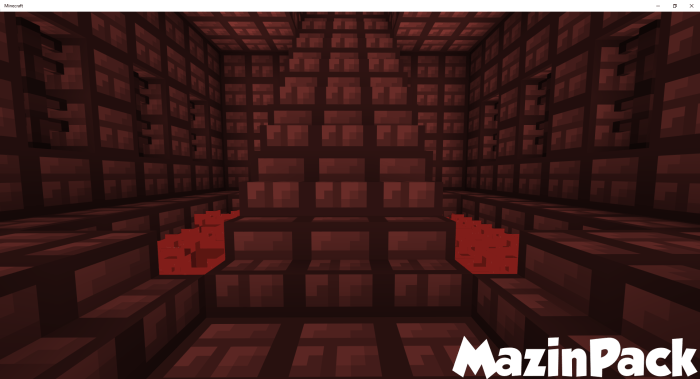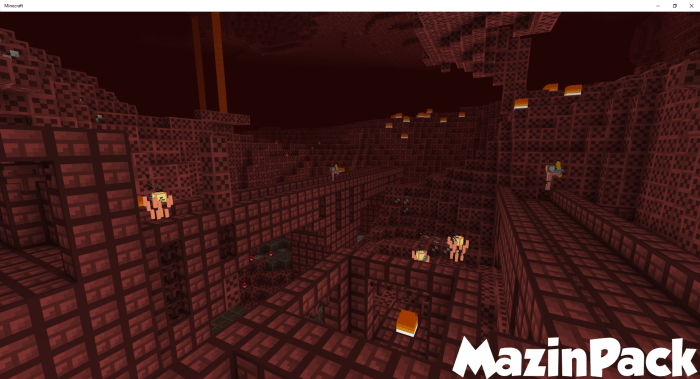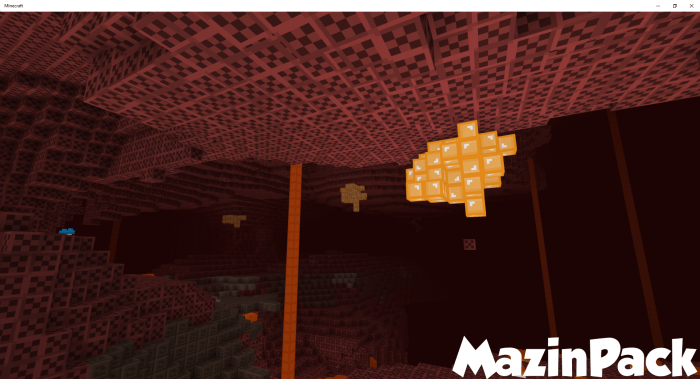 MazinPack Project started – 3/1/2019
– lolmarkdude2
No longer Support Addons
Added a bunch of images, hopefully for the sake of this page mcpedl denies this B)
V2.0.0 Update Log:
+ All Entities Textured
+ All Blocks, except sturcture blocks, textured.
+ loads of items textured (but not all)
(Hopefully) Fixed IOS/Android Import issues (By MCPEDL)
V1.1.9 Update Log:
+ Textured Colormap
* Retextured Sand, Soul sand, Red sand, Sandstones (all), Gem Blocks (Diamonds, Coal, etc), Spruce Planks, other unlisted textures.
V1.1.8 Update Log:
+ Textured/Retextured Ingots, Bricks (items), Diamonds, Saddles (Items)
- Messed around with a lot of entities.
V1.1.7 Update Log:
- Removed Seasonal UI
+ Added Addon+ Subpack (Created by me)
+ Addons: total 4, added 2, finished 1
+ Textured Fox, Artic Fox, and ghast, along with other entities.
V1.1.6 Update Log:
+ Wasted an update log to fix dirt (Your Welcome?)
V1.1.5 Update Log:
* Fixed Crosshairs and Grass (Your Welcome)
V1.1.4 Update Log:
+ Added Some Egg Textures
+ Textured Dragon Breath Bottle along with dried kelp
+ Updated Mcoin Ui and Paintings, along with the enchantment look and Pumpkin masking (When wearing pumpkin)
+ More Possibly unlisted.
V1.1.3 Update Log:
* Updated Nether Quarts to be logical with new netherack
+ Saturated Some Nether Textures
V1.1.2 Update Log:
+ Textured Crying Obsidian and Gold Ore (Nether)
+ Retextured Some Doors
V1.1.1 Update Log:
+ Retextured all Glasses, Including Glowstone.
+ Retextured Ice, Packed Ice, and Frosted(?) Ice, and Blue Ice
+ Retextured Mycelium, Cobblestone, Nether/Stone/etc Bricks and Purpur blocks
V1.1.0
+ Removed Useless Json Files
+ Loom and Opaque Leaves Textured
+ "Not_Updated" Block Textured
+ XBOX Feed Background Textured.
V1.0.9 Update Log:
+ Added Winter Season UI Pack
+ Updated Honey Block and HoneyComb Block
V1.0.8 Update Log:
* Fixed Manifest JSON for peak performance.
+ Textured Campfires, Cameras, And Carrots
+ Textured Bees
V1.0.7 Update Log:
+ Textured Bee Hive, Bee Nest, Honeycombs, and Honey Bottles.
V1.0.6 Update Log:
* Edited Title and Button UI
+ Added March Season UI Pack (More To Come)
V1.0.5 Update Log:
* Retextured Furance, Dropper, Dispenser, Snow, and Gravel.
V1.0.4 Update Log:
+ Netherite Armor (Model, Not the item)
+ Warped/Crimson Vines, Plants?, fungus, etc (Biome Nature)
+ Removed an Armor Bug. (all armors)
V1.0.3 Update Log:
+ Warped and Crimson Blocks (everything but doors) Textured
+ Shroomlight and Warped/Crimson Wart Blocks Textured
V1.0.2 Update Log:
+ Netherite Tools
+ Netherite Armor (Item Textures, not the actual armor itself... yet.)
+ Crimson and Warped Nylium
+ Netherite Block, Ancient Debris, Netherite, and Netherite Scrap.
+ Basalt and Smooth Basalt
V1.0.1 Update Log:
* "Mel" (Hives?) Textured for Supported Addon: "NewWeaponsPlusV4".
* Spruce Planks Retextured.
* Seagrass Textured.
* Campfires Textured.
* Netherwart block Textured, along with Netherrack Retextured.
* Lever (Block) Textured.
V1.0.0 Update Log:
* Ores Retextured to match stone
* Gold Blocks Retextured
[SPECIAL] Added "SupportedAddons.txt" and (ofcourse) started supporting addons.
V0.9.9 Update Log:
* Textured All Minecarts (Items)
* Textured Bread, Cooked Porkchop, both chorus fruits, phantom membrane and hopper textures.
V0.9.8 Update Log:
* All Wood Planks Retextured.
* Clayball Textured.
* Compass Textured (Both Functional and non-functional)
* Bell Item Textured
V0.9.7 Update Log:
* Conduits and some Coral blocks/plants textured.
* Cobblestone along with Stone Retextured.
* Guardian, Elder Guardien, and Guardian Ray Entities Textured.
* Firework Entity Textured.
V0.9.6 Update Log:
* Clouds Changed to gradient for different shades of white and blue.
* Prismarine Blocks along with some stone blocks retextured!
* Pack Icon Changed to fit the theme of the TexturePack
* Prismarine Shards and Crystals Textured aswell
[SPECIAL] I Decided to remove handmade gradients from the game. The reason for this is that it looks way better simplistic without than with gradients, and flushing too many colors into peoples eyes isnt fun!
V0.9.5 Update Log:
* Title UI retextured
* Fish hook textured (Entity) along with expierence orbs textured and shields retextured.
* Updated Pack Icon.
V0.9.4 Update Log:
* UI Elements removed to reduce storage build-up
* Some Parts of the Iron Golem Completed
* Lamps are now textured (Block)
* Arrows Textured (Entity)
* Edited Cloth Armor
V0.9.3 Update Log:
* MOST Flowers Textured
* Flower Pot and Fetching Table Textured
* Most Brewing UI Textured along with "Friend" Icons
Textured All the Item CD's and Textured all the Arrows/Tipped Arrows.
Brought Back the UI Frames but made them better!
Re-added the website, MazinWorld!
V0.9.0 Update Log:
* Textured Cows, Endermen, Parrots, and Boats!
* Experimenting with the bamboo block (currently 16x16 but will be changed soon)
* Changed the Clouds, the Moon Phases (Will add more phases soon), And The Snow/Rain!
* Kelp, Lantern, and Item Frames Textured!
* Textured Glowstone lamp, Red Sand, and all the red sandstones.
V0.8.5 Update Log:
* Added in some more logos (for crafting and such)
* Tried Changing the Cursor , Unlikely to be fixed.
* The Rest of the dyes are textured!
V0.8.4 Update Log:
* Textured Some food items
* Textured Signs, Shears, and Shulkers (items)!
* Over Half of the dyes are textured, the rest are soon to come!
* Tall Grass Textured
Notes: Blocks need worked on a whole lot. I removed sound, a major part of the game, for the sole reason of people complaining and destroying my reviews.
V0.8.3 Update Log:
* Added the Panorama
* Unnecessary files removed (like pictures of in game content in the paintings folder)
Notes: Started working on a better font so that users below do not complain. I'm also gonna update the description of the pack so nobodies like "Time to read the first word to see if it has changed... Nope."
V0.8.2 Update Log:
* Paintings Updated, when combined make a huge masterpeice!
* Sun Texture Changed!
* Title Changed, maybe changed again later on...
* Reverted Frames and some Buttons, they will come back soon!
Notes: Thinking about re-adding the font but more worked on so that nobody starts crying that they can't read a single thing.
V0.8.1 Update Log:
* Lingering Potions have arrived! Completing the potion category!
* Made the gem blocks correct, they now look similar to one of the carved stones.
* Fireworks Textured
* Finished Cod In a bucket, now all buckets are complete (I think)
* textured Fireball similar to the other round objects
* textured the Stable Nether Reactor
* Textured fish items (when you kill/catch a fish it gives you the item that is now textured, sometimes.)
Notes: Recently I looked into google for my texture pack, you know... to see where its going. I found a couple websites that gave great ratings and took the time
to write a paragraph on it, although it may not go to my mediafire or adfly download, its still more popularity. It warms my heart to see people say this on websites,
Most of them even gave me credit as the creator (WHICH IS A GOOD THING).
\/\/\/\/\/
So if some of you would like to make a video or article, then do it! I highly reccomend credit though, please add that or else... ;c i cri.
/\/\/\/\/\
V0.8 Update Log:
* Got rid of the ugly Diamond/Gold/Iron/Etc Blocks, made them more colory but also nice looking, just like me, except with loads of makeup, and I mean truck loads.
* Did some Entities better than just a blob, like the creeper or the chest, or even the ender dragon.
* Shulkers should be fixed but there is a problem for some shulker boxes not appearing well, Ill edit those.
* Updated Magma Block, which before were a hot mess, litterly! (get it? magma blocks? Hot Mess? nevermind.)
* The Actual Piston Arms were updated, and without a doubt look hotter than me, I think I got made at it, I wonder why.
* Along With The Double chest being fixed the Regular chest got a mega upgrade to its design, and I think its the same for the ender chest.
* Magma Cream, Slimeball, and other items similar have been changed to look nice but similar!
* All Splash Potions Textured, the last types of potions are Lingering Potions!
* other stuff I cant remember!
V0.7.5 update log!
Loads of items updated
+ Potions
+ Elytra
+ Trident
+ More
Some Blocks updated as well
+ TrapDoors and regular Doors (different from item textures)
+ StoneCutters and other unobtainable blocks (for skill/practice ofcourse)
Entities Fixed and some Bugged
+ We all know the double chest IS broken BUT it will be fixed in a new update sooN!
+ Tridents defintly edited!
+ Other mob entities fixed too! (Like shulkers!!!! all shulkers including boxes are now FIXED!!!!)
Be Sure to Comment on what you think should be added next in update V0.8!
Two Entities updated (Shield and Trident, Trident still work in progress)
Items Updated:
* All Regular Potions
* CrossBow
* More that I cant think off the top of my head!
old Images removed newer ones added.
Added lots more stuff like blocks, items, and maybe an edit to the ui!
Sugar, Gunpowder, Blocks, Items and more updated
UI Changes: Trying out the new cursor!
V0.7.1 Update log
Items (remember these are the items not blocks, entities, etc):
*All bed textures
*All elytra textures
*All Bucket textures except for cod in a bucket texture
*Bowl, Bread, Brewing Stand, and more item textures!
UI: Cleaned mobile buttons
Blocks: None
Entities: None
Notes: Finish the Cod in a bucket item, do entities and blocks next update. Expect no user interface updates for a while, more sounds coming soon!
MazinPack Version 0.7.1 includes:
Loads of items have been textured, listed below!
* All bed items (different textures from blocks) textured!
* All Buckets (except for cod) textured!
* All Elytra (item textures, including broken elytra) textured!
* All Book Textures!
* All Crossbows textured!
* Bread, Bowl, Brewing stand, and some more item textures that are not categorized!
User Interface
* Cleaner Mobile buttons!
Note: Expect more block textures in the new update, and maybe some entities getting textured too!
Gold, Iron, and Diamond Blocks are recolorized to be smooth and easy to look at!
Iron Door Textures, Painting Textures, and more!
Updated to Version 0.7
Updated Installation Details to meet decent needs.
Updated The Description.
I updated Rails, Vines, lily-pads, etc.
I also updated a tiny bit of sounds.
- Even More Fixes, Block Textures, etc -
- Remaking font come back for better font I guess :l -
- Cake And Cacti Fix -
- Sand, Grass, and more blocks retextured! -
- More Block Textures! -
- Added More Sounds -
- Added Video (With Permission) -
- Updated UI, items, font, etc -
- End Date May 31st -
- Updated even more images -
- Added Video Content -
- Updating Website hopefully will be back -
- Added More Images -
- Described Images -
- Added Way Better Description -
- Removed "8x8" In the Title! -
Added Sounds for Hitting, Walking, And Digging!
Added More Textures mainly Blocks and Items!
Fixes and More For MazinPack
More Blocks And Items as always!
More Blocks And Fixes
Better Pictures / "Art"
Updated to 6.1 so its fixed...
New Pictures
More Blocks and Shades to Blocks
More Items and Shades to items too!
Changed Impression image, others are not as good! Released a sneak peak video of a 7 in 1 mcpack that includes mazinpack.
Added V0.5.2 just to show progress ;)
Also Added ad fly so I can get some source of income, I mean I have a life too!
Removed Website (No longer needed)
Added Shortened Link for ease.
Added a Fix For bugs (Like dirt and grass!)
Mazinpack, Downloaded over Hundreds of times, now has been updated to V0.5 Give your opinions in video or chat!
Major Texture Improvements and increase in general textures!
First UI Stage is coming to an end, 0.6 will have same ui... 0.7 will have more ui!
1/8 of mob textures completed or soon to be completed
More Bug Fixes (Grass isnt one of them yet lol)
Further Reduced Size of mcpack!
Better Fonts and more!
Thank you... Everyone... For the support!
Updated Submission details for a more accurate description, Accidently removed 2 videos oof!
Removed Junk to reduce Size of Texture Pack: from 46 to 32MB
Updated Website to fit the NEEDS of MazinWorld Fans today!
Lots of Block Textures, along with UI Improvements, maybe a little bit of shadin added to some blocks!
(MazinPack is no longer Releasing "Sub-Versions" like 3.7, 4.2, 2.6, etc! They will release in a regular not a sub. 0.5 will release soon!)
MazinPack V0.5 will have the following:
+Most if not All UI finished
+Mob Textures
+Block Shading
+Item Shading
+Beta Preperations
Thanks For Downloading!
+UI is almost finished
+Farming Blocks have been added
+Adding Mob Textures!
+More!
+UI Fixes but UI bugs
+Better Ui
+An a-mazin font!
+Removed Ocean Man
+Added New Temporary Panorama!
+Added TallGrass
+Better Inventory and xbox controls UI
+MORE!!!!
+Major UI Improvements (even better)
+Changed Pack Logo
+Minor Bug Squashing!
+New Text (old one was chunky and ugly)
+Not Many Block/Item Re-textures Sorry :(
+ui has even MORE STUFF!
+Back In the Motion! (NO MORE DELAYS!)
+Hunger Bars Textured! Comment if Bad or good!
Updated lots of textures, and shaded some too!
Bones, Sword Shading, Tool Shading, etc
Threw In a tiny update to keep being somewhat active on this one!
Added New Photos
Added Halting Message
Next updated expected before spring break ends (I have funny spring break, so this week!)
Textured Pumpkins, and a cool ui for putting a pumpkin on your head!
Bug Fixes! (Still WIP)
REMOVED LOTS OF ANNOYING MEAN BUGS >:(
As you can see I hate bugs but I got my bat and I went WHACK and they went SPLAT
The Bug fixes are for the enviorment particles and more! also check out the website for more too!
Bugs:
- Removed Minor Bugs
- Removed Texture Bugs
+ Added Minor ui Bugs (noticable)
Textures:
+ Added Diamond/Iron/Stone/Gold/Wooden Hoe Textures
+ Added Armor Textures (Item)
+ Added Armor Textures (Entity)
+ Retextured Heart ui
Comments:
Armor looks better but not best
Items had a nice focus on the update
Bugs have been majorly fixed, but new ones were added
the ui has a good look so far
Added the website as a solution, along with an instant download solution!
Added the folder so that players can be able to select which version they want. Scroll down and click the version to download :)
Special Bug Fixes along with a retextures and a couple more textures
Mushroom Blocks Textured, 1 retextured due to a friend asking for it to be retextured!
Added LOTS MORE!!! (Testing out a lot of random stuff so I edited a lot of different textures to play with the shading and grass textures for fixing!) 
Remember MazinCraft is where the texture pack gets updated too! go there to play with it before it becomes released!
MazinPack V0.1.7 - Concrete blocks textured along with obsidian and updated 2 mushroom blocks (Total - 20 Blocks Updated)
Updated pictures so many get a better look at the update!
MazinPackMCPEV016 - Lots more blocks updated along with pack icon!
MazinPack V0.1.4 - More Glass Textures / Bed Texture (only red I think) / Armor Updates / Bookshelf Texture / Big shoutout to the MCPEDL team!
Installation
WARNING: DO NOT USE THE ADFLY LINK UNLESS YOU WANT TO SUPPORT ME AND YOU KNOW WHAT YOU ARE DOING, THANK YOU!
1. After Clicking The Download link, if ads popup just click next usually at the top right of your screen. If you get a notification popup, go to the download link and click and try again.
2. Click the download on MediaFire (Both Links go to the same page) 
3. when it installs do the following
     * PC - Click the icon and it will open minecraft
     * Mobile - Click the Open in Minecraft button! (or look for the minecraft app)
Downloads
Supported Minecraft versions
1.10
1.11
1.12
Resolution
8x