MCPE Master is an Android launcher app for Minecraft Pocket Edition. It adds several easy to use tools which greatly increase your control of the game. For example, changing the time of day and switching current gamemodes have never been easier. There are literally tons of features included in the app and to find out more continue on reading and we'll walk you through all the features!
Creator: Kevin, Twitter Account
Features
Set game settings before entering game
Import maps, skins, addons, textures, mods
Switch between day/night, survival/creative
Change the weather
Set experience level (0-2000), enchantment level
Fly, invincible, sprint, teleportation
Switch between big/small GUI
Spawn items, mobs
Screenshots
In-Game Options
To open the in-game option panel tap on the top-right MCPE Master button. On the left side of the screen there is a menu from which you can choose what kind of settings you want to adjust.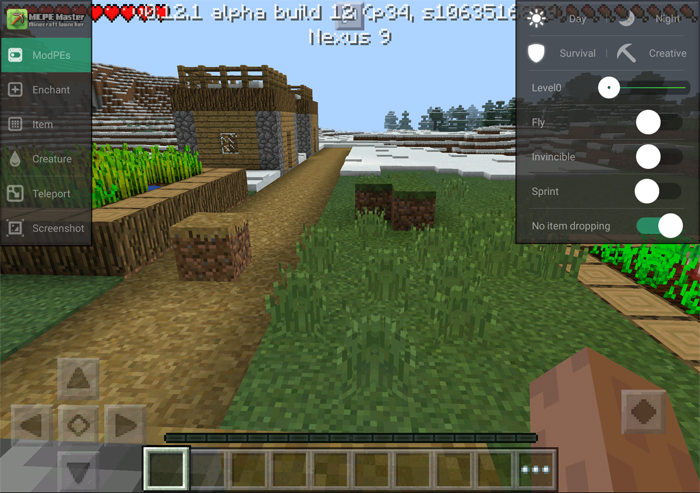 Enchantment levels can be a very tedious process to level up if you were to do it all manually by hand. But with this option you can set your enchantment levels simply by pressing a few buttons.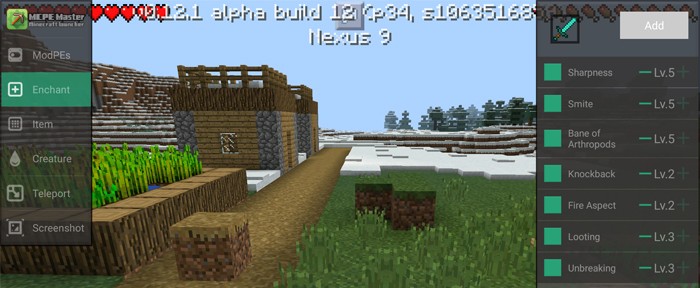 The item spawning function lets you find items very fast as they are sorted by categories. You can also use it to spawn custom items.

One other useful function includes the possibility to add all different types of mobs to the game. Select the type and then how many you would like to spawn.

Teleportation is probably one of the most underappreciated features. For example, one use for it could be to have one spawn point setup in the mine and another back at your house.
The screenshot feature is perfect to capture funny experiences. As a result, it would have been better if the screenshot button was a bit more accessible. Right now you need to press three buttons before actually capturing a screenshot, but perhaps we'll see a fix for that in a later version.

Weather was one of the new features in Minecraft PE version 0.12. Control the weather by turning it off and on using the weather option. Rain will turn to snow if you are in a snow biome.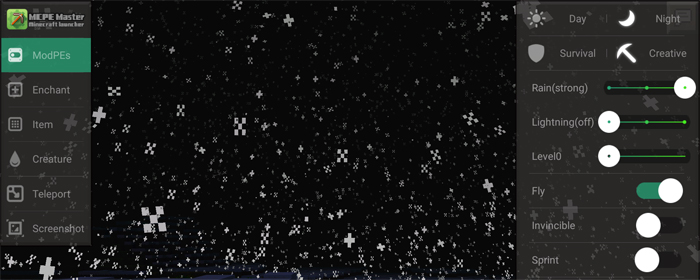 The Launcher
The first thing you will see when opening the app is the launcher. From there you can select many different kind of options which will affect the in-game options. You can also use this area to import maps, mods, textures and skins.