Tired with pixelated hair? Well no more! with this pack, you'll get more HD and now itsnt cubic model! Grab now to change your minecraft Appearance into more advance! (well its enough of introduction, eh?)
Doesnt like it? Well dont worry, i gotcha homie.. Now the pack has also the cubes variant! (Off course, its more cursed) Grab some to make your Minecraft Character more……uh…..good?
I dont know how to descript this but hey! Here's some preview taken on Third Person-Front!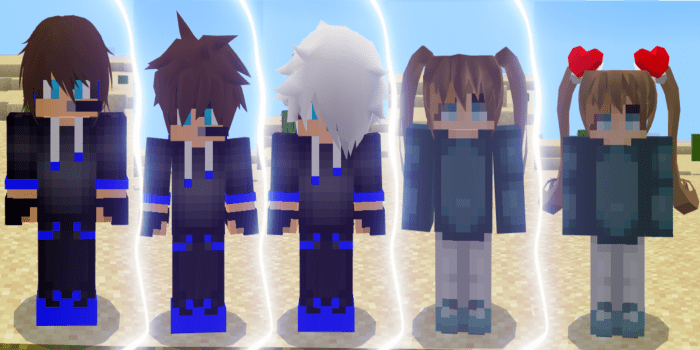 Also another preview taken from the back perspective :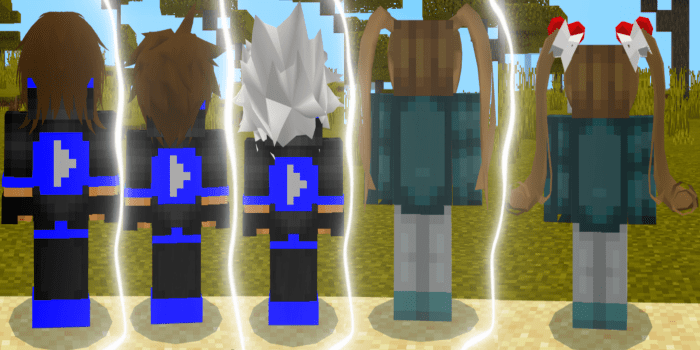 Well Yeah, its better to remove Your "Hat" Skin layer for better look!
Blocky Update :
Fiuh, MCWig now has other variant for you to use! Now you can use the blocky version of the hair and also available with 3 variant! There're 128x, 64, and 32x cubes resolution. Choose one, that you might think will fit into your game style! (You can also call this as "The Cursed Update!" WoOoOOoOoO!)
Enough of that, im going to show you what the difference between those cubes resolution!. First, im going to introduce you the 128x variant! its has extremely detail and almost the same as the original one! Its constructed by hundreds of cubes, so i just recommend this to player that want more extreme detail (I dont know why..) and its requires high/mid-end devices to make this work finely but just try it!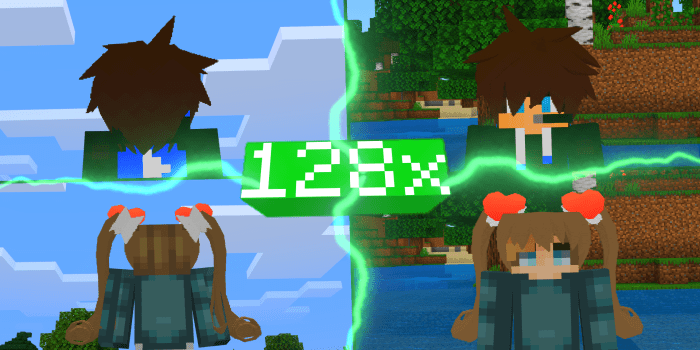 Second is the 64 resolution! off course, it has less cubes than the 128 variant but without losing its remaining details. I highly recommend this, as you can use this one most devices (i think?)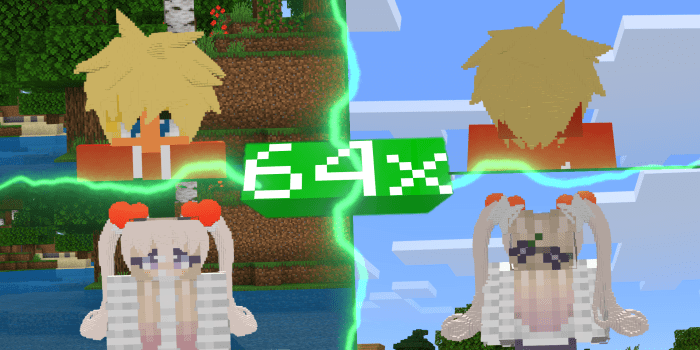 Come to the last one, Its a good variant for those who likes Minecraft Blocky Style! Im really sure that this has more less cubes and off course its still fit into your pixelated and bicubic skin! even though, its less detailed but the most important thing is…. its still USABLE!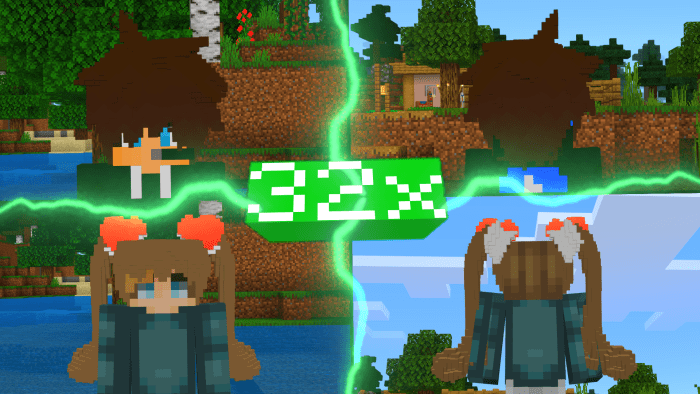 Now that's a lot of work! Thanks for the feedback you gave on the comment section! If you have any kind of bugs or suggesstion, leave it below! You can also join my Discord server and leave your suggesstion there for faster notice.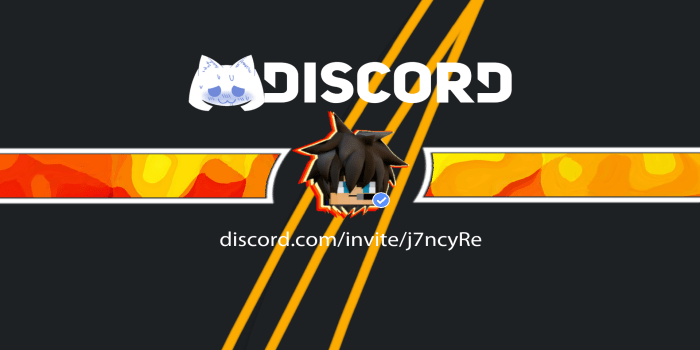 FAQ
Q : Why the the hair doesnt load when i switch types?
A : Alright, when you encounter this problemo…. make sure you already switch hair types and then just re-open minecraft or alternative way is that to remove the resource pack first from the resource pack section (I mean not to delete it) and apply the resource pack again with other hair types already selected and *BOOM*
BugBatch Update :
On this new Update, you can now change the skin easily without using Image editor or whatever. This update also clearing some Known Issues that you faced with. Here's how you change the skin on this new update! Just choose the skin you want and BOOM!
Curious with how's the pack looks like? You can see the Video Preview listed below.
PREVIEW :
Dont Republish The Content AnyWhere Else! Its Required Permission From The Owner first. if you want to make another content, remake, or anything based on this, make sure to link some credits. This Content exclusively uploaded to MCPEDL!
Update 1.4.0 : 
- Fixed Texture Transparency
- Cleaning some codes
- More easier to change skin
- Added new render_controllers.
- Fixed Duplicate UUID
- Fixed Thumbnail
- Added Clips to change Skin
- Added License on each pack
- Re-texted header.
- Fixed texture overlapping
Blocky-Block Update (1.3.0) :
- Added New Blocky Hair Variant
- Fixed Male2 Offsets on the latest pack
- Differentiate the UUID for the Blocky Update Pack
- Added Discord link
- Thumbnail Updated
Update 1.2.0 :
On the new update, i've been added more variant texture size to fit with users skin :D. There's 2 variant that you can choose :  
. 128x128 variant is now available! its suitable for any 128x128 skin and even 128x64 skin size!
The default one (64x64) is also changed! by changing the texture offsets, users can now use 64x32 and 64x64 skin size!
*Note : The others skin included inside, randomly picked from the Internet,
Installation
If you struggled with download, just follow these steps :
1. Open the link variant as you wish
2. If the captcha pop's  out of nowhere, just click the box and it'll automaticly shows the procedure area.
3. Wait the 10 secs countdown until its finish
4. Click on "Free Access with Ads" if you doesnt have linkvertise premium, otherwise just the premium instead for faster access
5. Now click on "Discover Interesting Articles", just open random articles and close it. after that, click on "X" button and wait for another 6 secs countdown
6. Click on "Continue" button and it'll automaticly route you to the Mediafire Page
7. Now just download the content and start rickrolling with your hair!
Downloads
Supported Minecraft versions
1.14
1.15 (beta)
1.16
Resolution
128x
32x
64x