Mech Car Addon is remake of cars from most advanced vehicles mod – Mech Mod. It was originally released in 2015 for Minecraft Pocket Edition. Time has passed and many things have changed. For the original mod you needed third part app – BlockLauncher, to run the mod. Now you can import and play it in just vanilla version of Minecraft Bedrock. Let's experience the nostalgia together. 
Creator: Nogard (Twitter, YouTube, Facebook) 
Story behind
I remember, when I was in elementary school and for the first time I just downloaded Mech Mod from MCPEDL. You can't imagine how happy I was when I added vehicles to Minecraft. I have really great memories of this mod. The idea of remaking this mod to new standards for Minecraft has dragged me since 2017. This was also the year I made the Old Mech Car model. Unfortunately, I had a very bad technique and had no conditions to finish this addon. I have finished the idea this year, in 2019. But better late, than never, right?
Let's feel the nostalgia of these times together.
Features
Mech Car Addon adds two new cars to the game: Mech Car and Old Mech Car.


All features and comparison between these new cars are on the picture.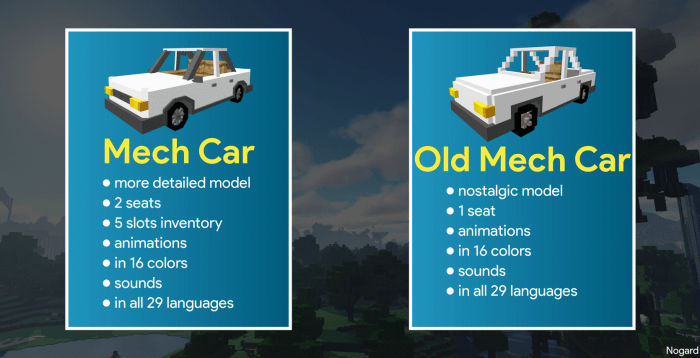 Both cars have animations (wheels, dashboard and smoke), sounds etc. There is a lot to discover! The Addon was also translated into all 29 languages to make it easy to understand for all the people on the world.
Trailer
Mech Car Addon trailer: https://youtu.be/7PLdJiVWifo
License terms
All rights reserved. By downloading of this Minecraft addon you agree with this terms. No part of this work may be reproduced or transmitted without author's permission. Person with permission must share the addon only with official download links and credits to author. Illegal distribution of this addon in apps, websites and YouTube videos and earning money from Nogard's ownership will be punished by law. For other ways of sharing and editing the source code, you must contact the author.
Contacts:
Email: [email protected]
Twitter: @Nogard_YT
Installation
Download Mech Car Addon.mcaddon and click on the file in some file explorer to import into Minecraft. Importing will occur automatically. Once it is finished, choose a world, go to Add-Ons section and enable resource and behavior pack for the world. When you import one of the packs, the second one should be enabled automatically, thanks to defined dependencies in manifest.json.  
If you prefer to download the addon in .zip file, then you have to unzip it. Inside of this package you will find Mech Car RP.mcpack and Mech Car BP.mcpack. Import gradually both packs to Minecraft and then do the same procedure for your world as listed above.  
Downloads
Supported Minecraft versions
1.10
1.11
1.12
1.13
1.14