This Add-On adds naturally generating, collapsed mine entrances to your world! This Add-On uses a new structure generation feature introduced into 1.15. The Mine now has a small underground section with loot to collect and mobs to battle.
Mine Ruin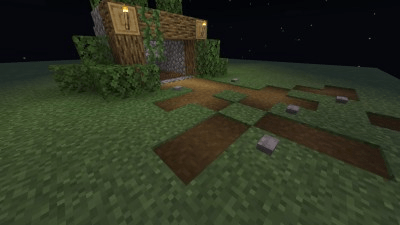 You can find this structure in Oak/Birch Forest Biomes.
Within this structure, you can find treasure hidden amongst the stone rubble, as well as traps…
To Change the Structure Spawn Rate
Since the removal of the pack settings page, the spawn rate isn't changeable in game. To change it through editing the files, you need to extract the .zip. Then you need to open the feature_rules folder, open the .json file inside and find where it says scatter_chance and change the value of the denominator. The higher the number, the rarer the structure. This is an advanced option and can be difficult to change on platforms other than Windows 10.
This Add-On uses Experimental Gameplay, so make sure to enable it in your world options, or it wont work! Also Requires Minecraft Beta 1.15.There is currently a problem with the structure spawning on sloped land, if the land is too uneven and the structure generates, then it may be slightly floating/buried
Finally, please don't share this addon with any other link other than the MCPEDL page download links.
-The structure should now spawn properly
-The pack settings has been removed due to it causing generation issues
-The structure has been updated to include a small dungeon at the bottom
-The addon description has been updated
-Adjusted wording of the addon options to avoid confusion - From 'Rarity' to 'Spawn Chance'
-Slightly changed the spawn chances for all settings
Installation
To install:
 Click the download link for either the .mcpack or the .zip
Wait 5 seconds and in the top right, click 'Skip this Ad'
On the mediafire page click download and the addon will be downloaded
Enjoy!

Downloads
Supported Minecraft versions
1.15 (beta)