This texture pack includes all of the new textures which are expected to be released in version 1.13 for Minecraft (Java Edition). It should be noted that neither of the textures have been officially released by Mojang and that this texture pack is just based on the images provided by JAPPA and Jens.
By: MrChuyito15, Twitter Account
Pixel Artist/Original Creator: JAPPA, Twitter Account
Updated: 25 September, 2017 (read changelog)
Important Notice: I cannot confirm whether these textures are the same as the ones JAPPA designed. However, when reviewing them they do looked identical. If someone got information on this then feel free to comment.
These textures are based on the ones provided by JAPPA / Jens on their Twitter feeds.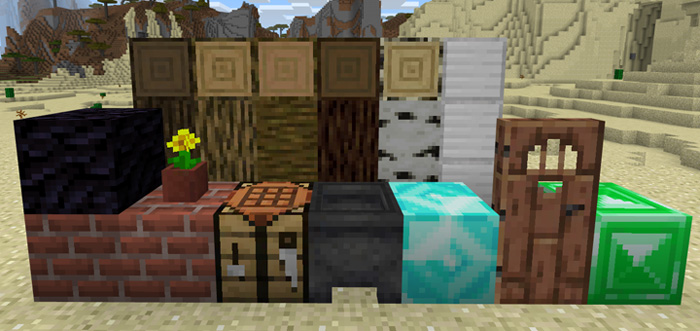 New Textures
Brick
Carrots
Cauldron
Crafting Table
Diamond Block
Jungle Door
Emerald Block
Dandelion
Flower Pot
Iron Block
Wood Logs
Obsidian
Jungle Planks
Oak Planks
Spruce Planks
Birch Planks
Acacia Planks
Big Oak Planks
Cobblestone
Hay Block Side
Chorus Flower
Chorus Plant
Changelog
Planks

spruce
birch
acacia
big oak

Cobblestone
Hay block side
Chorus flower
Chorus plant
Installation
Open Minecraft PE
Settings > Global Resources > Activate the pack