The Apocalypse is coming to Minecraft Bedrock Edition! Minepocalypse brings in apocalyptic themed weapons and items to the Minecraft world!
Classic and iconic zombie-slaying weapons such as the Fire Axe, Crowbars and Katana! As well as bandages, medkits, adrenaline shots and painkillers. Can you stay a step ahead of the dead?
The Minepocalypse (v1) Addon adds in a total of 16 new items to the game, ranging from weapons and tools to new consumables such as food and medical drugs.
Just make sure to turn on use experimental gameplay features in the settings as these are custom items. Also double check that you have activated BOTH the Resource and Behaviour Packs when creating the world.
The weapons this mod adds are:
Barbed Wire Bat (Craftable)
Bone Knife (Craftable)
Crowbar (Craftable)
Fire Axe (Craftable)
Hatchet (Craftable)
Iron Bat (Craftable)
Katana (Craftable)
Wooden Bat (Craftable)
The new food items added are:
Canned Food (Dropped by Zombies and Skeletons)
Soda Cans (Dropped by Zombies and Skeletons)
Water Bottles (Craftable)
The new Medical items added are:
Bandaids (Craftable)
Bandages (Craftable)
Medkits (Craftable)
Painkillers (Craftable)
Adrenaline (Craftable)
Whilst I haven't added any new mobs, the behaviour for Zombies, Skeletons and Drowned mobs are changed so they don't burn in the sunlight – if this addon gets popular though, I will add in custom mobs.
Crafting Recipes: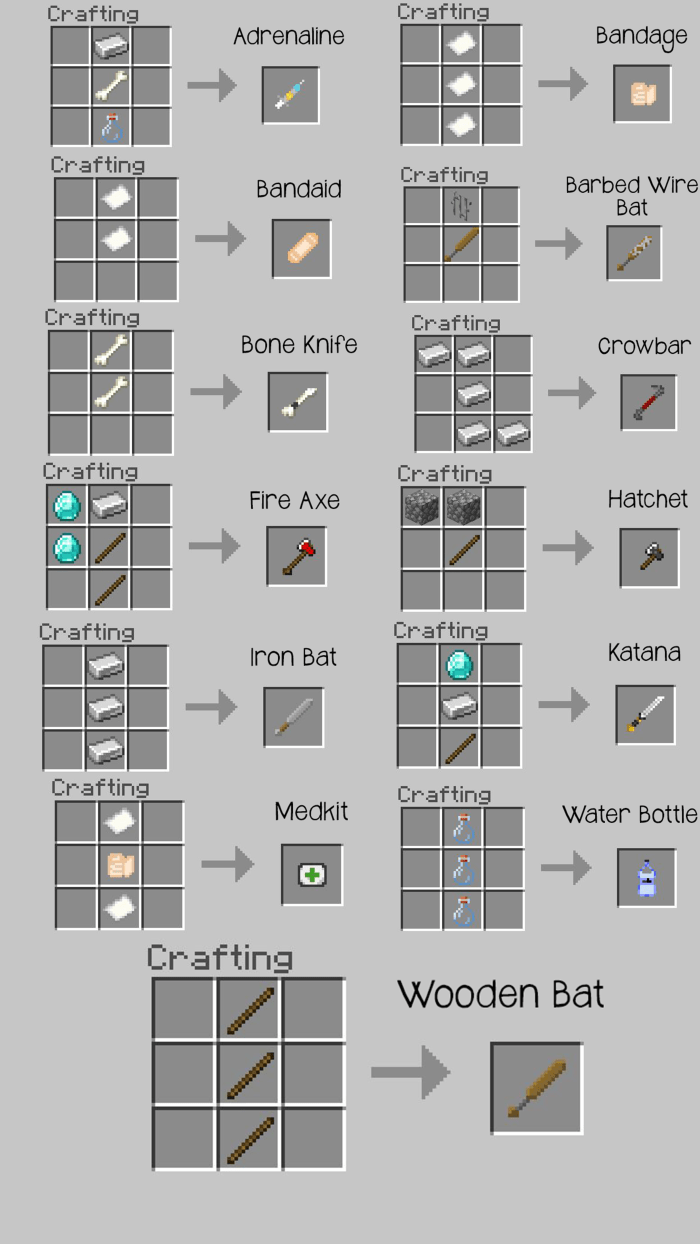 If you like the addon and want to support me and see more in the future, check out my Patreon!
Installation
Download the .mcaddon file from the Dropbox Download Links (either direct or the normal download)
On PC you just have to click to install, whilst on mobile you might need to use a file explorer app.
Make sure to activate both the Behaviour and Resource Packs.
Also make sure to turn on 'enable experimental gameplay' in the settings and enjoy!

Downloads
Supported Minecraft versions
1.14