This add-on adds several RPG features and some mobs that will help you in your adventure, like the Red Panda, which appears in the Taiga and you can attach a bag to load some of your items, plus this bag can be improved with materials that you can Find it very easily. You can also find the husky, which will take care of the enemies that attack you.
This complement adds several animals, as well as an enemy that accompanies the Phantom:
The red panda can be found in the Taiga biome, you can tame it with any vegetable and you can put a chest to load your objects. You can find it in two variants, the normal and the white-faced.
There are only two breeds of dogs, the husky and the Black Mouth cur, which you can tame like wolves, these dogs have 5 states of encouragement, the happy, the weak, the lazy, the aggressive and the playful.
The whale appears in the warm oceans and can drop blubber, which is drinkable.
Jellyfish appear in the warm oceans, have 3 species and one of them is poisonous. Like the dogs, the jellyfish have only 2 temperaments, the aggressive and the docile.
The hunter appears at night and attacks from the sky, can loose ingots of silver or its essence in a jar
Ítems:
Bag
Bag +
Essence of Betelgeuse – 3, 6 & 10 nutrition + 35-90% Strength effect
Essence of hunter – 5, 8 & 16 nutrition + 25-95% Slow falling effect
Essence of skeleton – 1, 4 & 8 nutrition + 35-99% Night vision
Essence of zombie – 3, 6 % 12 nutrition + 10-85% Saturation effect
Essence of pigman – 2, 6 & 12 nutrition + 30-85% Fire resistance effect
Berry wine – 6 nutrition + 50% Nausea effect
Blubber – 3 nutrition
Strange meat – 4 nutrition + 25% Regeneration ,80% Blindness,50% Resistance,80% Poison
Silver ingot
Silver nugget
Silver dust
Gold dust
Iron dust
Peridot
Onyx
Sapphire
Betelgeuse flake
Betelgeuse heart – 6 nutrition + 10% nausea
Bacon – 5 nutrition
Beef jerky – 3 nutrition
Bleach
Betelgeuse sword – 10 damage points (5 hearts)
Silver sword – 8 damage points (4 hearts)
Blocks:
Red dirt
Slate
Slate bricks
Slate pebbles
Basalt
Smooth basalt
Peridot – Ore & block
Onyx – Ore & block
Silver- Ore & block
Sapphire – Ore & block
Argentite ore
Limonite ore
Calaverite ore
Magnetite ore
Siderite ore
Sylvanite ore
Asphalt
Biomes:
Crafts:

Bag: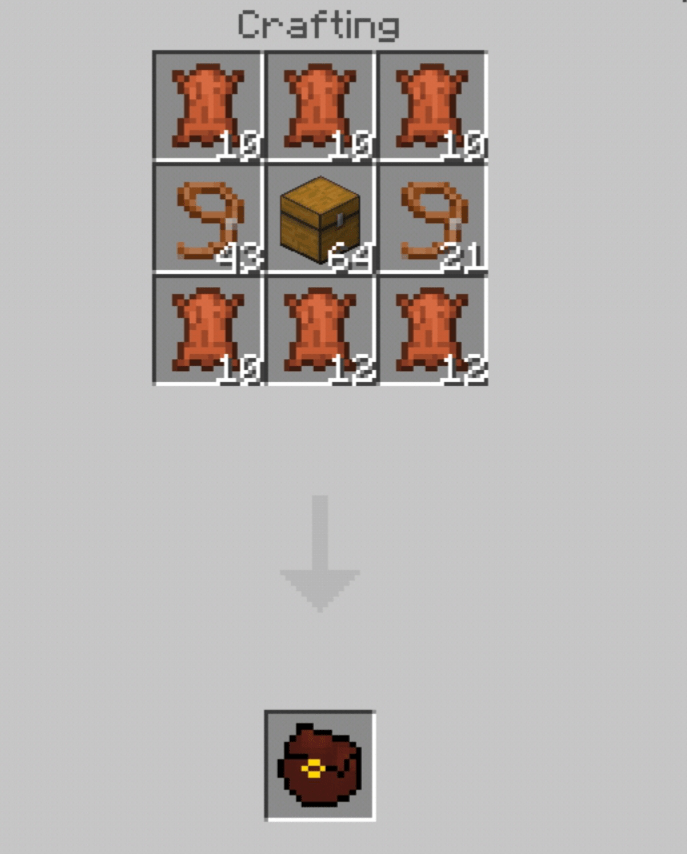 Bag+: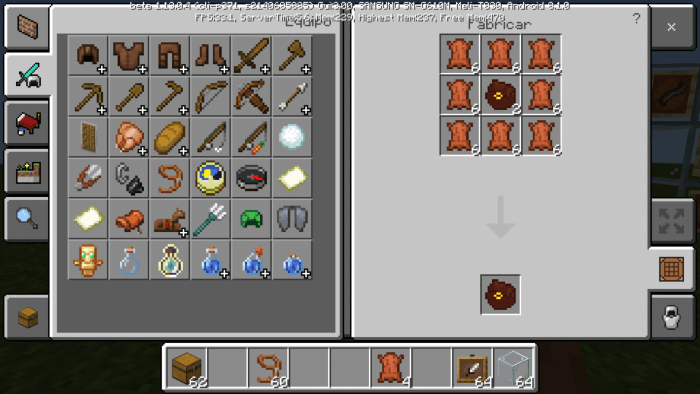 Berry wine: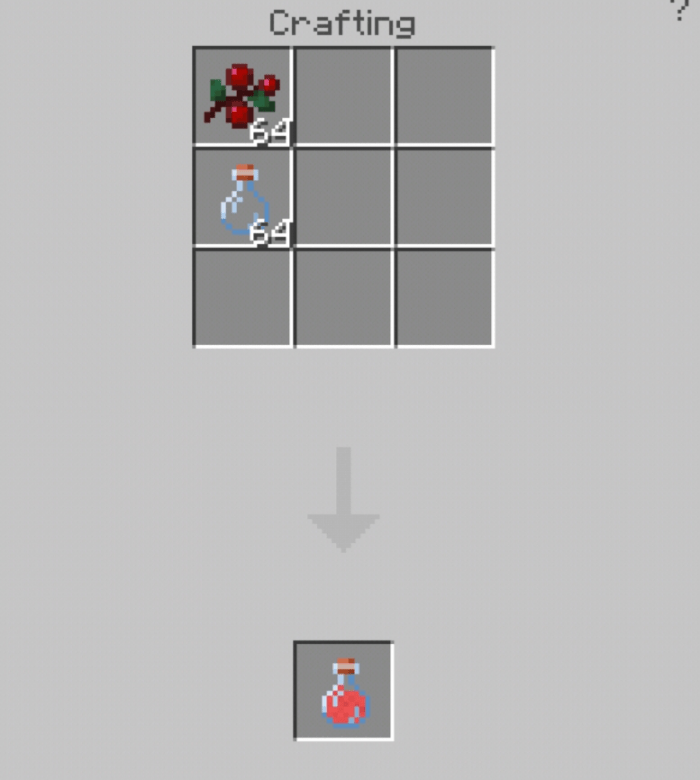 Essences(normal): thick potion + iron dust + mob material(
Rotten flesh= Zombie essence
Bone= Skeleton essence
Quartz= Pigman essence
Peridot= Hunter essence
Betelgeuse flake= Betelgeuse essence
)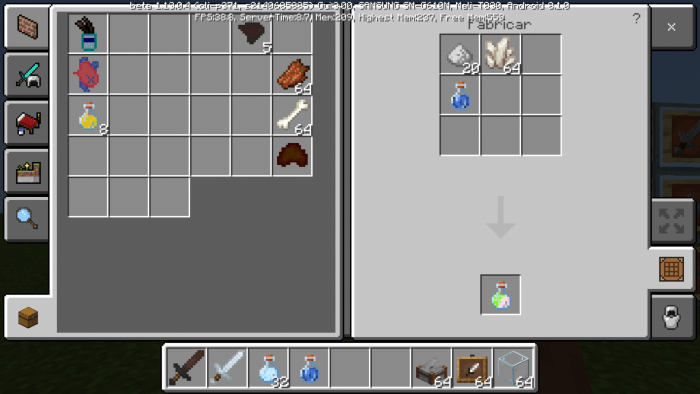 Essences(plus): essence normal + gold dust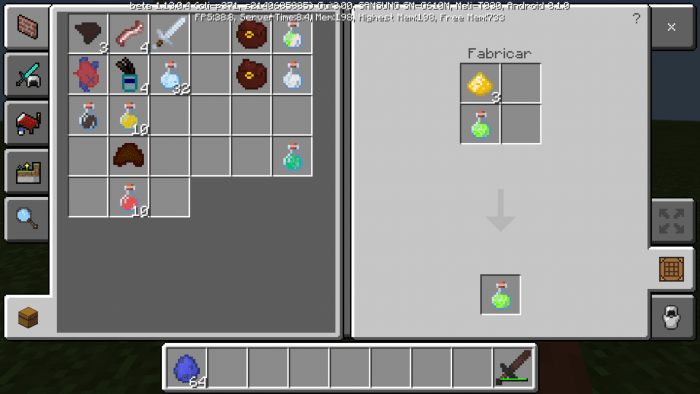 Essence(legendary): essence plus + silver dust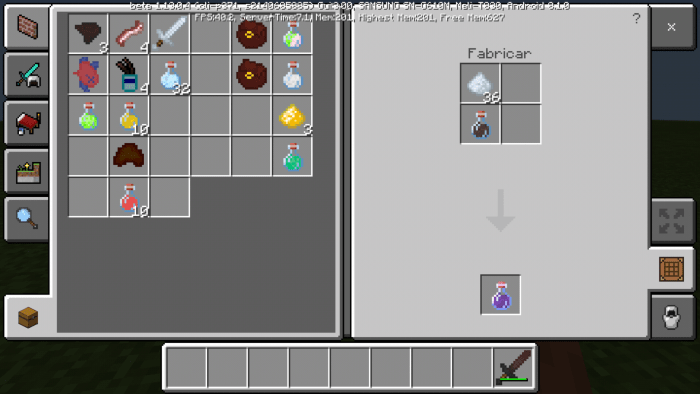 Gold nugget: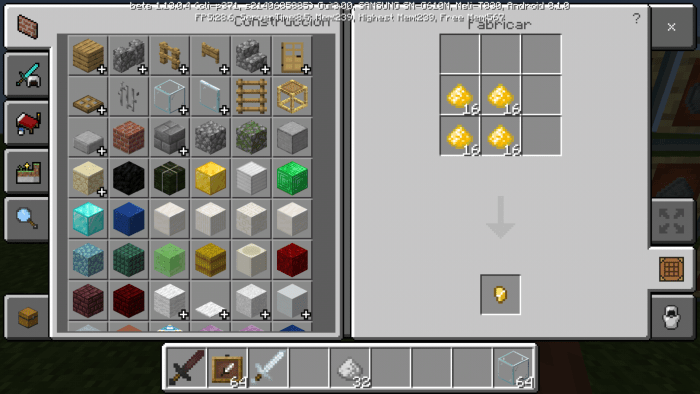 Iron nugget: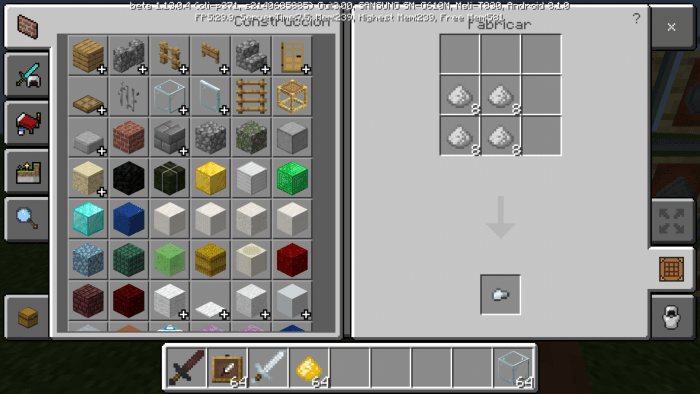 Silver nugget: 1 silver ingot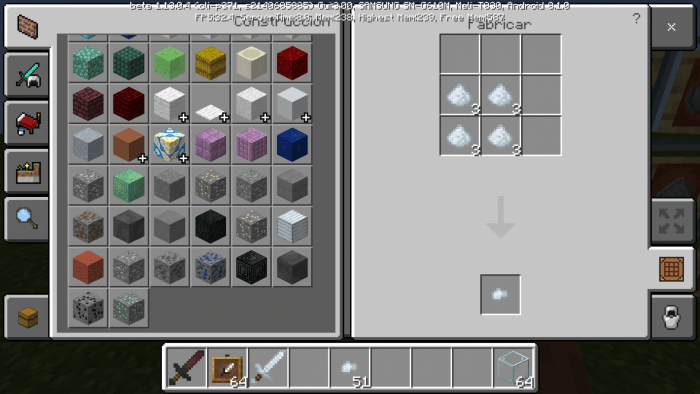 Gold dust: 1 gold nugget
Iron dust: 1 iron nugget
Silver dust: 1 silver nugget
Silver sword: 2 silver ingot + 1 stick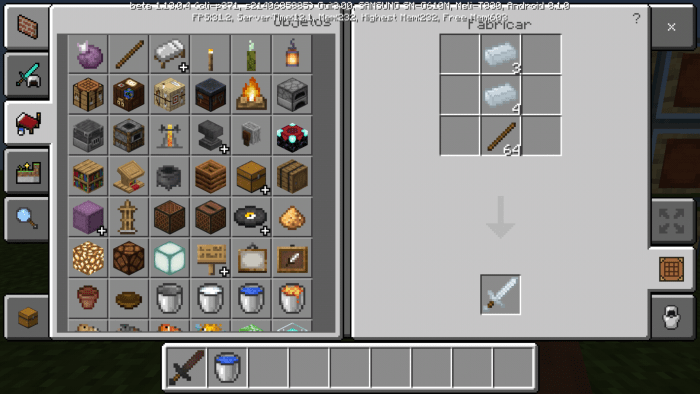 Betelgeuse sword: 2 Betelgeuse flake + 1 stick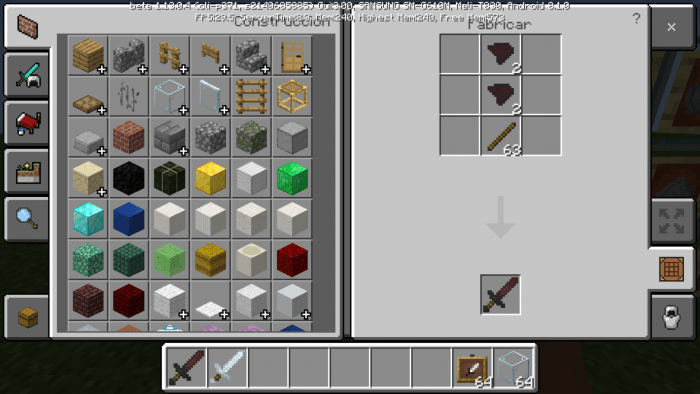 Wild Update (v1.1) changes:
In this new update a lot of things were added, more domesticable mobs, peaceful mobs and betelgeuse.
A huge peaceful monster for the day, when it is night he will go into hunter mode and kill every mob he sees.
This monster is very powerful, that's why its rewards are very good,
you can obtain from it the scales which you can use to create a sword or leg to create an essence, and the heart, which can be eaten.
The chihuahua in a very small dog, has 4 fur colors, coffee, white, red and gray, plus it has 2 head variants.
The wolf dog is a hybrid animal that can be obtained by crossing a wolf with a husky
The red panda received a lot of changes in this update, such as a new model, new animations, new textures, and new behaviors.
Now he behaves as in real life, they sleep in the day and are awake at night.
You can also equip the backpack, which will give you an inventory to load objects
All dogs received many changes, such as new textures for behavior, new animations and new areas of appearance.
The husky appear more often in icy areas, black mouth cur appear more in the plains and chihuahaus appear more in the savannas.
Jellyfish have new models, as well as new textures.
The red plains is a variant of the normal plains, here is the red earth
All the blocks can appear in the caves naturally in beta 1.13, and in the official version it appears in the extreme mountains
You can get gold, silver and iron nuggets of some ores
Nautilus
The nautilus is found in all oceans, from it you can have the nautilus shells
The nectocaris is an extinct marine animal in real life, here in this update the nectocaris will walk through all the oceans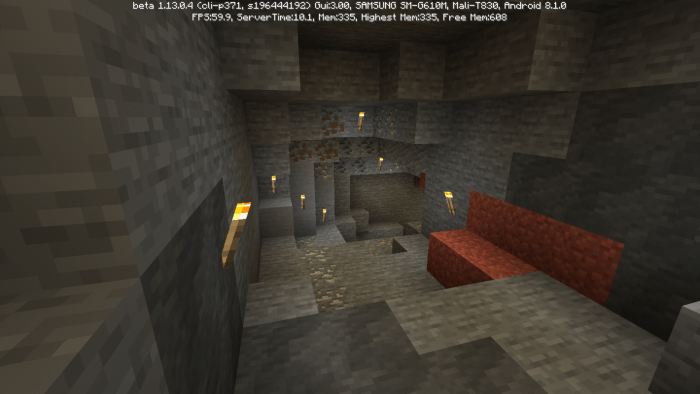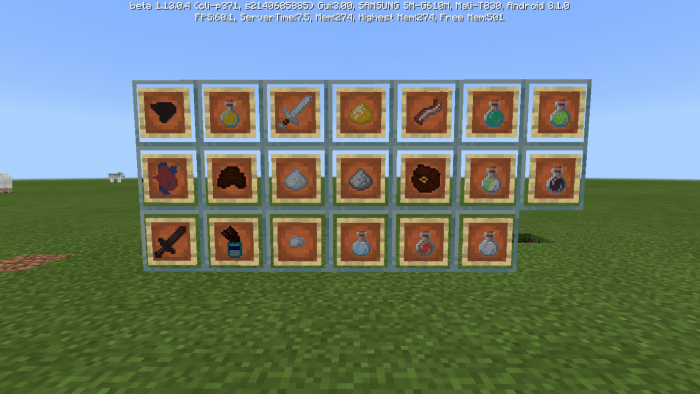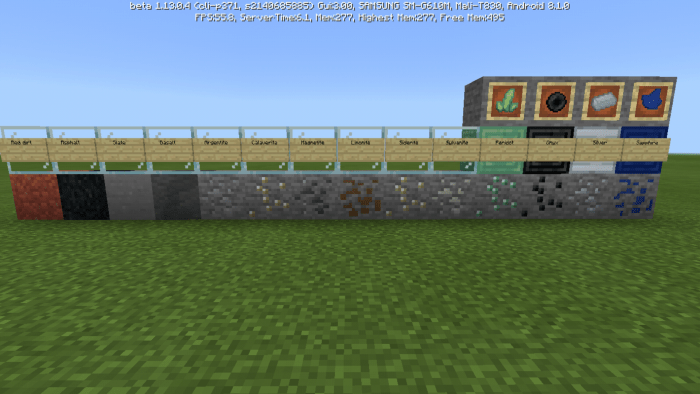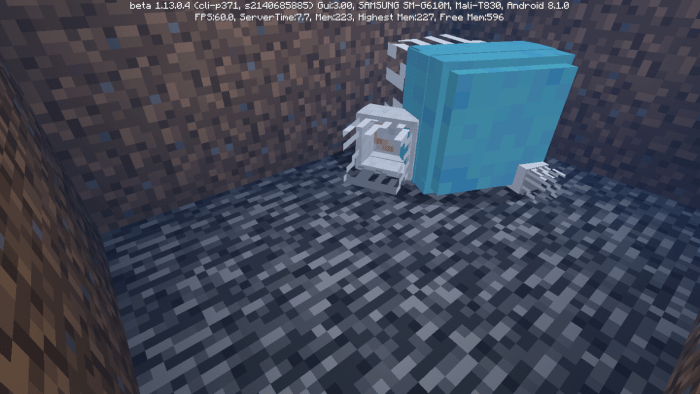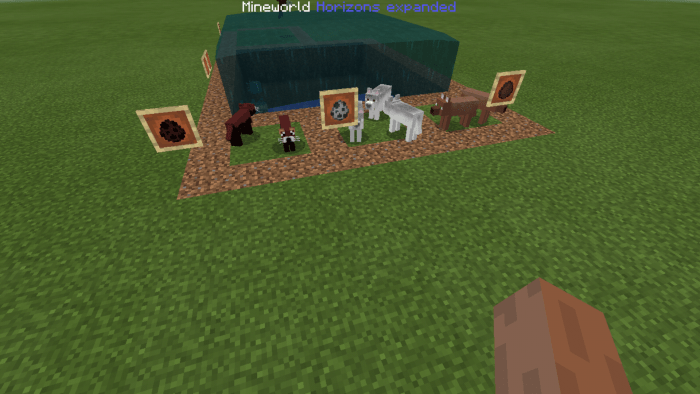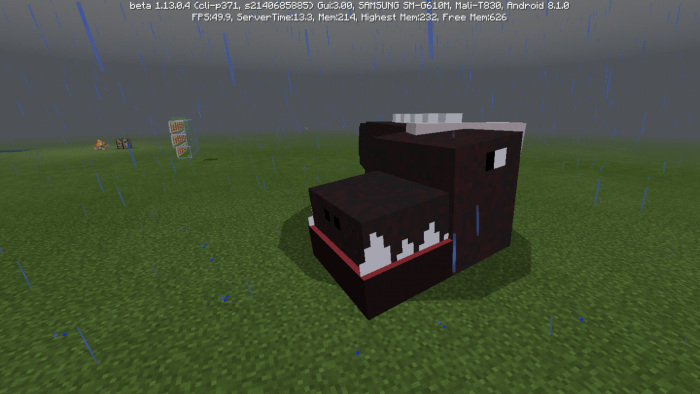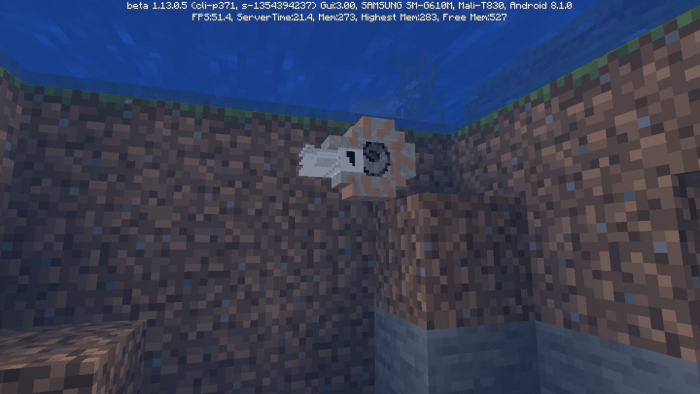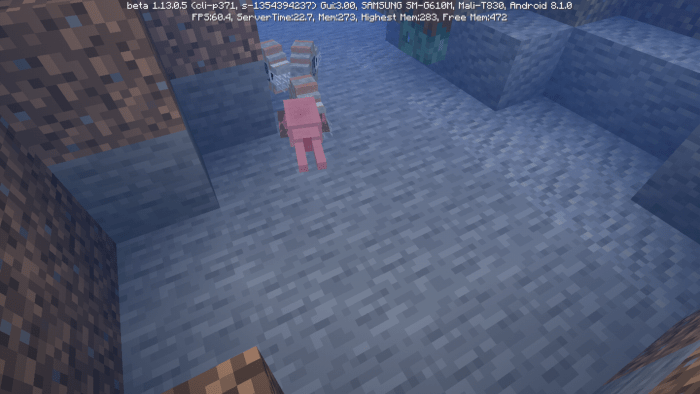 --------------------------
Updated for minecraft beta 1.12.0.9
New version for the ios devices to use

This version only contains the entities why the items and perzonalized blocks are only in the beta version
1.1 Wild update
New mobs:
   •Chihuahua
   •Wolfdog
   •Betelgeuse
New items:
   •Betelgeuse essence
   •Betelgeuse flake
   •Betelgeuse heart
   •Betelgeuse sword - Deal 10 damage points (5 hearts)
   •Silver sword - Deal 8 damage points (4 hearts)
   •Silver nugget
   •Sapphire
   •Bleach
   •Bacon
   •Beef jerky
   •Bag +
New blocks:
   •Sapphire block
   •Sapphire ore
   •Argentite ore
   •Limonite ore
   •Magnetite ore
   •Siderite ore
   •Sylvanite ore
   •Calaverite ore
   •Asphalt
New biome:
   •Red plains
Changes mineworld:
   •All blocks can appear naturally in the caves - only 1.13 beta
   •All dogs can have two shades of color in their eyes
   • All dogs have textures for each type of behavior
   • Red pandas sleep in the day and wake up at night (Improved in 1.13 beta)
   •The bags can be equipped with red pandas
   • New models for the red pandas
   • Changes in the texture of basalt blocks
   • Minor changes in the spawn of all mobs
   • Changes in the movement of the jellyfish
   • Changes in the animations of all mobs
   • Jellyfish and whales can already be found in the seas
   • Changes in the creation of essences, now the thick potion is used instead of an empty bottle
 • All essences have a time to be able to use them again, and this time is reduced by improving the essence
 • All essences can apply an effect
Changes vanilla:
   • Wolves can be tamed again
   • The wolves can mate with the husky and a wolf dog can come out
   • The nautilus shell can be achieved by killing a nautilus
   • Gold and iron nuggets can be obtained from the 6 new minerals
   • Minor changes in water color
• Sounds for all dogs and jellyfish
• Added nautilus and nectocaris spawns
• Fixed the roar animation of the betelgeuse
• Now the jellyfish, the nectocaris and the nautilus die automatically when out of the water
• Nautilus shell can be obtained by killing a nautilus
Installation
Please activate the experimental game button to have all the features of this addon
Note:
Before installing the new version, remove the old version of this add-on
Downloads
Supported Minecraft versions
1.12
1.13 (beta)