Mo'Dungeons is an add-on that adds new dungeons into the game, it will be a growing mod overtime and will feature new weapons, armor, entities and of course dungeons. v1.0.0
ff anMo'Dungeons is a growing mod that currently features 3 new dungeons. (tested platforms: Windows 10)
1. soul dungeon
2. slime dungeon
3. underground grove (more a grove and less a dungeon)
Each of the new dungeons can spawn in the overworld, for spawning layers please reference to below.
1. soul dungeon
Y 4 – 40
2. slime dungeon
Y 10 – 55
3. underground grove
Y 7 – 37
(screenshot of dungeons)
Far left is soul dungeon, middle is underground grove and far right is slime dungeon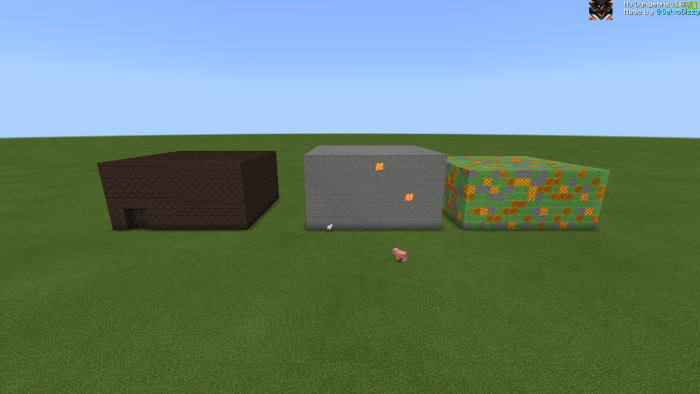 soul dungeon
The soul Dungeon is a new hard mode mini strnghold, the block "soulstone" can not be mined therefor you can't mine inside it, except for the gate which is resembled by a soulstone block with a key on it.
(soulstone key block)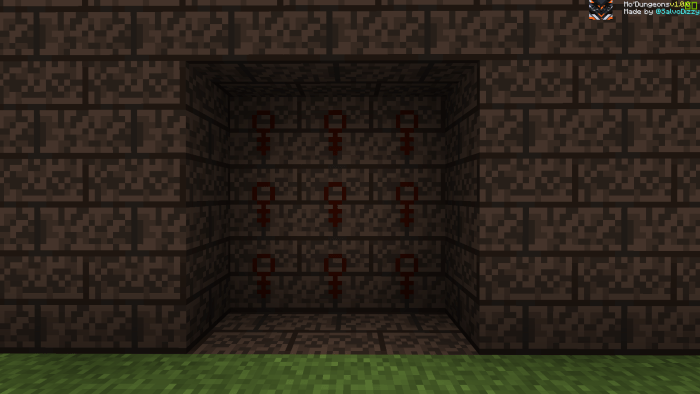 Once inside the dungeon you will have enemies to fight, there will be chest scattered throughout the dungeon with loot inside. (I'll leave you to discover the inside layout 😉 )
slime dungeon
Slime dungeon is very self explanatory, it's a dungeon for SLIMES :D. From this dungeon you can acquire honey, honey comb and slime blocks. The slime dungeon's inhabitants are Slimes and Magma cubes.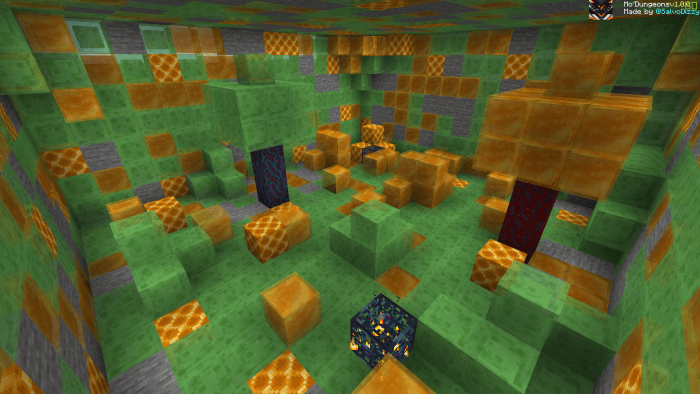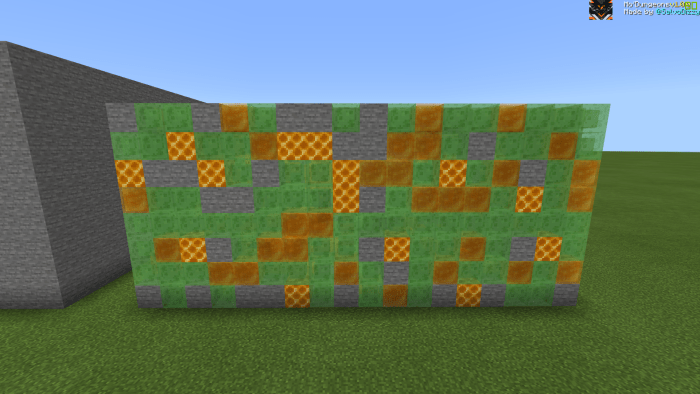 Underground grove
The underground grove is simply a grove that's underground, there is a small tree with a small river as well as a few shroomlight blocks to light up the room. This is less of a dungeon and more of a added feature to the add-on.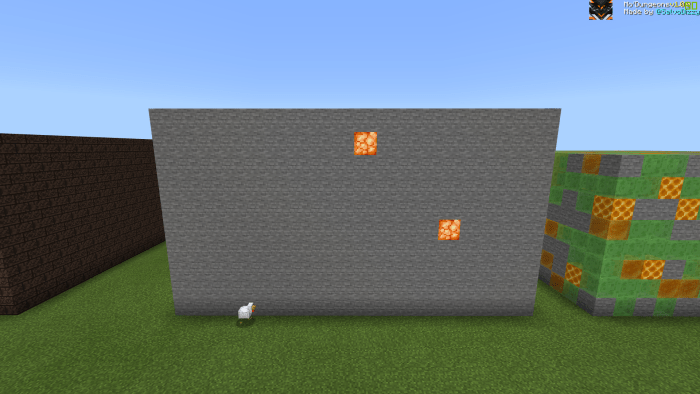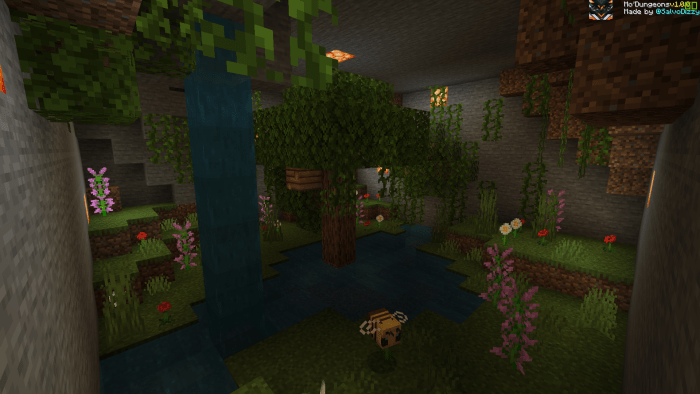 New content starting 21st October 2020
So, finally I reached the next update for the Mo'Dungeons Addon and I am happy to say we have FLOATING ISLANDS and a new STRONGHOLD., this is a big step forward for this Addon and I hope you all enjoy it!
Sky Temple
Sky Island
Soul Stronghold
Sky Temples and Sky islands are very self explanatory, they are islands which are in the sky! They are very easy to spot and have some decent loot to be found on them, as well as being a good vantage point to see across the world! But be aware, they are not safe all the time. c;
Sky Island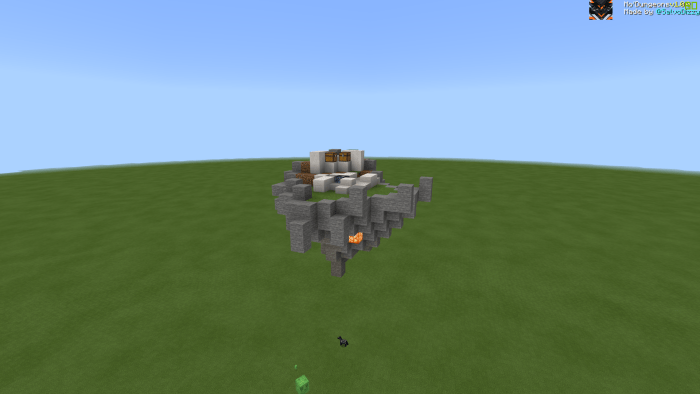 Sky Temple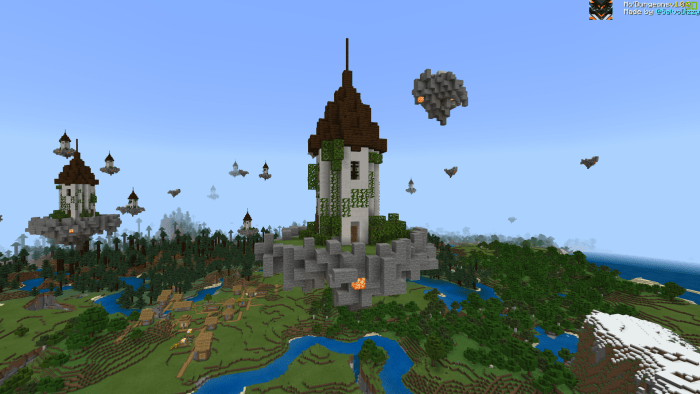 Soul Stonghold
The soul Stronghold is still a WIP build, but has a somewhat stable version that can be used for this update. The Soul Stronghold uses the same premises as the Soul Dungeon in which you can't mine your way inside of it, instead you have to find the door represented by the soulstone with a red key symbol on it.
The Soul Stronghold also features lots of monster spawners and very good loot within it, so be sure to bring some decent armor because you'll need it!
The Soul Stronghold spawns from Y30 and below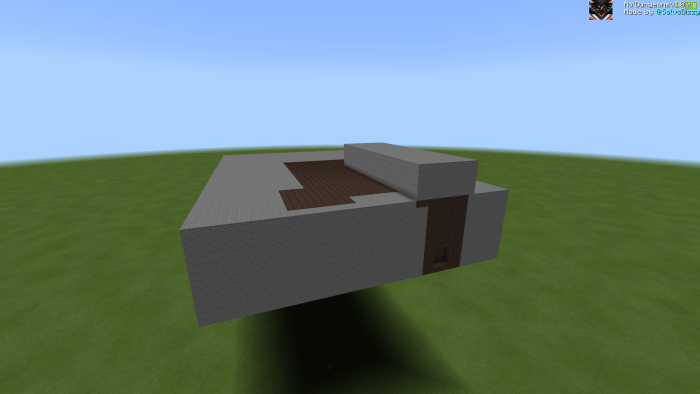 As is custom with the Soul dungeon line up, I will let YOU discover the inside for yourself
(their is a hidden chest in the stronghold, try and find it for a small challenge) hint: it's near iron bars. c;
If anyone comes across any issues with the Soul Stronghold, then feel free to contact me, this is a WIP Dungeon and is not finished; I still have big plans for it.
This Addon uses Feature Rule Generator (FRG) to export and load the dungeons, I highly recommend going and supporting Machine Builder for creating such a great tool!
https://www.youtube.com/channel/UC8FBQgo4AWwKFX97h60NKOQ (Youtube)
https://machine-builder.github.io/feature_rule_generator_1.15.html (FRG)
https://twitter.com/SalvoDizzy (My Twitter)
Added Sky Islands
Added Sky Temples
Added Soul Stronghold (WIP)
Installation
Go to my website, follow the link called Mo'Dungeons Adfly Link, then download from mediafire once finished with Adfly and then it should automatically install. If it doesn't? then double click on the .mcaddon and it should import it into Minecraft. c:
Downloads
Supported Minecraft versions
1.16