This add-on upgrades most of the hostile mobs and also few friendly ones making them more dangerous to players. But also some behaviors between mobs have also been slightly altered balance their powers with their alliances. If you are looking to increase the difficulty of the game and making it more hardcore then this add-on is a good option for that.
Creator: Sirconol, Twitter Account
Updated: 1 October, 2017 (read changelog)
How does it work?
Zombies, skeletons, creepers and many others have had their behaviors changed. This means that they have new attack styles, strengths and so on. You can find a full list of the changes further down.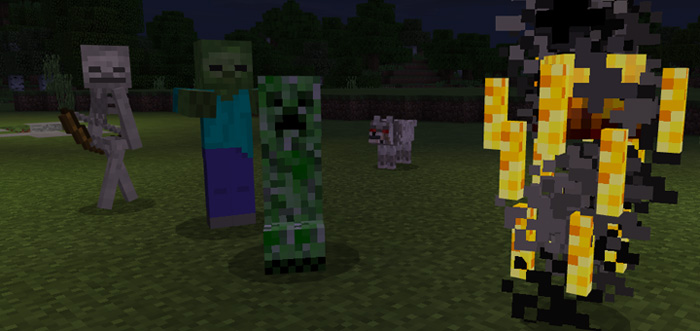 New Features
Arrows guarantees 4 damage per hit (applies to mobs using bows and players).
Faster arrows.
Skeletons attach range distance increased to 60 blocks. They also have a slightly increased accuracy. They also walk slower.
Strays melee attacks. Slowness effect: you get hit, slowed down and then you are even easier to get hit. They are also walk slower.
Strays and skeletons drops at least 1 arrow, but usually more.
Blazes shoot a two round burst of Ghast fireballs (slow interval).
Horses spawn naturally with greater speed. Their jump height remains the same. Health is increased. Max is 30 hearts. They are also aggressive and will attack any mob other than other horses. But their attack range is low, just 1 block.
Wolves are unstoppable killing machines and will kill monsters and sheep. They have 50 hearts, deals 20 damage, immune to fire. But as a result of their incredible strength you now need to tame them with diamonds.
Creepers cause bigger explosions. But they are now afraid of wolves.
Zombie Pigmen and Wither Skeletons spawn with iron swords.
Zombies no longer burn in daylight
Endermen teleport a lot and shoots dragon fireballs
Endermen health has been reduced to 10 hearts
The Elder Guardian has 100 health
Wolves drop diamonds.
Wolves health is now 70 hearts and their attack damage is 100. They will one-shot you if you wear a full diamond armor set. This is to make sure that diamonds aren't wasted and so they aren't easily farmed.
A wolf has one extra life. Meaning, if it is killed it will be resurrected one time and if it killed again then it is dead for all eternity.
Healing a wolf takes stacks of good to get back to full.
Husks spawn rarely during the day too. Health: 17.5 hearts, Attack damage: 6. Husks drop bows because spiders don't spawn much.
Developers Note: I am (clearly) running out of original mechanic ideas. Feel free to suggest a mechanic for a mob or entity that you\d like and maybe I'll code your suggestion. Message me on twitter, or use this comment section. Also, if this addons gets good reception, I will make mechanics for other mobs aswell.

Changelog
Husks spawn very rarely during the day. Health: 17.5 hearts, Attack damage: 6. Husks always drop bows because spiders don't spawn much.
Strays will now melee attack and the attacks will apply slowness. They are also slower (0.25).
Skeletons are very slow. They have a walking speed at 0.35. This makes them a real threat. This is because if you kill a husk to get a bow and then kill skeletons to get arrows, so this is a major component to survival.
Developer's Note: Survival Tip: Water can push away zombies, so get a bucket or go near a water source to help you survive.
Installation
Activate the pack for a world in-game