You ever think the subsoil is too monotonous? Have you ever dreamed of seeing new ores and ingots from most famous Java Edition mods in the Bedrock Edition? So, this add-on is for you!
How does it work?
This add-on adds 10 new minerals in BE vanilla. These are:
Copper
Tin
Bronze
Steel
Aluminum
Silver
Lead
Nickel
Ruby
Sapphire
Each of these minerals has a block, ingot, ore or nugget form except bronze and steel which, being metal alloys, don't have a ore but can be obtained in other ways.
All of these ores can be pulverized through a grindstone to duplicate the ingots that can be obtained
There are also nether variants for these ores. They spawn in the nether with addon version 2.2 and game version 1.16+
Swords:
There are 8 swords with different attack damage and durability:
Sword type (attack damage, durability)
Copper (5, 175)
Tin (5, 150)
Bronze (6, 325)
Steel (6.5, 400)
Aluminum (5, 225)
Silver (5, 75)
Lead (5, 100)
Nickel (6.5, 300)
Apples:
There are also 10 different apples, these like golden apples gives to player different effects:
Copper apple (gives Jump Boost for 2:30)
Tin apple (gives Speed for 2:30)
Bronze apple (gives Speed and Jump Boost and Resistance for 2:30)
Steel apple (gives Resistance 2 for 2 minutes but leave you two hearts)
Aluminum apple (gives Levitation for 30 seconds, Slow Falling for 45 and Speed 2 for 2 minutes)
Silver apple (gives Night Vision for 5 minutes, Haste 2 and Speed for 2:30)
Lead apple (gives Slowness 2 and Resistance 2 for 3 minutes)
Ruby apple (gives Strength for 3 minutes)
Sapphire apple (gives Water Breathing for 3 minutes)
There are also enchanted apples but now you can only get them with commands.
Craftings:
Here are some examples of crafting you can do with these( Crafting template is the same as that used by vanilla minerals)
Copper Block from ingots and reverse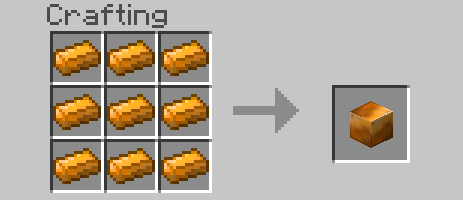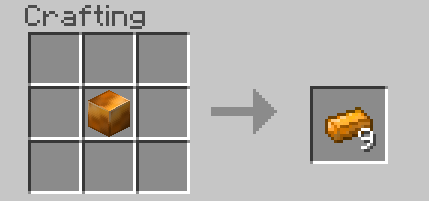 Tin nugget from ingot and reverse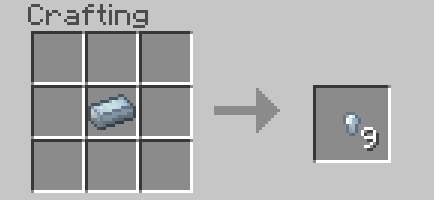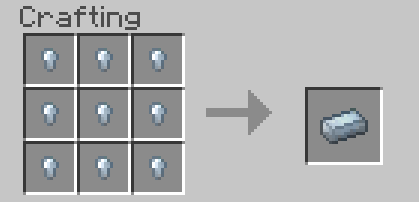 Cooking lead ore in furnace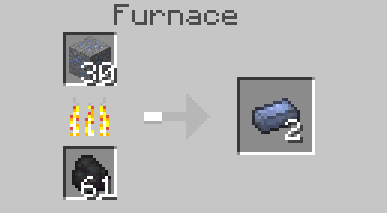 Alloys:
You can get four ingots of bronze by putting on the crafting grid three copper ingots and a tin ingot or you can get four powders of bronze by putting three copper powders and one of tin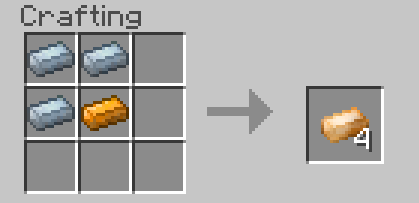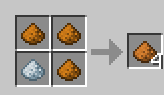 You can get two steel ingot by putting on the crafting grid two coals and an iron ingot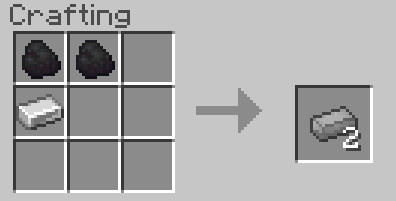 Swords:
You can craft swords in the same way as you craft vanilla swords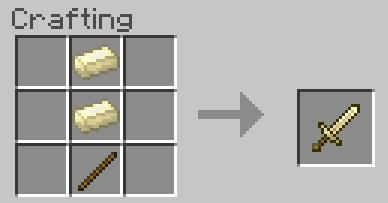 Flint and steel:
You can't craft anymore flint and steel using iron but you have to use steel instead: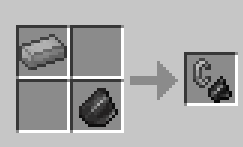 Bucket:
Now you can craft buckets with aluminum instead of iron but you can still use old recipe too.
Bucket:
Now there are two new ways to craft shields. You can use also bronze and steel instead of iron.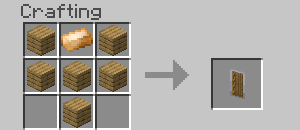 Quartz Grindstone Add-on Integration:
As of MoreOres 2.0, this addon feature Quartz Grindstone Add-on. This addon adds the Quartz Grindstone from Applied Energistics 2. With this machine you can grind ores into 2 powders and after cook these in a furnace and in this way you can get the double of ingots you'd get..
You can get a grindstone by trading with a stone mason villager.
Grindstone addon also has other features like pulverizing the wheat to obtain the flour. For more information visit the dedicated page.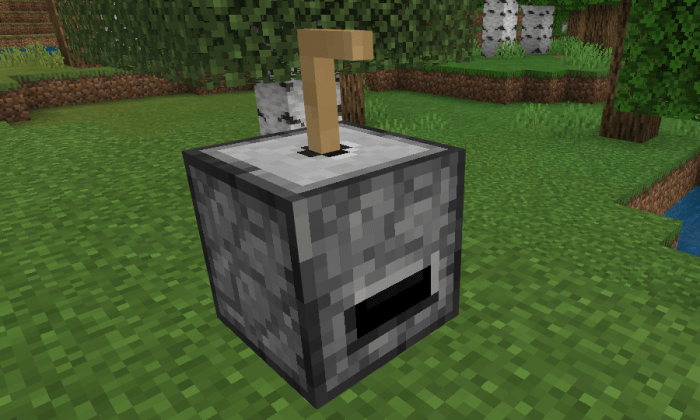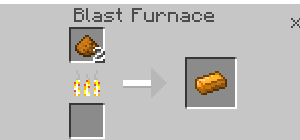 Steel armor set:
Chain set is replaced by steel armor. These are the recipes to obtain the entire set: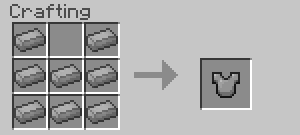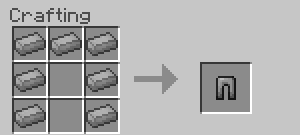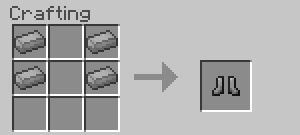 Obtaining ores:
You can obtain these minerals by mining underground or by exploring dungeons.
If you are in creative mode and want to obtain these you can use:
/function apples

/function enchanted_apples

/function swords

/function ingots

/function nuggets

/function blocks

/function ores

/function nether_ores

/function powders
Credits:
Textures of some of metal blocks are owned by CoFH (Their site)
Nether Ores!
New function to cheat nether ores /function nether_ores
Now steel armor pieces in furnace became steel nuggets instead of iron ones
New sapphire Ore and Block texture
Now the grindstone texture is more consistent with the new minecraft textures
Enchanted Apples effects now are consistent with normal apples ones
Bronze dust now can be smelted in furnace 
Slightly tweaked ores generation
Added a new function /function powders
Added new shields recipes
Now some recipes are shapeless like flint and steel and bronze ingot 
Added bronze powder
Added a recipe to obtain bronze powder with 3 copper powders and 1 tin powder
Now this addon works only with beta 1.16.0.56+(you can still download this one for older versions)
Bug Fix: wheat flour now can't be smelt in blast furnace but in smoker
New Ruby and Sapphire block textures(They are not final but I wanted to differentiate them from emerald one)
Ores:
Blocks:
Armor sets:
Now chain armor set is replaced by steel set 
Functions:
New functions to get blocks,ores, ingots and nuggets
Apples:
Ruby Apple
Sapphire Apple
Copper, Tin, Bronze, Nickel apples effects tweaked
Poison effect given by lead apple is now less rare
Quartz Grindstone Add-on integration:
Integrated my other addon, the Quartz Grindstone Add-on 1.0 with the ability of grinding ores from this addon.
Grindstone addon also has other features like pulverizing the wheat to obtain the flour. For more information visit the dedicated page: Link
New functions for obtaining items in creative
New way for crafting buckets
Now silverfishes can spawn underground and can drop silver ingots and nuggets 
Now you can find new apples, ingots and swords in dungeons loot chests
Now lead apple has a chance to give fatal poison effect to player if eaten
New Italian translation! 
Fixed enchanted apples displayed name
New apples crafted with every ingots
Incomplete enchanted apples 
New recipe for flint and steel
Tweaked bronze recipe (thanks ItsZeus for feedback)
Changing sword bug fixed
Now every swords has correct displayed name
New ores textures based on new Jappa's Iron ore texture
New Add-on icons
New fully working swords of every minerals
Installation
Do all Linkvertise tasks

After downloading the addon delete all applications and remove all browser addons

Be sure you are in 1.16 beta


Enable experimental gameplay

If you are installing on a pre-existing world to find new ores you have to explore new lands.

Have fun!
Downloads
Supported Minecraft versions
1.14
1.15 (beta)
1.16