MAGIC!
We have made a brand new and our first Minecraft addon called Magic Books.
This addon was made by ItzUNKN0WNx and we all hope you enjoy this addon!
Below is the description of the addon which will tell you all you need to know about this wonderful and amazing addon!
This addon adds in five new items.
Below is how you will make them and what the item does.
Magic Dust
Four Redstone Dust and five Glowstone Dust is needed to make the Magic Dust as shown in the picture below and once you created it, you will receive two Magic Dust.
The Magic Dust is the key item to creating the rest of the magic books so make sure you get this item before trying to create the other books because it's impossible to create without this.

Magic Book
The Magic Book can be created by one Book and eight Magic Dust as shown in the picture below this.
This Magic Book has no abilities but instead is the key item to creating all of the other Magic Books.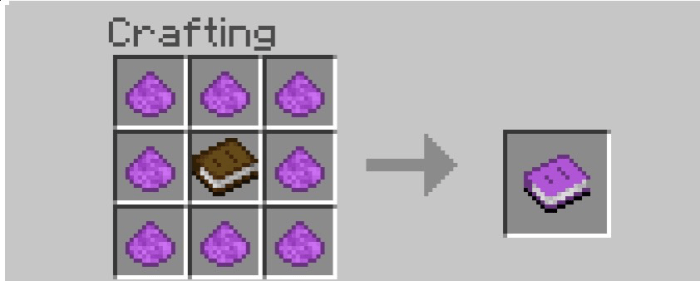 TnT Magic Book
The TnT Magic Book can be created with one Magic Book and eight TnTs as shown in the image below.
The TnT Magic Book is an extremely powerful Magic Book with the power to explode everything around it with a huge radius.
(Hint: Make sure you shoot it far away from you otherwise you will probably die!)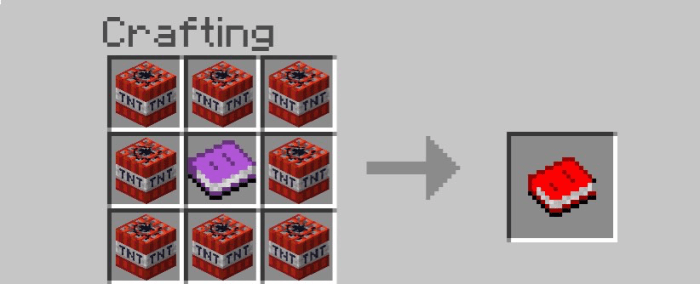 Energy Magic Book
The Energy Magic Book can be created with one Magic Book, four Glowstone Blocks and four Glowstone Dust as shown below in the image.
This Magic Book is incredibly strong and can one shot kill most mobs and if not, very quickly kill anything. This Magic Book shoots insanely fast and does around 10 damage each successful shot and also creates a small explosion of maybe 4 blocks explosion damage.

Fire Magic Book
The Fire Magic Book is created with eight Fire Charges (A.K.A Fireballs) and one Magic Book as shown in the image below.
The Fire Magic Book is powerful but probably the least powerful out of the Magic Books. It causes no destruction to anything around it but has around eight attack damage and causes any mob it touches to catch on fire,

MORE PICTURES BELOW: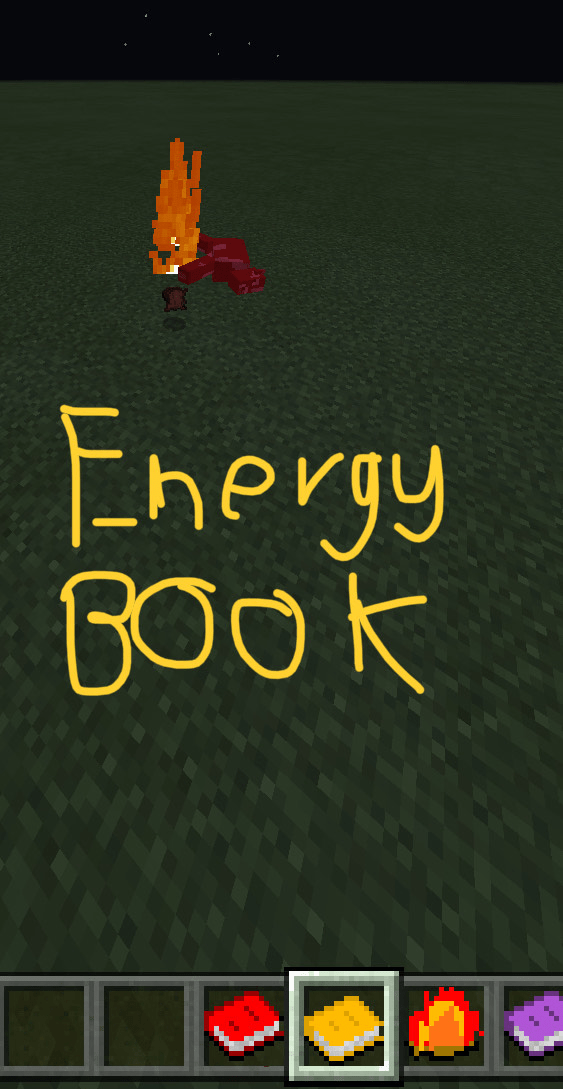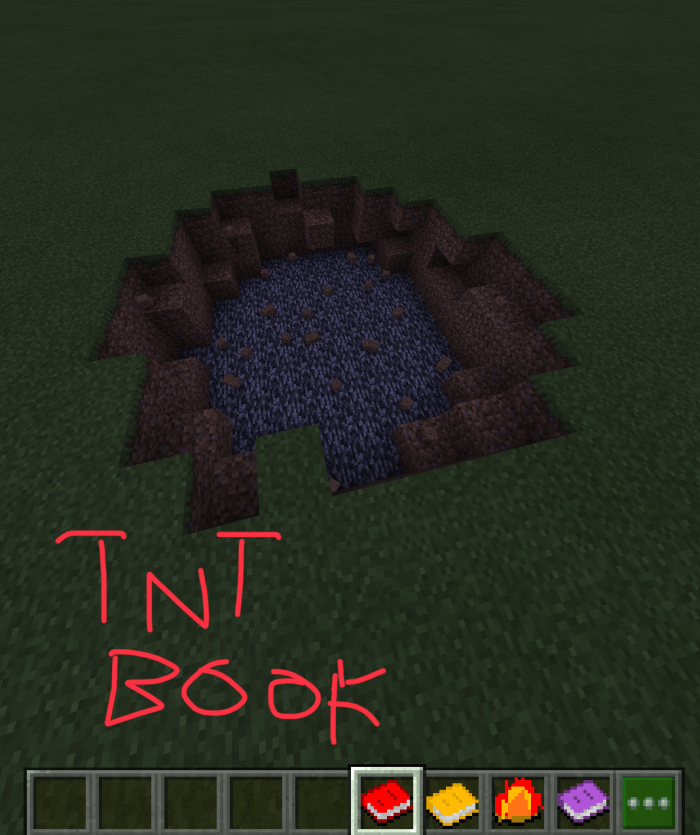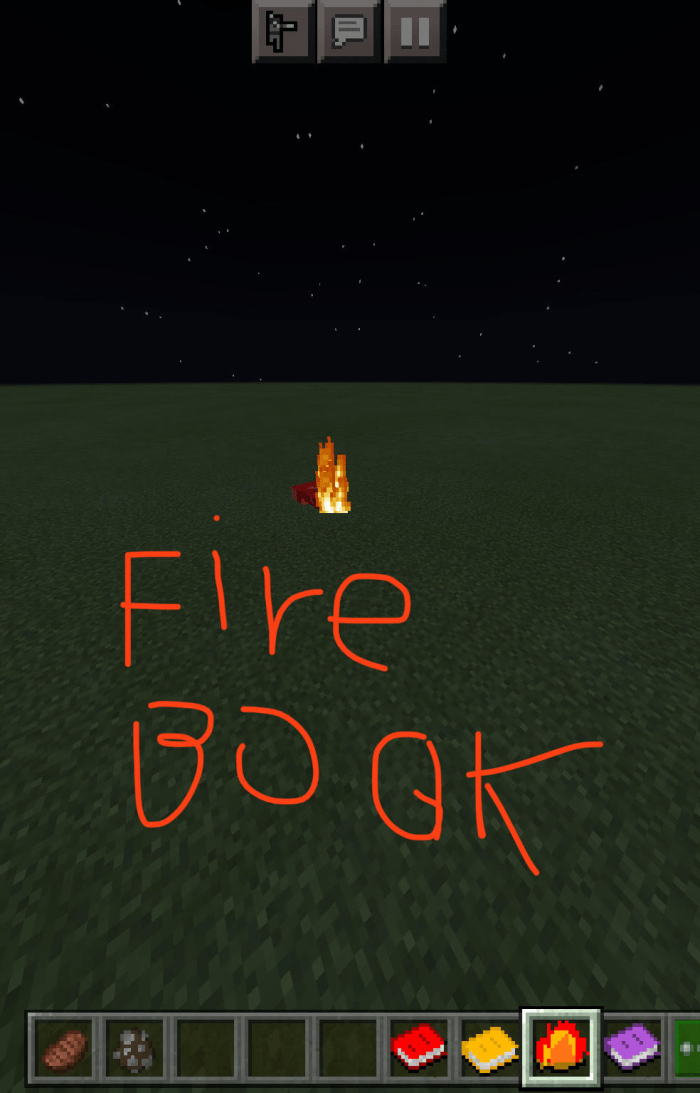 Version 1.0.1
- Added 3 more pictures to explain more what the books do in pictures.
(Soon we will add more books!)
Installation
DOWNLOAD HELP:
Note: If ads come up on the sides just press CTR + H and then press clear browsing data -> advanced settings and then select everything but passwords and click clear.
1) Click the Download Map link
2) Click deny on the notifications and wait 5 seconds and then press skip ad
3) Press allow to notifications once redirected (you may remove the notifications after by going into browser settings -> site settings -> notifications and then remove the bee icon notification one).
4) You will be redirected to the media-fire download site after that
Enjoy playing :) 
Downloads
Supported Minecraft versions
1.13
1.14
1.15 (beta)
1.16